30 Second Wine Advisor: This week's sponsors
NextWine.com, purveyor of rare and hard to find wines.
http://www.nextwine.com
... What Wine Lovers are Coming To.
Give your favorite wine lover Robert Parker for the holidays!
http://www.eRobertParker.com
In This Issue
• More Pinot
• Kings Ridge 2000 Oregon Pinot Noir
• Omaka Springs 2000 Marlborough Reserve Pinot Noir
• Au Bon Climat 1998 Santa Maria Valley Pinot Noir "La Bauge Au-dessus"
• Wine Lovers' Voting Booth: Holiday wine gift choice?
• Administrivia
More Pinot
So many of you have commented favorably on Wednesday's article about Pinot Noir that it makes sense to finish off the week by sticking with a good thing. Without further ado, here are my tasting reports on three fine, affordable Pinots from a variety of New World origins: Oregon, New Zealand and California's Central Coast.
A QUICK BONUS: If you just can't get enough reading about Pinot Noir, we have a new report about the U.S. West Coast Pinot vintage online in the form of an article by Gregory S. Walter from his "PinotReport" newsletter. Although the down economy and an oversupply of fruit left a significant percentage of wine grapes unharvested this year in West Coast wine regions, Walter says Pinot Noir appears to have been spared the effects of the glut because its supply/demand equation is more in balance.
For his full article, detailing why he expects 2002 in California and Oregon to be one of the best years for Pinot Noir in recent memory, click to
http://www.wineloverspage.com/pinotreport/harvest.phtml.
And now, here are those tasting reports: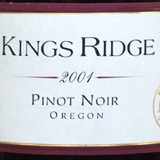 Kings Ridge 2000 Oregon Pinot Noir ($13.99)
In contrast with lighter Pinot styles, this is very dark ruby in color, shading to purple in the glass. Dark fruit, earth, spice and elusive mint combine in a complex aroma. There's just a hint of prickliness on the tongue, suggesting the slightest carbonation, with good, fresh fruit and a pleasantly tangy hint of "tomato skin." Velvety, almost plush texture makes for easy sipping. (Dec. 2, 2002)
FOOD MATCH: Pinot Noir is one of the best "food wines," going well with a broad variety of dishes. We enjoyed this one with a leftover turkey dish made in the style of Circassian chicken, in a thick sauce made with finely chopped walnuts.
VALUE: As the "second label" of Oregon's fine Rex Hill winery, Kings Ridge's niche is affordable, and it's a fine value for less than $15.
WEB LINKS: For the winery's fact sheet on this wine, point your browser to
http://www.rexhill.com/factsheet.htm,
then click the link for "Kings Ridge 2001 Pinot Noir."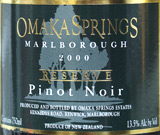 Omaka Springs 2000 Marlborough Reserve Pinot Noir ($10.99)
Very dark ruby with a reddish-orange glint. Earthy and herbal scents show up first in the aroma, followed in short order by ripe red fruits with hints of tomato-skin. A slight, not unappetizing whiff of "barnyard" adds a rustic touch of complexity. Ripe and juicy fruit and herbal flavors are consistent with the nose, structured with tangy acidity that makes the wine a natural with food. U.S. importer: T.G.I.C. Imports Inc., Woodland Hills, Calif. (Dec. 10, 2002)
FOOD MATCH: Picking up on the wine's pleasant herbaceousness, a vegan risotto of radicchio with garlic and scallions made a surprisingly good match.
VALUE: An exceptional value. It's difficult to find varietally correct Pinot like this for much less.
WEB LINKS: You'll find tasting notes on Omaka Springs wines, including the previous year's Pinot, at
http://www.omaka.co.nz/notes.htm.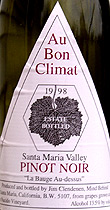 Au Bon Climat 1998 Santa Maria Valley Pinot Noir "La Bauge Au-dessus" ($23.99)
Clear ruby with highlights of orange. Fresh cherries, juicy and ripe, fill the nose and palate, with appealing notes of brown spices to add complexity and lemon-squirt acidity to build structure in a wine that seems to blossom in the glass as fine Pinots so often do. (Dec. 11, 2002)
FOOD MATCH: Perfect with a dish fashioned to match, a quick "Cordon Bleu"-style pan-sauteed chicken breasts layered with ham and mild goat cheese, featured in yesterday's Wine Advisor FoodLetter, with the recipe available at
http://www.wineloverspage.com/wineadvisor/tsfl021212.phtml.
VALUE: Although its $20-plus price puts it a bit above everyday country for many wine lovers, this exceptional wine can compete on even terms with Pinots at significantly higher price points.
WEB LINKS: To my great regret, Au Bon Climat does not appear to have embraced the Web.

Wine Lovers' Voting Booth: Holiday wine gift choice?
This week we address a simple, seasonal issue in the Wine Lovers' Voting Booth. With Santa making his lists and checking them twice as the holiday season nears, the topic du jour is obvious: "What's the top pick on your wine-related wish list for the holidays?"
To join the fun, add your pick to Santa's list by clicking to
http://www.wineloverspage.com/votebooth/index.shtml
Administrivia
To subscribe or unsubscribe from The 30 Second Wine Advisor, change your E-mail address, switch from weekly to daily distribution, or for any other administrative matters, click to http://www.wineloverspage.com/wineadvisor/admin.phtml. In all administrative communications, please be sure to include the exact E-mail address that you used when you subscribed, so we can find your record. If you must unsubscribe, please take a moment to tell us why you're leaving, and to offer any comments or suggestions you may have. We do not use our E-mail list for any other purpose and will never give or sell your name or E-mail address to anyone.
I welcome feedback, suggestions, and ideas for future columns. To contact me, send E-mail to wine@wineloverspage.com.
All the wine-tasting reports posted here are consumer-oriented. In order to maintain objectivity and avoid conflicts of interest, I purchase all the wines I rate at my own expense in retail stores and accept no samples, gifts or other gratuities from the wine industry.
Friday, Dec. 13, 2002
Copyright 2002 by Robin Garr. All rights reserved.
Subscribe to the 30 Second Wine Advisor
Wine Advisor archives