30 Second Wine Advisor: This week's sponsors
Special announcement from NextWine.com,
purveyor of rare and hard to find wines.
NextWine is your online source for fine wine, including unique California Cult Cabernet, rare Bordeaux, fine Australian wine, and hard-to-find older vintage wines. Think Outside the Bottle. Think
http://www.nextwine.com
... What Wine Lovers are Coming To.
Special announcement from Corkmasters.com:
What closures are in the best-selling wines?
Wine drinkers want to know what closures are in the best-selling wines. Find out more at corkmasters.com: Click through
http://www.wineloverspage.com/cork
In This Issue
• Wine books: One thumbs up, one down
• Dr. Konstantin Frank 2001 New York Dry Johannisberg Riesling
• NextWine.com, purveyor of rare and hard to find wines
• Last Week's Wine Advisor Index
• Administrivia
Wine books: One thumbs up, one down
During the holiday season, I like to devote a few articles to my thoughts on some of the wine books I've read recently, with a nod to the notion that a book or two about wine might make a fine holiday gift for the wine lover on your list.
Today's report features two books that examine wine's place in history and current events.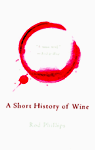 The first receives a fairly unqualified thumbs-up: "A Short History of Wine," by Rod Phillips, a professor of history at Carleton University in Ottawa, Canada, tells the story of wine as a part of human history and culture from the Bronze Age some 5,000 years ago to modern times.
Phillips' professorial roots show somewhat in the book's textbook style. It's not breezy and light reading, but if you enjoy knowing more about where wine comes from and the story of how it came to be made, marketed, transported and sold, you'll find "A Short History of Wine" worthwhile reading, if only for the wealth of interesting facts it contains.
Just to pick a few quick examples:
• The French monk Dom Pierre Perignon, about whom legend reports that he accidentally made the first Champagne and excitedly uttered, "I'm drinking stars!" actually expended a fair amount of effort trying to keep the bubbles OUT of Champagne, which at the time was supposed to be a still wine in which carbonation was considered a flaw.
• Benjamin Franklin, usually known for such homey advice as "A penny saved is a penny earned," loved wine and plenty of it, once writing, " ... Virtue & Safety in Wine-bibbing's found, While all that drink Water deserve to be drown'd."
• Only in the past 300 years or so have specific wine producers or grapes been considered important by consumers, who previously chose wine only on the basis of the region it was from. The first wine sold under its own name - and which quickly came to command a premium price - was Haut-Brion, first produced by the de Pontac family of Graves in Bordeaux in 1660 and marketed heavily in England, it became a favorite of the diarist Samuel Pepys.
If you would like to buy this book from Amazon.com, the following links will return a small commission to WineLoversPage.com:
To buy "A Short History of Wine" in hardcover for $19.60, 30 percent off the $28 list price:
http://www.amazon.com/exec/obidos/ASIN/0066212820/robingarrswineloA/
To buy it in paperback for $11.17 (30 percent off the $15.95 list price)
http://www.amazon.com/exec/obidos/ASIN/0060937378/robingarrswineloA/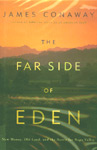 I find today's other book more difficult to recommend. The concept behind James Conaway's "The Far Side of Eden" is a good one: A close-up-and-personal look at the extended debate among wine producers, residents, land developers, environmentalists and others in Napa Valley during the 1990s, seen through the eyes of many participants in land-use and regulatory decisions and lawsuits surrounding Napa vineyard development.
But this book is fatally flawed, as was Conaway's earlier book, "Napa," by a gossipy style that somewhat resembles the "National Enquirer" but that doesn't appear to be as well written or edited as the classic supermarket tabloid. Some of the stories were fun to read, for a while, but I ultimately found the book grated on me, and put it down halfway through, deciding it wasn't worth my time or effort to finish.
If you're tempted to purchase "The Far Side of Eden" anyway, it's available from Amazon.com for $19.60, 30 percent off the $28 list price:
http://www.amazon.com/exec/obidos/ASIN/0618067396/robingarrswineloA/
(but don't say I didn't warn you!)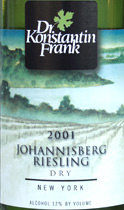 Dr. Konstantin Frank 2001 New York Dry Johannisberg Riesling ($12)
Clear, light straw color. Tasty fresh-apple scent with overtones of melon and an aromatic hint of pine, classic Riesling. Textured and dry, full flavors follow the nose. Very much akin to a German "Trocken" ("dry") Riesling, balanced and clean, fine with food. (Dec. 1, 2002)
FOOD MATCH: Testing the hypothesis that Riesling makes an exceptional match with spicy fare, we served it with a simple curry fashioned from leftover turkey, and it went fine.
VALUE: Good value at this price.
WEB LINKS: Here's the winery Website:
http://www.drfrankwines.com/.

NextWine.com, purveyor of rare and hard to find wines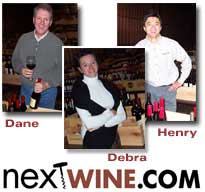 Wine is one of the few luxury items you share. And that's what nextWINE.com is all about - helping you find the great nextWINE to share with your friends and family for the holidays.
If you're looking for superstars, we have 'em, a warehouse filled with an eclectic, ever-changing selection of the wines you love now. And wines you'll love next.
Holiday Stocking
Some of our favorites to savor now or save for later are Turley, Kistler, Chateau Mouton Rothschild, Puligny Montrachet, and one of nextWINE's "discoveries," Ruston Family Vineyard Napa Valley Merlot that drinks like a French Bordeaux - for under $35 a bottle!
nextWINE Gift Sets
These are pairings for every palate - two bottles of first-rate wine from our cellar, packed in gift boxes, ready to ship. Prices start at just $28. Click here www.nextwine.com/gift_sets.html to check it out.
... And Re-Stocking
Now's the time to grab a few bottles of well-priced '99 Bordeaux before the 2000s arrive, and we have a good selection. We also still have a few choice Cabernets from the prized 1997 vintage, including the '97 Wightman Cab. One of our new favorites is the highly-rated Darioush.
Or, be the first on your block with a true up-and-comer like the 1999 Page Merlot Blend. It's stunning now and will only get better.
Startup Cellar
Resolve to let nextWINE's cellar consultants get you started. We'll customize a selection to your preference and budget. Or jump-start your collection with an Instant Cellar that features 18 bottles of fine wine.
nextWINE Instant Cellar I
Three Bottles Each:
Madfish Chardonnay, Australia
Domaine William Fevre Chablis, Champs Royaux, France
Jacob's Creek Reserve Shiraz, Australia
Villa Pillo Merlot St. Adele, Italy
Ruston Family Vineyards Cuvee Simone, Napa Valley
Phillippe-Lorraine Napa Valley Cabernet
Register now for the nextWINE weekly wine list and receive a FREE nextWINE corkscrew.
We suggest resolutions born out of joy and sharing -- resolutions that can be summed up in a few heartwarming words, like "Come join us for dinner" and "Wait'll you taste this nextWINE!"
Season's Greetings and Cheers!
Dain Dunston, President, nextWINE, 221 Devlin Road, Napa, CA. 94559
For information, please contact us at 1-800-680-9222, 707-224-6453 or log on to
www.nextwine.com.

Last Week's Wine Advisor Index
The Wine Advisor's daily edition is currently distributed on Mondays, Wednesdays and Fridays (and, for those who subscribe, the FoodLetter on Thursdays). Here's the index to last week's columns:
• (No edition Friday, Nov. 29)
• Another year, another vintage (Dec. 4)
http://www.wineloverspage.com/wineadvisor/tswa021204.phtml
• Ups and downs of Viognier (Dec. 2)
http://www.wineloverspage.com/wineadvisor/tswa021202.phtml
• Complete 30 Second Wine Advisor archive:
http://www.wineloverspage.com/wineadvisor/thelist.shtml
• Last week's Wine Advisor Foodletter: Roast turkey (Dec. 5)
http://www.wineloverspage.com/wineadvisor/tsfl021205.phtml
• Wine Advisor Foodletter archive:
http://www.wineloverspage.com/wineadvisor/foodlist.phtml
Administrivia
To subscribe or unsubscribe from The 30 Second Wine Advisor, change your E-mail address, switch from weekly to daily distribution, or for any other administrative matters, click to http://www.wineloverspage.com/wineadvisor/admin.phtml. In all administrative communications, please be sure to include the exact E-mail address that you used when you subscribed, so we can find your record. If you must unsubscribe, please take a moment to tell us why you're leaving, and to offer any comments or suggestions you may have. We do not use our E-mail list for any other purpose and will never give or sell your name or E-mail address to anyone.
I welcome feedback, suggestions, and ideas for future columns. To contact me, send E-mail to wine@wineloverspage.com.
All the wine-tasting reports posted here are consumer-oriented. In order to maintain objectivity and avoid conflicts of interest, I purchase all the wines I rate at my own expense in retail stores and accept no samples, gifts or other gratuities from the wine industry.
Monday, Dec. 9, 2002
Copyright 2002 by Robin Garr. All rights reserved.
Subscribe to the 30 Second Wine Advisor
Wine Advisor archives