30 Second Wine Advisor: Today's sponsor
• Tour France with French Wine Explorers
http://www.wine-tours-france.com/
In This Issue
• Another year, another vintage
• Monte Antico 2000 Toscano
• Tour France with French Wine Explorers
• Administrivia
Another year, another vintage
Just one month ago, in an article titled "Budget Vintage Tracking," I talked about the enjoyment of comparing the same wine year after year, examining the subtle (and sometimes not-so-subtle) differences that climate and other variables make in the wine.
One of the wines I used in illustration was Monte Antico Toscano Rosso, a Sangiovese-based wine made in the "typical" style of the Italian region that's best known for Chianti. In that issue, which is archived at
http://www.wineloverspage.com/wineadvisor/tswa021108.phtml,
I compared the 1999 and 1997 vintages, noting that the '99 was fruity but a bit thin, while the 1997 had been more full-bodied but with noticeable oak.
Coincidentally, the 2000 vintage finally turned up locally, just weeks after this report, so I grabbed a bottle for tasting while the 1999 was still fresh in memory. For today's quick report, I thought you might enjoy an update on this usually reliable value.
ADMIN NOTE: We're taking a short break, my first vacation getaway in a while, so there'll be no Wine Advisor on Friday, and Monday's edition may arrive in your mailbox just a bit late. Then we'll be back on regular schedule for the rest of next week.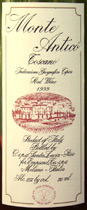 Monte Antico 2000 Toscano ($9.99)
Very dark ruby, almost black, with purple glints against the light. Black-cherry aroma, characteristic of Sangiovese, adds a distinct note of caramel. Full and ripe in flavor, fruit and lemony acidity in balance make this a fine food wine, as a Tuscan red ought to be. U.S. importer: Empson (U.S.A.) Inc., Alexandria, Va. (Dec. 3, 2002)
FOOD MATCH: Chianti and similar Sangiovese-based Tuscan reds particularly shine with tomato-sauced pasta, but the combination of ripe fruit and zippy acidity makes them a match with a wide variety of fare, including our choice, a risotto verde with chopped fresh spinach.
VALUE: As long as it holds at or under the $10 price point, Monte Antico is a reliable good buy.
WEB LINKS: The U.S. importer has a Monte Antico fact sheet at:
http://www.empson.com/official-site/cmn/schede/monteant.htm?usa.

Tour France with French Wine Explorers
I'd like to take a moment today to remind you about our friends at French Wine Explorers. Lauriann Greene and Jean-Pierre Sollin, certified sommeliers who live in France, invite you to "learn about wine in a fun, relaxed atmosphere," with a year-round schedule of small-group tours as well as private wine tours that can be customized just for you.
You may recall that I joined them on a tour of the Southern Rhone and Provence last June, and I'll be participating in another French Wine Explorers tour, this time in Bordeaux, this coming May. Unfortunately this tour group is already full, but Jean-Pierre and Lauriann will lead another group to the same top Bordeaux properties next July 20-26, not to mention many other trips to the great wine regions of France.
For information about these and other tours, you're invited to visit the organization's Website,
http://www.wine-tours-france.com/,
or send E-mail to info@wine-tours-france.com for information and to sign up for their monthly newsletter.
Administrivia
To subscribe or unsubscribe from The 30 Second Wine Advisor, change your E-mail address, switch from weekly to daily distribution, or for any other administrative matters, click to http://www.wineloverspage.com/wineadvisor/admin.phtml. In all administrative communications, please be sure to include the exact E-mail address that you used when you subscribed, so we can find your record. If you must unsubscribe, please take a moment to tell us why you're leaving, and to offer any comments or suggestions you may have. We do not use our E-mail list for any other purpose and will never give or sell your name or E-mail address to anyone.
I welcome feedback, suggestions, and ideas for future columns. To contact me, send E-mail to wine@wineloverspage.com.
All the wine-tasting reports posted here are consumer-oriented. In order to maintain objectivity and avoid conflicts of interest, I purchase all the wines I rate at my own expense in retail stores and accept no samples, gifts or other gratuities from the wine industry.
Wednesday, Dec. 4, 2002
Copyright 2002 by Robin Garr. All rights reserved.
Subscribe to the 30 Second Wine Advisor
Wine Advisor archives