Special announcement from Corkmasters.com:
What closures are in the best-selling wines?
Wine drinkers want to know what closures are in the best-selling wines. Find out more at corkmasters.com: Click through
http://www.wineloverspage.com/cork
30 Second Wine Advisor: This week's sponsors
• California Wine Club:
A FREE gift for you with purchase!
http://www.cawineclub.com
• Corkmasters.com
http://www.wineloverspage.com/cork
In This Issue
• Ups and downs of Viognier
• Bonterra 2001 Mendocino County Viognier
• Zaca Mesa 2000 Zaca Vineyards Santa Barbara County Viognier
• Wine Tasting 101: A World of Pinot Noir
• California Wine Club: A FREE gift for you with purchase!
• Last Week's Wine Advisor Index
• Administrivia
Ups and downs of Viognier
For an intriguing example of the influence of trend and fashion on the world of wine, let's direct our attention today to Viognier. This intriguing grape, golden and aromatic, is enjoying a spate of popularity these days, perhaps boosted by the same quest for alternatives to the ubiquitous Chardonnay that has brought renewed attention to Sauvignon Blanc and Pinot Gris/Pinot Grigio.
For generations, Viognier was a fairly common white variety in the Rhone Valley. But from the standpoint of vine grower as farmer, it's not a particularly attractive crop: It doesn't produce heavily, and in damp weather the grapes are subject to mildew. So over the years, many growers ripped out Viognier vines in favor of easier-to-grow varieties, until by the 1960s it had become virtually an endangered grape, with fewer than 50 acres grown in France and almost none anywhere else.
Within recent memory, the standard wine references called Viognier an oddity, grown only in tiny quantities in the Rhone's Condrieu region and Chateau-Grillet, and as a homeopathic component that added fragrance to the robust red Cote-Rotie. "A rare but celebrated grape," reported "The New Frank Schoonmaker Encyclopedia of Wine" in its 1988 revision. In 1986, Jancis Robinson wrote in her excellent (and now sadly out-of-print) "Vines, Grapes and Wines" that Viognier "Quantitatively ... hardly deserves a mention. ... little more than 32 hectares (80 acres) of it are planted anywhere in the world."
But what a difference a decade makes. By the early '90s, Viognier was coming back in France as a source of everyday white wines, particularly in the Languedoc region.
And for the first time it began to pop up in other parts of the wine-growing world, in Australia and especially in California, where pioneering growers had planted just 79 acres of it by 1991, a number that grew to 1,488 acres in 1999 (according to California's Wine Institute trade group) and increased to almost 2,000 acres last year, edging out Riesling as it rose to eighth place among white grapes in California plantings.
Popularity has also influenced the price: With few exceptions, most of which aren't awe-inspiring, quality U.S. Viognier seems to start around $15 and go up from there, placing it in fairly close price competition with Condrieu, which is often seen in the $40 range but can be found for less. (Expect to pay $75 or more, though, for Chateau-Grillet, which is produced in limited quantities and can be hard to find.)
Many people who don't speak French find it hard to get their tongues wrapped around "Viognier," but it's not hard if you break it down into its three syllables: Order "Vee-ohn-yay," and you'll be fine.
From its bright color, which often ranges toward the gold, to its intense aromas, which are often floral and may incorporate perfumed peaches and tropical fruit, this is a white wine with a flavor and aroma profile all its own, even if some New World examples add a notably oaky character that can move it back toward the style of Chardonnay.
Don't buy it to put away in the cellar, by the way. Even the best Viogniers are best drunk up young, while all that exuberant fruit is fresh. And be prepared for it to make an iffy match with food. While I've enjoyed California Viognier with smoked salmon (and Condrieu with foie gras), I find that its over-the-top aromatics and intense flavors may make it better suited for sipping as a before-dinner aperitif than as a companion with any but the most bold and spicy fare.
But, especially if you tire of the sameness of so many modern Chardonnays, it's worth trying a Viognier now and then as a change of pace. Here are my tasting reports on two good California examples.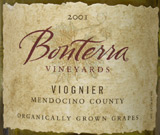 Bonterra 2001 Mendocino County Viognier ($22.99)
Very pale brass color with a greenish hue. Perfumed, complex scents offer an appetizing mix of apples, butterscotch and a whiff of banana oil that invites a taste; it's intriguing but perhaps not as obviously floral as the conventional wisdom suggests of Viognier. Crisp and tart, almost tangy, flavors mirror the nose and add a distinct element of tangerine peel. Long and clean, snappy finish. Not a "benchmark" Viognier, perhaps, but a very appealing wine from Bonterra, an all-organic producer associated with its Mendocino neighbor, Fetzer. (Nov. 13, 2002)
FOOD MATCH: As noted, Viognier can be a difficult food match, but this went quite well with an off-the-wall vegetarian risotto made with brussels sprouts shredded into a "slaw" (I am not kidding about this) with roasted red peppers and toasted pine nuts.
VALUE: I start resisting when U.S. Viognier passes the $20 point, but balance and flavor interest make this one a contender, and a fair value.
WEB LINKS: For the winery's fact sheet on its Viognier, click to:
http://www.bonterra.com/viognier.html.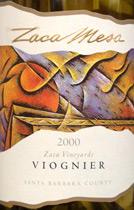 Zaca Mesa 2000 Zaca Vineyards Santa Barbara County Viognier ($15.99)
Clear gold, its aromas breathe honey and tropical fruit, figs and dates; a delicately floral and "woolly" whiff of acacia comes out with swirling in the glass. Intense white-fruit flavors are balanced with bracing acidity in an attention-getting wine that makes a problematical food match but an interesting aperitif. (Nov. 30, 2002)
FOOD MATCH: The wine's intense tropical-fruit flavors almost overwhelm a simple dish of leftover Thanksgiving turkey, but as noted, it's fine for sipping alone.
VALUE: Appropriate value at this price.
WEB LINKS: To view the winery's Viognier page, visit
http://www.zacamesa.com/wine/,
then click "Viognier" in the left column.

Wine Tasting 101: A World of Pinot Noir
Learn to taste wine analytically in Wine Tasting 101 on WineLoversPage.com, a friendly, supportive online environment where there are no wrong answers.
This month we examine a World of Pinot Noir. The "benchmark" wine is Louis Jadot Bourgogne Pinot Noir, with other affordable Pinots from California, Oregon and New Zealand offered for additional investigation.
Click to Wine Tasting 101,
http://www.wineloverspage.com/forum/wt101.phtml
to participate in this free, interactive wine-education project.
A free gift for you from The California Wine Club!
A FREE gift for you from The California Wine Club! Order your holiday gifts now and receive a copy of "101 Essential Wine Tips," a pocket-size book full of valuable wine advice! Guaranteed to help you become a true wine expert.
The California Wine Club is a reliable source for excellent wines from the best of California's boutique wineries. There's never any bulk wine, closeouts or private labels!
Each shipment includes two bottles of award-winning wine plus an entertaining 8-page newsletter, Uncorked. Send as many months as you wish! Gifts start at $32.95/month plus shipping. Special discounts on gifts of 3, 6, 9 or 12 months.
Visit
http://www.cawineclub.com
or call (800) 777-4443. Be sure to mention The 30 Second Wine Advisor to receive your FREE gift!
Available in the U.S. wherever wine shipping is permitted by law.
Last Week's Wine Advisor Index
The Wine Advisor's daily edition is currently distributed on Mondays, Wednesdays and Fridays (and, for those who subscribe, the FoodLetter on Thursdays). Here's the index to last week's columns:
• Thanksgiving Day wines (Nov. 29)
http://www.wineloverspage.com/wineadvisor/tswa021129.phtml
• Beaujolais Nouveau report (Nov. 27)
http://www.wineloverspage.com/wineadvisor/tswa021127.phtml
• Wine, history and Sardinian nuraghi (Nov. 25)
http://www.wineloverspage.com/wineadvisor/tswa021125.phtml
• Complete 30 Second Wine Advisor archive:
http://www.wineloverspage.com/wineadvisor/thelist.shtml
• Last week's Wine Advisor Foodletter: Potato-spinach gratin (Nov. 28)
http://www.wineloverspage.com/wineadvisor/tsfl021128.phtml
• Wine Advisor Foodletter archive:
http://www.wineloverspage.com/wineadvisor/foodlist.phtml
Administrivia
To subscribe or unsubscribe from The 30 Second Wine Advisor, change your E-mail address, switch from weekly to daily distribution, or for any other administrative matters, click to http://www.wineloverspage.com/wineadvisor/admin.phtml. In all administrative communications, please be sure to include the exact E-mail address that you used when you subscribed, so we can find your record. If you must unsubscribe, please take a moment to tell us why you're leaving, and to offer any comments or suggestions you may have. We do not use our E-mail list for any other purpose and will never give or sell your name or E-mail address to anyone.
I welcome feedback, suggestions, and ideas for future columns. To contact me, send E-mail to wine@wineloverspage.com.
All the wine-tasting reports posted here are consumer-oriented. In order to maintain objectivity and avoid conflicts of interest, I purchase all the wines I rate at my own expense in retail stores and accept no samples, gifts or other gratuities from the wine industry.
Monday, Dec. 2, 2002
Copyright 2002 by Robin Garr. All rights reserved.
Subscribe to the 30 Second Wine Advisor
Wine Advisor archives