30 Second Wine Advisor: This week's sponsor
• Hotel Vintage Court, San Francisco:
"Sparkle & Wine" this holiday season!
http://www.vintagecourt.com

In This Issue
• Thanksgiving Day wines
• Chateau Musar 1994 Bekaa Valley
• Mönchhof 2001 Robert Eymael Estate Riesling
• Gould Campbell 1983 Vintage Porto
• Administrivia
Thanksgiving Day wines
As many of us in the U.S. recover from Thanksgiving Day's culinary excess by taking Friday off for a long weekend, I'll keep today's report brief, summing up the special wines we enjoyed with yesterday's feast: A sweetish German Riesling from the ripe 2001 vintage; an earthy, robust Chateau Musar from Lebanon, and, on Thanksgiving Eve, a mature but disappointing Vintage Port.
With more roast turkey and trimmings in the offing during the coming holiday season, it can be useful to compare notes on the wines that work well with traditional festive fare. So, if you had a good wine experience to recommend with roast turkey and other holiday dinners, please feel free to let me know about it, by E-mail at wine@wineloverspage.com or in our interactive Wine Lovers' Discussion Group, and I'll summarize your advice in a future column. To post or read messages in the discussion group, click to
http://www.myspeakerscorner.com/forum/index.phtml?fn=1.
Now, those tasting notes: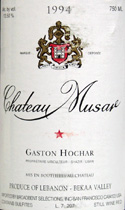 Chateau Musar 1994 ($32.99)
This unusual, sought-after wine from the Bekaa Valley in Lebanon is made from a combination of red grapes including Cabernet Sauvignon, Cinsaut, Carignan, Grenache, and Mourvedre. It's often likened to Bordeaux, but I find it more Rhone-like, and there's nothing wrong with that! The 1994, last tasted in September 2001, is coming along well. Dark and slightly hazy ruby in color, it shows ripe and plummy black fruit with hints of burnt sugar and a distinct "barnyard" note in the aroma. Full and "sweet" mature-red flavors are consistent with the nose; plummy and tart, with distinct earthy tones in the finish. U.S. importer: Broadbent Selections Inc., San Francisco. (Nov. 28, 2002)
FOOD MATCH: Fruit, acid and earth add up to a first-rate match with roast turkey, particularly the dark meat.
VALUE: The $30-plus range makes this a wine for a special occasion (like Thanksgiving Day), but complexity and character justify the price.
WEB LINKS: The winery Website (in English and French) is at
http://www.chateaumusar.com.lb/.
You'll find the U.S. importer's fact sheet on Chateau Musar at http://www.broadbent-wines.com/musar.html.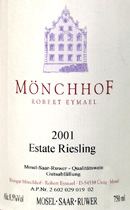 Mönchhof 2001 Robert Eymael Estate Riesling ($11.99)
This basic Riesling from a respected Mosel producer is a very pale gold color, almost watery. Honey and mixed-citrus aromas lead into a sweet, appealing white-fruit flavor highlighted by notes of tangerine peel, with tangy acidity glimmering through fresh-fruit sugar. Very full and sweet indeed for a "Qualitatswein," lending further credibility to the reported ripeness of the '01 German vintage. U.S. importer: Cellars International Inc./Ilna Selections (Rudi Wiest), Carlsbad, Calif. (Nov. 28, 2002)
FOOD MATCH: Delicious with roast turkey, lending further credibility to the argument that Riesling is the best flavor choice for this festive bird.
VALUE: I would rather see Qualitatswein under $10, but in its defense, this is a good one. Fair value if not a bargain.
WEB LINKS: Visit the importer's fact sheet on this winery at
http://www.germanwine.net/estates/moenchhof/moench.htm.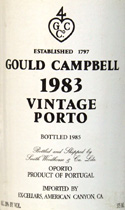 Gould Campbell 1983 Vintage Porto ($22.99/375 ml)
With the prices of Vintage Port rising substantially in recent years thanks to publicity-driven demand, this 19-year-old item seemed like a reasonable investment for a special occasion when it turned up locally at $23 for a half-bottle earlier this year. A very short cork, soft and fully saturated from end to end, hinted at less-than-optimal storage conditions, and heavy sediment required decanting (normal in an older Vintage Port). Dark ruby in color, clear but not brilliant, it showed significant but not fatal oxidation in the form of nutlike scents over one-dimensional, plummy fruit. Sweet fruit flavors and "grippy" acidity make for a passable Port with little tannin remaining, but its surprisingly simple flavor profile does not much exceed what you would expect in a non-vintage Ruby Port for a fraction of the price. U.S. importer: Ex-Cellars, American Canyon, Calif. (Nov. 27, 2002)
FOOD MATCH: Served alone for after-dinner sipping.
VALUE: As noted, although the price seems inviting, there's no real value here. "If it looks too good to be true, it probably is," and that goes double if you're uncertain of an older wine's storage conditions.
WEB LINKS: Click for the winery fact sheet in English:
http://www.smithwoodhouse.com/gc.htm.

Administrivia
To subscribe or unsubscribe from The 30 Second Wine Advisor, change your E-mail address, switch from weekly to daily distribution, or for any other administrative matters, click to http://www.wineloverspage.com/wineadvisor/admin.phtml. In all administrative communications, please be sure to include the exact E-mail address that you used when you subscribed, so we can find your record. If you must unsubscribe, please take a moment to tell us why you're leaving, and to offer any comments or suggestions you may have. We do not use our E-mail list for any other purpose and will never give or sell your name or E-mail address to anyone.
I welcome feedback, suggestions, and ideas for future columns. To contact me, send E-mail to wine@wineloverspage.com.
All the wine-tasting reports posted here are consumer-oriented. In order to maintain objectivity and avoid conflicts of interest, I purchase all the wines I rate at my own expense in retail stores and accept no samples, gifts or other gratuities from the wine industry.
Friday, Nov. 29, 2002
Copyright 2002 by Robin Garr. All rights reserved.
Subscribe to the 30 Second Wine Advisor
Wine Advisor archives