30 Second Wine Advisor: This week's sponsor
• Hotel Vintage Court, San Francisco:
"Sparkle & Wine" this holiday season!
http://www.vintagecourt.com

In This Issue
• Beaujolais Nouveau report
• Georges Duboeuf 2002 Beaujolais-Villages Nouveau
• Louis Tête 2002 Beaujolais-Villages Nouveau
• Domaine Dupeuble 2002 Beaujolais Nouveau
• Administrivia
Beaujolais Nouveau report
As I mentioned the other day, I was in no particular rush to taste the Beaujolais Nouveau last Thursday night. The annual frivolity surrounding France's first taste of the new vintage can be fun, but this modest, quickly produced young red doesn't really justify making special plans for its third-Thursday-in-November release if you already have something interesting to do.
This wine can wait, at least for a while ... although it's best not to defer it too long, as the conventional wisdom holds that Beaujolais Nouveau is best drunk up before New Year's Day. (Nothing terrible will happen if you keep it longer, but the fresh fruitiness that is its primary reason for being will eventually fade.)
So, giving the excitement (such as it is) a few days to die down, I picked up three samples of the new wine this week. Based on those tastings, I would say that 2002 was an unusually good year for this wine. In contrast with the harsh and vinegary qualities that Beaujolais Nouveau presents in years when the weather didn't cooperate, these three wines were uniformly presentable: Fruity and somewhat grapey, reasonably well balanced and easy to quaff if not to contemplate deeply. Any of these three would serve nicely with Thanksgiving dinner or similar seasonal feast.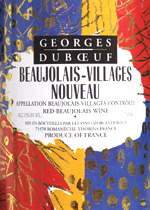 Georges Duboeuf 2002 Beaujolais-Villages Nouveau ($8.99)
Dark garnet. Typical Beaujolais strawberries mix with brown sugar and a not-unpleasant whiff of red-wine vinegar, but there's no sign of the characteristic Duboeuf "banana" and "cotton-candy" scents, and I don't miss them. Ripe and grapey flavors, sweet fruit over sufficient acidity. Fresh and bright, it's a crowd-pleasing Nouveau, easy to swallow. U.S. importer: Winesellers Ltd., Skokie, Ill. (Nov. 25, 2002)
FOOD MATCH: Sweet fruit makes it a decent match with a lightly spicy shrimp Creole.
VALUE: A dollar under the $10 price point that seems to have become standard for Beaujolais Nouveau.
WEB LINKS: Georges Duboeuf's Website is available in French and English at
http://www.duboeuf.com.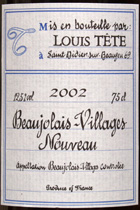 Louis Tête 2002 Beaujolais-Villages Nouveau ($9.99)
Bright garnet color, offering fresh berries in the aroma and ripe fruit framed by tart acidity in the flavor. Simple but well-balanced, dry and tart with good, characteristic fruit flavors, it's a wine-lover's Nouveau. U.S. importer: Bercut-Vandervoort & Co., San Francisco. (Nov. 25, 2002)
FOOD MATCH: Worked well with lightly spicy Cajun-style fare.
VALUE: As noted, $10 appears to be standard for Nouveau, a price that the market might not bear except during its brief season.
WEB LINKS: You'll find the Louis Tête Website (French and English) at
http://www.tete-beaujolais.com/.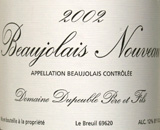 Domaine Dupeuble 2002 Beaujolais Nouveau ($9.99)
Dark ruby color with brilliant glints of purple. Surprisingly earthy, truffle and cooked beet notes surround ripe cherries on the nose and palate; juicy and tart, sour-cherry fruit and a lemon-squirt of acidity make for a gulpable wine, good with food. That earthy, beet-like quality is idiosyncratic, though:. It reminds me of Beaujolais from Cotes-de-Brouilly, and I like it. My wife calls it "dirty," and doesn't approve. U.S. importer: Kermit Lynch Wine Merchant, Berkeley, Calif. (Nov. 25, 2002)
FOOD MATCH: Fine with roast chicken.
VALUE: Again, takes advantage of seasonal demand to justify a $10 price tag.

Administrivia
To subscribe or unsubscribe from The 30 Second Wine Advisor, change your E-mail address, switch from weekly to daily distribution, or for any other administrative matters, click to http://www.wineloverspage.com/wineadvisor/admin.phtml. In all administrative communications, please be sure to include the exact E-mail address that you used when you subscribed, so we can find your record. If you must unsubscribe, please take a moment to tell us why you're leaving, and to offer any comments or suggestions you may have. We do not use our E-mail list for any other purpose and will never give or sell your name or E-mail address to anyone.
I welcome feedback, suggestions, and ideas for future columns. To contact me, send E-mail to wine@wineloverspage.com.
All the wine-tasting reports posted here are consumer-oriented. In order to maintain objectivity and avoid conflicts of interest, I purchase all the wines I rate at my own expense in retail stores and accept no samples, gifts or other gratuities from the wine industry.
Wednesday, Nov. 27, 2002
Copyright 2002 by Robin Garr. All rights reserved.
Subscribe to the 30 Second Wine Advisor
Wine Advisor archives