30 Second Wine Advisor: This week's sponsor
• Hotel Vintage Court, San Francisco:
"Sparkle & Wine" this holiday season!
http://www.vintagecourt.com

In This Issue
• Wine and history: Sardinian nuraghi
• Argiolas 2000 "Costera" Isola dei Nuraghi
• Argiolas 2000 Bianco Isola dei Nuraghi
• Wine Lovers' Voting Booth: Most 'food-friendly' wine?
• Hotel Vintage Court, San Francisco
"Sparkle & Wine" this holiday season!
• Last Week's Wine Advisor Index
• Administrivia
Wine, history and Sardinian nuraghi
As I've said before, one of the things that makes wine special is that it appeals to the mind as well as the senses. Few beverages give us so much occasion to stop and think about what we're drinking.
With its integral ties to human culture that go back literally to the dawn of civilization, wine's fabulous variety connects us to history and geography and a realm of sciences from agriculture to geology to climate and entymology, not to mention the whole world of culinary arts and such heavyweight topics as philosophy and religion.
Now, that's something to think about as you sip your wine.
Today's tastings offer us an excellent example, as we examine two wines from Sardinia, a rocky and isolated island in the Mediterranean off the western coast of Italy that many of us know, if at all, only from flying over it as our airliner approaches Rome.
Read the label closely, and get a history lesson: Both these wines bear the geographical indication "Isola dei Nuraghi" ("Islands of the Nuraghi") on the label rather than naming Sardinia as their source.
What's a Nuraghi? There's our history lesson. Nuraghi ("Noo-rah-ghee") are ancient stone structures that dot the Sardinian countryside. Named after an old word for "mound" or "hollow," these old buildings look like nothing so much as large piles of oversize stones ... yet they housed Sardinian families for generations, and thousands of them stand today as archeological symbols of this wildly beautiful land.
Sardinia's wines are unusual, too. Shunning the common international grape varieties that are all but ubiquitous today, wine producers here stay with the ancient indigenous varieties that they've been making for millennia. The red is predominantly Cannonau ("Cahn-no-now") a grape that experts believe is identical to the French and Spanish Grenache or Garnacha and that Sardinians boast is the ANCESTOR to those grapes); the white is made largely from Vermentino ("Vair-mehn-tee-noe"), another native Sardinian grape, with a touch of the aromatic Mediterranean Malvasia.
If an occasional interest in a walk on the wilder side of wine prompts you to look for something just a bit unusual, Sardinia is a good place to find it.
Meanwhile, if you would like to learn a little more about those nuraghi, here's a link to information in English and Italian, and pictures, on the Sardinia Now pages:
http://www.sarnow.com/sardinia/nurag1.htm.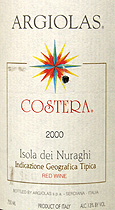 Argiolas 2000 "Costera" Isola dei Nuraghi ($12.99)
A waft of fragrant black pepper precedes plummy fruit in the warm and full aroma of this very dark reddish-purple wine made from the Sardinian Cannonau grape, perhaps the ancestor of Grenache. The flavor is consistent, with ripe, pruney fruit and spicy pepper on a base of crisp acidity to give it structure. U.S. importer: Winebow Inc., NYC; Leonardo Locascio Selection. (Nov. 9, 2002)
FOOD MATCH: Made for simple, robust fare, it would go well with burgers and steaks; we enjoyed it with a hearty but meatless risotto of tomatoes, sliced carrots and roasted red bell peppers.
VALUE: Good value at $10, although as it rises past $12 it encounters more competition.
WEB LINKS: You'll find the importer's Sardinia page, with a link to more information on the Argiolas winery, at:
http://www.winebow.com/show_regionproducers.asp?region=25.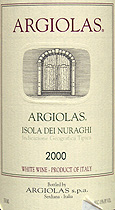 Argiolas 2000 Bianco Isola dei Nuraghi ($13.49)
Clear, pale gold, this Sardinian white offers warm scents of almonds and hazelnuts, figs and star fruit in an appealing aroma. Clean and fresh, lemon and lime flavors gain complexity and interest from nuances that reflect the nose. Crisp, cleansing and long. Made primarily from the Sardinian Vermentino grape with a splash of aromatic Malvasia. U.S. importer: Winebow Inc., NYC; Leonardo Locascio Selection. (Nov. 11, 2002)
FOOD MATCH: Crisp, citric flavors make it a natural with seafood or light vegetarian fare; we enjoyed it with a simple Italian-style soup of broccoli with tiny pasta.
VALUE: Complexity and nuanced flavors justify the slightly higher price point.
WEB LINKS: The importer's detailed fact sheet on this wine is online at
http://www.winebow.com/longdet.asp?ID=157.

Wine Lovers' Voting Booth: Most 'food-friendly' wine?
Wine and food have evolved as natural companions since the Bronze Age, and with thousands of years of history behind us, it's no surprise that many people consider wine the ultimate beverage to enjoy with dinner.
Some specific wine matches are considered classic, like Bordeaux and lamb or Burgundy and beef. But many of us who love wine and food reserve a special place in our hearts for the regional wines and grape varieties that can "multi-task," serving well with not just one monogamous partner but dancing with a diverse variety of foods.
For this week's Wine Lovers' Voting Booth, then, we single out a short and perhaps opinionated list of wines that play this role particularly well as we ask, "What is the most 'food-friendly' wine?"
If you didn't catch this invitation in Friday's Wine Advisor, I hope you'll take a moment this week to drop by the Voting Booth,
http://www.wineloverspage.com/votebooth/index.shtml,
and tell us what you think!
Hotel Vintage Court, San Francisco: "Sparkle & Wine" this holiday season!
Hotel Vintage Court in San Francisco invites you to "Sparkle & Wine" this holiday season. For a rate of $125, enjoy the evening wine tasting - the kids will get cider and cookies - and a box of sparkles to light up your room or take home! With a location close to Union Square, the Powell cable car line and Chinatown, you won't miss a minute of the bustling holiday season that San Francisco offers. To book a reservation, please call (800) 654-1100 or the hotel directly at (415) 392-4666. You may also book online at
http://www.vintagecourt.com.
Last Week's Wine Advisor Index
The Wine Advisor's daily edition is currently distributed on Mondays, Wednesdays and Fridays (and, for those who subscribe, the FoodLetter on Thursdays). Here's the index to last week's columns:
• Artisanal wines: supply and demand (Nov. 22)
http://www.wineloverspage.com/wineadvisor/tswa021122.phtml
• More turkey wines (Nov. 20)
http://www.wineloverspage.com/wineadvisor/tswa021120.phtml
• 'tis the season (Nov. 18)
http://www.wineloverspage.com/wineadvisor/tswa021118.phtml
• Complete 30 Second Wine Advisor archive:
http://www.wineloverspage.com/wineadvisor/thelist.shtml
• Last week's Wine Advisor Foodletter: Roast pork and sauerkraut (Nov. 21)
http://www.wineloverspage.com/wineadvisor/tsfl021121.phtml
• Wine Advisor Foodletter archive:
http://www.wineloverspage.com/wineadvisor/foodlist.phtml
Administrivia
To subscribe or unsubscribe from The 30 Second Wine Advisor, change your E-mail address, switch from weekly to daily distribution, or for any other administrative matters, click to http://www.wineloverspage.com/wineadvisor/admin.phtml. In all administrative communications, please be sure to include the exact E-mail address that you used when you subscribed, so we can find your record. If you must unsubscribe, please take a moment to tell us why you're leaving, and to offer any comments or suggestions you may have. We do not use our E-mail list for any other purpose and will never give or sell your name or E-mail address to anyone.
I welcome feedback, suggestions, and ideas for future columns. To contact me, send E-mail to wine@wineloverspage.com.
All the wine-tasting reports posted here are consumer-oriented. In order to maintain objectivity and avoid conflicts of interest, I purchase all the wines I rate at my own expense in retail stores and accept no samples, gifts or other gratuities from the wine industry.
Monday, Nov. 25, 2002
Copyright 2002 by Robin Garr. All rights reserved.
Subscribe to the 30 Second Wine Advisor
Wine Advisor archives