30 Second Wine Advisor: This week's sponsor
• California Wine Club makes your holiday shopping easy!
http://www.cawineclub.com

In This Issue
• More turkey wines
• Graff 2001 Wehlener Sonnenuhr Riesling Kabinett
• Di Majo Norante 2001 Terra Degli Osci (Molise) Sangiovese
• Administrivia
More turkey wines
Your E-mail requests for tips on good wines to go with Thanksgiving turkey keep rolling in, so let's continue with this theme today as I offer tasting reports on two more affordable wines that should make a good match with the traditional autumn-holiday bird.
As a quick reminder, bear in mind that there's no need to fret about going badly wrong, no matter what you choose: Wine in general is a beverage made to go with food, and just about any combination will do. But as we discussed in Monday's article, for a turkey-and-wine match that really sings, think about the way that cranberry sauce works with roast turkey and seek a wine (either red or white) with a similar flavor profile: Fruity, yet tart.
Today's tastings offer your choice of a red and a white: An Italian Sangiovese from Molise on the Adriatic coast, and a German Riesling - in fact, the benchmark wine for this month's Wine Tasting 101 feature on WineLoversPage.com - from the famous Wehlener Sonnenuhr ("Sundial of Wehlen") vineyard on the Mosel.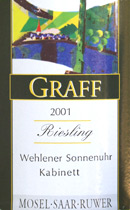 Graff 2001 Wehlener Sonnenuhr Riesling Kabinett ($10.49)
Light greenish-gold in color, this Mosel Riesling offers musky-melon scents with an aromatic overlay of spearmint. Soft and slightly prickly on the palate, there's light sweetness and a pleasant taste of tangerines in the flavor, with crisp but not overwhelming acidity to provide balance. A mild October in the German wine regions reportedly brought exceptional ripeness in the 2001 vintage, and this modest example seems to show that with a rich combination of fruit sugars and relatively restrained acidity for a Mosel. U.S. importer: Valckenberg International Inc., Tulsa, Okla. (Nov. 16, 2002)
FOOD MATCH: Fine with roast pork ... or turkey.
VALUE: Fairly priced around $10.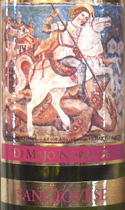 Di Majo Norante 2001 Terra Degli Osci (Molise) Sangiovese ($7.99)
Very dark ruby. Caramel and brown sugar and mixed-spice scents seem a bit more up-front than simple, plummy fruit in an aroma that's pleasantly reminiscent of holiday fruitcake. Warm fruit is more evident in the flavor, though, with soft but sufficient acidity for balance. A simple, easy quaff. U.S. importer: Winebow Inc., NYC; Leonardo Locascio Selections. (Nov. 5, 2002)
FOOD MATCH: Typical of wines in the quaffing style, it will go well with a variety of foods, from our random meatless choice - farfalle pasta tossed with broccoli, olives and feta cheese (from Cook's Illustrated) - to Thanksgiving turkey.
VALUE: Nothing fancy here, but then, neither is the price. Appropriate value.
WEB LINKS: The importer has a page about Di Majo Norante's wines at
http://www.winebow.com/show_producer.asp?producer=20.

Administrivia
To subscribe or unsubscribe from The 30 Second Wine Advisor, change your E-mail address, switch from weekly to daily distribution, or for any other administrative matters, click to http://www.wineloverspage.com/wineadvisor/admin.phtml. In all administrative communications, please be sure to include the exact E-mail address that you used when you subscribed, so we can find your record. If you must unsubscribe, please take a moment to tell us why you're leaving, and to offer any comments or suggestions you may have. We do not use our E-mail list for any other purpose and will never give or sell your name or E-mail address to anyone.
I welcome feedback, suggestions, and ideas for future columns. To contact me, send E-mail to wine@wineloverspage.com.
All the wine-tasting reports posted here are consumer-oriented. In order to maintain objectivity and avoid conflicts of interest, I purchase all the wines I rate at my own expense in retail stores and accept no samples, gifts or other gratuities from the wine industry.
Wednesday, Nov. 20, 2002
Copyright 2002 by Robin Garr. All rights reserved.
Subscribe to the 30 Second Wine Advisor
Wine Advisor archives