30 Second Wine Advisor: This week's sponsor
• California Wine Club
http://www.cawineclub.com

In This Issue
• More GSM
• Edmunds St. John 2000 Rocks and Gravel
• Administrivia
More GSM
Following up on Wednesday's dissertation about imitation being the sincerest form of flattery when it comes to lusty reds that evoke the vinous glories of the Southern Rhone, let's take a tasting visit today to another first-rate Rhone-style blend from a favorite California producer.
Like Wednesday's tasting from Qupé, the 2000 "Rocks and Gravel" from Edmunds St. John is a Grenache-Syrah-Mourvedre (GSM) blend (plus just 1 percent of the more unusual Rhone grape Counoise). The fruit for this wine comes from California vineyards that range from the Sierra Nevada foothills to Mendocino to San Luis Obispo, covering a broad cross-section of the sprawling state's wine regions.
"I've tried, since 1985, to find a way to re-create, in a wine made from California grapes, the pleasure I experience when I smell and taste my favorite wines from Chateauneuf-du-Pape," wine maker Steve Edmunds writes on the winery Website. "The aromas of those wines are so thrilling, so utterly seductive." On the Rocks and Gravel back label, he adds that it is "inspired by the lovely, sunny red wines grown in the South of France, and ... may be hard to distinguish from the real thing."
I can't substantiate that without an analytical "blind" comparative tasting, which I didn't conduct ... yet. But I'll say this about the wines of Edmunds St. John: While they are distinctly American, they speak of the earth, and the soil, and the environment in which the grapes are grown, with a style and grace that's more common in the wines of Europe than many of those from the New World. I admire that, and it is just this character that makes this winery one of my California favorites.
Steve Edmunds is also a musician and song writer, by the way, offering yet another data point in a world of evidence that making wine is simply another form of creative art. For a peek at Steve's musical side, click to the winery Website's "Lonesome on the Ground" page,
http://www.edmundsstjohn.com/LonesomeOnTheGround/.
Here's my tasting report: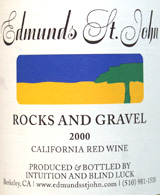 Edmunds St. John 2000 Rocks and Gravel ($19.99)
Very dark garnet with a reddish glint, this fine blend of Grenache, Syrah and Mourvedre offers soft earthy and floral aroma notes over warm berry fruit. Full and ripe, tart fruit and substantial but accessible tannins show on the palate. A bit closed at first, it opened up and gained intriguing complexity with time in the glass - berry fruit, fragrant pepper and earth - leaving us thoroughly impressed and suggesting that a bit of cellar time won't hurt at all. (Oct. 11, 2002)
FOOD MATCH: A thoroughly natural match with a rare T-bone crusted with black pepper.
VALUE: Another $20 wine that justifies its price by standing well above international competition at the price point.
WEB LINK: You'll find the winery fact sheet on Rocks and Gravel at
http://www.edmundsstjohn.com/TheWines/RocksAndGravel/.

Administrivia
To subscribe or unsubscribe from The 30 Second Wine Advisor, change your E-mail address, switch from weekly to daily distribution, or for any other administrative matters, click to http://www.wineloverspage.com/wineadvisor/admin.phtml. In all administrative communications, please be sure to include the exact E-mail address that you used when you subscribed, so we can find your record. If you must unsubscribe, please take a moment to tell us why you're leaving, and to offer any comments or suggestions you may have. We do not use our E-mail list for any other purpose and will never give or sell your name or E-mail address to anyone.
I welcome feedback, suggestions, and ideas for future columns. To contact me, send E-mail to wine@wineloverspage.com.
All the wine-tasting reports posted here are consumer-oriented. In order to maintain objectivity and avoid conflicts of interest, I purchase all the wines I rate at my own expense in retail stores and accept no samples, gifts or other gratuities from the wine industry.
Friday, Nov. 15, 2002
Copyright 2002 by Robin Garr. All rights reserved.
Subscribe to the 30 Second Wine Advisor
Wine Advisor archives