30 Second Wine Advisor: This week's sponsor
• California Wine Club
http://www.cawineclub.com

In This Issue
• Sincerest form of flattery
• Qupé 2000 Los Olivos Cuvée
• Seeking more views on US wine-import bill
• Administrivia
Sincerest form of flattery
Imitation, it is said, is the sincerest form of flattery, and by that standard the wine makers of France's Southern Rhone Valley should be basking in adulation, as their warm and tasty wines - particularly the reds - are widely emulated.
I was moved to this observation by a recent happy encounter with an exceptionally enjoyable wine from Qupé, a first-rate producer in the Santa Barbara region on California's scenic Central Coast.
This wine, which Qupé calls "Los Olivos Cuvée," is based on an increasingly popular blend of the Rhone grape varieties Syrah, Grenache and Mourvedre - a trio whose names are often abbreviated, especially in Australia, to "GSM."
Like interesting but diverse conversationalists, each of these grapes brings something distinct to the party: Body and depth and a distinctive black-pepper flavor from Syrah, bright and bold berry aromas and flavors from Grenache, and fruit plus earthy and tannic notes from Mourvedre. It's no coincidence that these three grapes form the backbone of many Southern Rhones; even in the storied Chateauneuf-du-Pape, where up to 13 varieties are allowed, these are the grapes that dominate.
Just like many American people, this California wine owes its ancestry to Europe, but it also shows the influence of the New World on its upbringing and development. It's no Chateauneuf-du-Pape, nor should it be. But it shares with its French cousin the happy elements of good body, complex aromas and flavors and an excellent affinity with food.
Keep this one in mind ... another day soon we'll sample a similar blend from Down Under and see how it compares.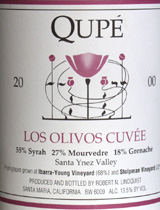 Qupé 2000 Los Olivos Cuvée ($19.99)
A blend of Syrah (55%), Mourvedre (27%) and Grenache (18%) grapes from the Ibarra-Young and Stolpman vineyards in the Santa Ynez Valley. Clear ruby in color, it breathes forward, pleasant scents of ripe red fruit with whiffs of aromatic vanilla and fragrant pepper. Fresh plum and cherry flavors are so fresh and ripe that they almost seem sweet, laced up with snappy lemon-squirt acidity. While it shows a touch of Rhone style in its blend of varieties, it hasn't lost its American accent. (Nov. 10, 2002)
FOOD MATCH: The robust, slightly gamey flavor of lamb goes well with Rhone-style red blends; I paired this with an ethnic preparation from a bit off the beaten path, Khoresht-e Gheimeh, a lamb and split-pea stew from Margaret Shaida's excellent new book, The Legendary Cuisine of Persia.
VALUE: Although $20 may cross beyond everyday-wine territory for many wine fanciers, this excellent wine justifies a special-occasion price.

Seeking more views on US wine-import bill
Many of you have thanked me for breaking the news last week about the wine-import provisions of U.S. House Resolution 5385, a proposal before the U.S. Senate that small wine importers (and many consumers!) fear could dry up access to artisanal European wines.
At the same time, I have had a number of thoughtful responses from wine producers and retailers who point out that there's another side to this story - specifically, European Union regulations that make it difficult for American wineries to market their wares in Europe.
I hate to see legislation that pits reasonable interests against each other and leaves no obvious way to satisfy both. Still, in fairness, I want to present all sides of this controversy so you have the information you need to make your own best judgement about where you stand.
I'm working on an update to be published soon, but before I do that, I would greatly appreciate having your input, particularly if you can speak knowledgeably about wine-industry interests, whether you're a producer, distributor, importer or retailer, in the U.S. or elsewhere. If you have comments that you consider important to this debate, please drop me a note by E-mail to wine@wineloverspage.com. I'll give all responses respectful consideration ... as I'm doing with the letters I've already received.
Administrivia
To subscribe or unsubscribe from The 30 Second Wine Advisor, change your E-mail address, switch from weekly to daily distribution, or for any other administrative matters, click to http://www.wineloverspage.com/wineadvisor/admin.phtml. In all administrative communications, please be sure to include the exact E-mail address that you used when you subscribed, so we can find your record. If you must unsubscribe, please take a moment to tell us why you're leaving, and to offer any comments or suggestions you may have. We do not use our E-mail list for any other purpose and will never give or sell your name or E-mail address to anyone.
I welcome feedback, suggestions, and ideas for future columns. To contact me, send E-mail to wine@wineloverspage.com.
All the wine-tasting reports posted here are consumer-oriented. In order to maintain objectivity and avoid conflicts of interest, I purchase all the wines I rate at my own expense in retail stores and accept no samples, gifts or other gratuities from the wine industry.
Wednesday, Nov. 13, 2002
Copyright 2002 by Robin Garr. All rights reserved.
Subscribe to the 30 Second Wine Advisor
Wine Advisor archives