30 Second Wine Advisor: This week's sponsor
• California Wine Club:
(Wine Advisor readers: Get your free 101 WINE TIPS book!)
http://www.cawineclub.com

In This Issue
• WT101: 2001 German Riesling
• Botromagno 2001 Gravina
• Wine Lovers' Voting Booth: Surfing the 'net for wine
• Give a wine adventure with California Wine Club!
(Wine Advisor readers: Get your free 101 WINE TIPS book!)
• Last Week's Wine Advisor Index
• Administrivia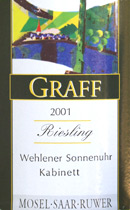 WT101: 2001 German Riesling
Many wine lovers have an odd relationship with Riesling. This historic grape variety was already ancient in Charlemagne's times, and it's widely considered one of the world's most noble wine grapes. Many of its fanciers would argue that it is THE best. Top Rieslings can show a complexity, elegance and balance that is rare in wine ... and the best can last and improve for many years, an uncommon characteristic in whites.
But while many wine enthusiasts talk about Riesling, not so many of us drink it. For all its great character, Riesling - particularly the higher-quality German renditions that are widely considered its highest manifestation - is made in a significantly different style than the dry table wines of Western Europe that many of us consider the benchmark for fine wine. In its most typical form, it brings together steely acidity and fresh-fruit sweetness in an approach to wine that can be delicious but that seems, well, different.
What's more, although Riesling is grown in most of the world's wine-producing regions, the wines can vary dramatically from place to place, with Germany, Alsace, Austria, New Zealand, Australia, Canada, the U.S. West Coast and New York State all producing Rieslings that can seem as distantly related as dissimilar cousins.
And to make things even more complicated, most quality German Rieslings are produced in such small quantities that they can be difficult to find ... and when you do locate one, the German wine labels - based on complicated regulations and expressed in polysyllabic German terms - can be daunting.
None of which should deter us from selecting 2001 German Riesling as the topic for this month's Wine Tasting 101 feature on WineLoversPage.com,
http://www.wineloverspage.com/forum/wt101.phtml,
where you are invited to practice tasting wine analytically and sharing your tasting reports with a friendly interactive community of wine lovers. Fanciers of German wine are talking with rare excitement about this vintage as the first '01s start reaching retail shelves around the world.
One of the great challenges to German wine making is that the country's top growing regions - the Rhine and Mosel river valleys - are located near the extreme northern limit of climate for successful wine-grape production. Weather here becomes a truly critical factor; and every vintage becomes a cosmic throw of the dice as the chances for good weather lasting through the harvest are little better than even. But when the weather cooperates, the wines can be great. And, according to the German Wine Information Bureau USA in its 2001 Vintage Report, "This year a 'golden October' answered vintners' prayers and yielded spectacular results for the 2001 vintage."
Because of the limited availability of specific German wines, we've decided not to try for a single "benchmark" wine this month. I'll be tasting the Graff 2001 Wehlener Sonnenuhr Riesling Kabinett pictured above, which comes from a noteworthy Mosel vineyard and sold for $10.49 in my area. The U.S. importer is Valckenberg International Inc., of Tulsa, Okla.
OTHER OPTIONS: If you can't find this wine, or simply prefer to try an alternative, you might want to try to stay as close to the spirit of this wine as you can: Look 2001 Riesling Kabinetts by other producers who also use fruit from the Wehlener Sonnenuhr vineyard; or failing that, other 2001 Mosel Kabinetts - or 2001 Mosels of higher ripeness levels, Spätlese or Auslese. Can't find an '01 Mosel? Try the Rhine! And of course, rather than have you shut out of participation, you're still welcome to post notes on any 2001 Riesling from any wine-producing region - or any Riesling at all!
WEB LINKS: For the official word in English about German wines in general, see the previously mentioned German Wine Information Bureau USA site, with its main page at
http://www.germanwineusa.org/.
The German Wine Institute offers more in-depth information in German and English; you'll find the English-language pages here:
http://www.deutscheweine.de/englisch/home_e.htm.
Finally, our friend and Wine Lovers' Discussion Group participant Peter Ruhrberg has an excellent wine-enthusiast Website in English, the German Wine Pages, at
http://www.winepage.de/
with "An early note on the 2001 Vintage" at
http://www.winepage.de/vintages.html#2001.
No Riesling report today ... I'll return to this topic later in the month. Meanwhile, here's another style of aromatic white, this one from Southern Italy.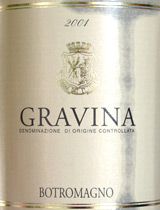 Botromagno 2001 Gravina ($10.49)
Clear bright-gold in color, this wine from Puglia (Apulia), the "heel" of the Italian "boot," is full of the ripe aromatics and intense colors of its grape components, Greco (60 percent) and Malvasia (40 percent). Scents of almonds and banana oil add exotic notes to fresh white fruit. Crisp and citric flavors are consistent with the nose, with palate-cleansing lemon-lime in a long, clean finish. U.S. importer: Winebow Inc., NYC; Leonardo Locascio Selections. (Oct. 31, 2002)
FOOD MATCH: Crisp acidity and distinct aromatics make this a match for stronger-flavored fish. It was excellent with alder-smoked salmon shredded over potato pancakes.
VALUE: A fine value in the $10 range, offering aroma complexity that you won't find in many whites at this price.
WEB LINKS: The importer offers a winery fact sheet here:
http://www.winebow.com/show_producer.asp?producer=9.

Wine Lovers' Voting Booth: Surfing the 'net for wine
This week we return to a subject that we last surveyed more than four years ago, almost a full generation in the fast-moving world of the Internet. What a difference four years makes! Computers and access have improved, but the economy probably hasn't ... and some of the dot-bomb wine Websites of the late '90s are no longer around.
So today we reprise a question that we last asked in 1998, curious to see whether the results have changed significantly during that time as we ask, "how often do you use the Internet to check wine-related topics?"
If you haven't voted yet, there's still time, as this topic will stay online until Nov. 22. Simply click to
http://www.wineloverspage.com/votebooth/
to cast your ballot and see how other wine lovers around the world have voted.
Give a wine adventure with California Wine Club!
This holiday season, give a California wine adventure! With The California Wine Club, your gift recipient will receive two bottles of award-winning wine, hand-selected from California's best boutique wineries. Just $32.95/month plus shipping and includes a fun and informative 8-page newsletter, Uncorked. Send as many months as you wish!
SPECIAL OFFER FOR WINE ADVISOR READERS! Mention the 30 Second Wine Advisor and they'll include a free copy of the handy book, 101 ESSENTIAL WINE TIPS. Also, be sure to ask about their specially discounted prices on gifts of 3, 6, 9 and 12 months.
Call (800) 777-4443 or visit http://www.cawineclub.com.
Available in the U.S. wherever wine shipping is permitted by law.
Last Week's Wine Advisor Index
The Wine Advisor's daily edition is currently distributed on Mondays, Wednesdays and Fridays (and, for those who subscribe, the FoodLetter on Thursdays). Here's the index to last week's columns:
• Budget vintage-tracking (Nov. 8)
http://www.wineloverspage.com/wineadvisor/tswa021108.phtml
• Stealth bill could crush US wine imports (Nov. 6)
http://www.wineloverspage.com/wineadvisor/tswa021106.phtml
• Screw cap with a guarantee (Nov. 4)
http://www.wineloverspage.com/wineadvisor/tswa021104.phtml
• Complete 30 Second Wine Advisor archive:
http://www.wineloverspage.com/wineadvisor/thelist.shtml
• Last week's Wine Advisor Foodletter: Thai-accented pumpkin soup (Nov. 7)
http://www.wineloverspage.com/wineadvisor/tsfl021107.phtml
• Wine Advisor Foodletter archive:
http://www.wineloverspage.com/wineadvisor/foodlist.phtml
Administrivia
To subscribe or unsubscribe from The 30 Second Wine Advisor, change your E-mail address, switch from weekly to daily distribution, or for any other administrative matters, click to http://www.wineloverspage.com/wineadvisor/admin.phtml. In all administrative communications, please be sure to include the exact E-mail address that you used when you subscribed, so we can find your record. If you must unsubscribe, please take a moment to tell us why you're leaving, and to offer any comments or suggestions you may have. We do not use our E-mail list for any other purpose and will never give or sell your name or E-mail address to anyone.
I welcome feedback, suggestions, and ideas for future columns. To contact me, send E-mail to wine@wineloverspage.com.
All the wine-tasting reports posted here are consumer-oriented. In order to maintain objectivity and avoid conflicts of interest, I purchase all the wines I rate at my own expense in retail stores and accept no samples, gifts or other gratuities from the wine industry.
Monday, Nov. 11, 2002
Copyright 2002 by Robin Garr. All rights reserved.
Subscribe to the 30 Second Wine Advisor
Wine Advisor archives