30 Second Wine Advisor: This week's sponsor
• eRobertParker.com
http://www.eRobertParker.com

In This Issue
• Budget vintage-tracking
• Monte Antico 1999 Toscano
• Falesco 2001 Vitiano Umbria
• Wine Lovers' Voting Booth: Surfing the 'net for wine
• Administrivia
Budget vintage-tracking
Think about comparing wines of different vintages (a concept sometimes called a "vertical tasting" in winespeak), and you may visualize a wealthy connoisseur sniffing samples of great pre-war Bordeaux.
But consider this: Virtually every quality wine - with only a few special exceptions like Sherry and most Champagnes - is made from grapes grown in a single year, or "vintage" - and thus is subject to variations based on weather conditions and other factors that change from year to year.
This is one of the many little complexities that makes wine interesting, and you don't need to be wealthy to enjoy it. Even modest wines show annual variations, and learning to evaluate and enjoy them is as simple as jotting down casual tasting notes and comparing them as you try the same wine again when the next year's vintage arrives.
Today, then, let's take a quick look at two Italian favorites, both of which are widely available for $10 or less.
Monte Antico 1999 Toscano, a red wine from Tuscany based on Sangiovese grapes, might be called a modern riff on Chianti. It's a wine made annually for the U.S. market under the joint supervision of importer Neil Empson and Tuscan wine maker Franco Bernabei, and it enjoys a good reputation - at least with me - as a wine of consistently good value. Looking back over my previous vintage notes, I found the recently arrived 1999 very similar to the '98 - good tart-cherry flavors but a bit "thin" - while the 1997 was more full-bodied but also showed more prominent oak.
Falesco 2001 Vitiano comes from Umbria, the Italian province just east of Tuscany, and it contains Sangiovese too - but here it's a player in a modern blend in equal parts with Cabernet Sauvignon and Merlot. Like the 1999 and 2000 vintages, the newly arrived 2001 is tannic and seems to need cellar time (or perhaps extended "breathing" to come into its own. Right now it seems rather simple, although a good companion with pizza or beef; but if it follows the pattern of its predecessor vintages, it will gain flavor interest in a year or two.
Here are my more detailed tasting notes, with label photos, the foods I matched with the wines, and Web links: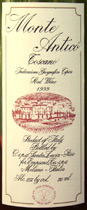 Monte Antico 1999 Toscano ($9.99)
Very dark reddish-purple with a ruby edge. Fresh bing cherries, ripe and true, in an appetizing aroma with hints of spice. Tart-cherry fruit and sharp acidity on the palate, a bit more thin than the aromas would suggest. Still, a nicely balanced table red, ready to drink and fine with food. U.S. importer: Empson (U.S.A.) Inc., Alexandria, Va. (Nov. 7, 2002)
FOOD MATCH: Worked very well with gorgonzola-stuffed cappelletti in a light tomato-accented cream sauce loosely inspired by pasta alla vodka, a concept I associate more with Palm Beach than Palermo.
VALUE: A fine $10 value.
WEB LINKS: You'll find the U.S. importer's Monte Antico fact sheet here:
http://www.empson.com/official-site/cmn/schede/monteant.htm?usa.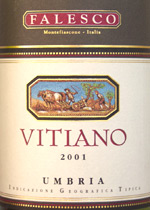 Falesco 2001 Vitiano Umbria ($9.99)
Dark ruby, with amber highlights in the glass. Simple but pleasant aromas mix black fruit and sweet brown sugar. Tart and rather tannic, astringent acids somewhat cloak full, plummy fruit flavors. Consistent with past vintages, despite its modest pretensions, this is a wine with good potential that does best with a little cellar time. U.S. importer: Winebow Inc., NYC; Leonardo Locascio Selections. (Nov. 6, 2002)
FOOD MATCH: Almost a cliche, but it went nicely with sausage pizza. Steak or rare roast beef would tame its tannins, though.
VALUE: Good value, perhaps excellent value if given time to mature.
WEB LINKS: The importer's page about the producer is at
http://www.winebow.com/show_producer.asp?producer=22,
with a detailed fact sheet on the wine (in Adobe Acrobat format) at
http://www.winebow.net/pdf/template.pdf.

Wine Lovers' Voting Booth: Surfing the 'net for wine
This week we return to a subject that we last surveyed more than four years ago, almost a full generation in the fast-moving world of the Internet. What a difference four years makes! Computers and access have improved, but the economy probably hasn't ... and some of the dot-bomb wine Websites of the late '90s are no longer around.
So today we reprise a question that we last asked in 1998, curious to see whether the results have changed significantly during that time as we ask, "how often do you surf the net for wine-related topics?" To join in, simply click to
http://www.wineloverspage.com/votebooth/
to cast your ballot and see how other wine lovers around the world have voted.
Administrivia
To subscribe or unsubscribe from The 30 Second Wine Advisor, change your E-mail address, switch from weekly to daily distribution, or for any other administrative matters, click to http://www.wineloverspage.com/wineadvisor/admin.phtml.
In all administrative communications, please be sure to include the exact E-mail address that you used when you subscribed, so we can find your record. If you must unsubscribe, please take a moment to tell us why you're leaving, and to offer any comments or suggestions you may have. We do not use our E-mail list for any other purpose and will never give or sell your name or E-mail address to anyone.
I welcome feedback, suggestions, and ideas for future columns. To contact me, send E-mail to wine@wineloverspage.com.
All the wine-tasting reports posted here are consumer-oriented. In order to maintain objectivity and avoid conflicts of interest, I purchase all the wines I rate at my own expense in retail stores and accept no samples, gifts or other gratuities from the wine industry.
Friday, Nov. 8, 2002
Copyright 2002 by Robin Garr. All rights reserved.
Subscribe to the 30 Second Wine Advisor
Wine Advisor archives