30 Second Wine Advisor: This week's sponsor
• A message from eRobertParker.com
http://www.eRobertParker.com

In This Issue
• Screw cap with a guarantee
• Jackson Estate 2002 Marlborough Sauvignon Blanc
• Allan Scott 2001 Marlborough Sauvignon Blanc
• eRobertParker.com adds vast Bordeaux archive
• Last Week's Wine Advisor Index
• Administrivia
An imposing screw cap closes the Jackson Estate 2002 Sauvignon Blanc.
Screw cap with a guarantee
It was almost three years ago to the day when The Wine Advisor first reported on the wine industry's growing interest in alternatives to natural cork for closing wine bottles.
Although there was little dispute that alternative closures could solve the pesky problem of wines ruined by "tainted" corks, I wrote on Nov. 1, 1999, 300 years of tradition and the romance associated with natural cork would make it difficult for new technologies to oust oak bark from its market-dominant position.
"It's going to take a lot of experimentation before the wine industry can be certain that synthetics, crown caps and screw tops have the durability to protect wine during long-term storage," that early article went on. "And it's going to take a lot of marketing before wine lovers give up our attachment to the traditional cork. But I wouldn't bet that the old-fashioned cork won't eventually go the way of the LP phonograph record."
We've taken up this topic again from time to time, and recently it seems that the trend away from natural cork is moving faster than many observers had expected. With Australia and New Zealand in the lead, synthetic corks have become commonplace, especially in less expensive wines. And lately the once-maligned screw cap has been making a strong bid for wine lovers' affection.
In recent years we've seen the boutique California winery Plumpjack offer a screw cap on its $100-plus Cabernet Sauvignon ... Riesling producers in Australia's Clare Valley moved en masse to screw caps ... California's Bonny Doon Vineyard, an early adopter of synthetic "corks," adopted screw caps this year ... and 27 New Zealand wine makers are putting screw caps on many of their vintage 2002 wines.
The more consumers see - and taste - wines closed with screw caps, the less unusual and out of place it seems to find this "cheap-wine" closure on wines of quality and value. New Zealand '02s with screw caps are now finding their way to our local wine shops, and the first one I tried was a revelation.
You might not notice at first that the Jackson Estate 2002 Marlborough Sauvignon Blanc isn't stoppered with a cork - high-quality screw caps from modern brands like Stelvin and SuperVin are long and sleek, appearing very much like the traditional "capsule" that covers the business end of most traditionally corked bottles (photo above). But this closure requires no corkscrew, only a firm twist and a gentle snap to break the seal. And the wine within was remarkable, perhaps the freshest and cleanest-tasting Sauvignon Blanc I've enjoyed outside a winery tasting room.
More impressive still, Jackson Estate stands behind the durability of its new seals in a most impressive way, offering on its Website this unambiguous pledge: "All our wines sealed with the screwcap wine closure are guaranteed for ten years." That shows corporate confidence. And the wine is worth trying.
If you're interested in more technical information about screw caps, you might enjoy a visit to the New Zealand Screwcap Wine Seal Initiative Website,
http://www.screwcap.co.nz/.
Some portions of the site remain "under construction," but persistent clicking through the "Technical Information" and subsidiary links leads to interesting details about the construction of modern wine screw caps and their components.
Here are my notes on the Jackson Estate, and on another excellent New Zealand Sauvignon Blanc corked in the traditional way.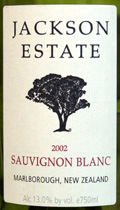 Jackson Estate 2002 Marlborough Sauvignon Blanc ($12.99)
Very pale straw color, with delicious citric scents, clean and fresh, full of the pleasantly "zesty" aromas of grapefruits, oranges and limes. The flavor is filled with bright and snappy fruit, citric and very fresh, so clean and inviting that you want to gulp it, but it's worth taking the time to savor. Beautiful. U.S. importer: Rock Creek Wine Merchants LLC, Bethesda, Md. (Oct. 23, 2002)
FOOD MATCH: An inspired match for a simple risotto with saffron and green peas.
VALUE: A $13 wine with a screw cap? Absolutely! This wine is more than a match for the white-wine competition at this price.
WEB LINKS: You'll find the winery Website at
http://www.jacksonestate.co.nz/.
The U.S. importer's Website is at
http://www.rockcreekwines.com/.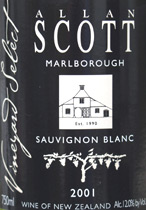 Allan Scott 2001 Marlborough Sauvignon Blanc ($10.99)
Clear straw color. Delicious aromas, typical New Zealand Sauvignon Blanc, feature juicy lime and herbaceous green chile-pepper, clean and fresh. Flavors are consistent, tart and bright, snappy citrus with appetizing green chiles in the finish. U.S. importer: Uniqco Corp., Huntsville, Ala. (Oct. 25, 2002)
FOOD MATCH: Very pleasing with a simple Italian-style soup of celery and rice in broth.
VALUE: Very good value at this price, similar character for less than half the cost of the sought-after Cloudy Bay.
WEB LINKS: You'll find the winery Website here:
http://www.allanscott.com/.

A message from eRobertParker.com
One of the leading English-language resources for information about tasting and buying the wines of Bordeaux is going online today in full, easy-to-access form as eRobertParker.com adds more than 2,000 wine reviews from Robert M. Parker Jr.'s massive "Bordeaux: A Comprehensive Guide to the Wines Produced from 1961-1997."
Until now, the eRobertParker.com database has been complete with reviews from Parker's "The Wine Advocate" back through the 1992 issues, which reviewed the 1989 Bordeaux vintage ... not a bad place to start! It also included Parker's more recent re-reviews of great wines from older vintages.
But this massive update will fill in the gaps, making reviews available for Bordeaux wines going back, in some cases, to the 1800s! The update features 15 reviews from the 1947 vintage, 47 from the 1961 vintage and 58 from the 1970 vintage, among the top older vintages of the 20th century. From more recent vintages, the update will add more than 800 new reviews from the 1980s alone.
Online subscribers have organized online access to Parker's "Wine Advocate" ratings and reviews, plus plenty of exclusive content including special tasting reports in the Hedonist's Gazette and the useful "Find It Online" feature, with "one-click" listings of Internet retailers and auction sites that have Parker-rated wines of interest for sale.
With the holidays coming up, a subscription to eRobertParker.com is a gift to a loved one - or for yourself - that can't be beat. Click now to
http://www.eRobertParker.com/
for all the details.
Last Week's Wine Advisor Index
The Wine Advisor's daily edition is currently distributed on Mondays, Wednesdays and Fridays (and, for those who subscribe, the FoodLetter on Thursdays). Here's the index to last week's columns:
• Get what you pay for? (Nov. 1)
http://www.wineloverspage.com/wineadvisor/tswa021101.phtml
• Spanish wine words: Crianza (Oct. 30)
http://www.wineloverspage.com/wineadvisor/tswa021030.phtml
• A feast of Spanish wine (Oct. 28)
http://www.wineloverspage.com/wineadvisor/tswa021028.phtml
• Complete 30 Second Wine Advisor archive:
http://www.wineloverspage.com/wineadvisor/thelist.shtml
• Last week's Wine Advisor Foodletter: Broccoli and pasta (Oct. 31)
http://www.wineloverspage.com/wineadvisor/tsfl021031.phtml
• Wine Advisor Foodletter archive:
http://www.wineloverspage.com/wineadvisor/foodlist.phtml
Administrivia
To subscribe or unsubscribe from The 30 Second Wine Advisor, change your E-mail address, switch from weekly to daily distribution, or for any other administrative matters, click to http://www.wineloverspage.com/wineadvisor/admin.phtml. In all administrative communications, please be sure to include the exact E-mail address that you used when you subscribed, so we can find your record. If you must unsubscribe, please take a moment to tell us why you're leaving, and to offer any comments or suggestions you may have. We do not use our E-mail list for any other purpose and will never give or sell your name or E-mail address to anyone.
I welcome feedback, suggestions, and ideas for future columns. To contact me, send E-mail to wine@wineloverspage.com.
All the wine-tasting reports posted here are consumer-oriented. In order to maintain objectivity and avoid conflicts of interest, I purchase all the wines I rate at my own expense in retail stores and accept no samples, gifts or other gratuities from the wine industry.
Monday, Nov. 4, 2002
Copyright 2002 by Robin Garr. All rights reserved.
Subscribe to the 30 Second Wine Advisor
Wine Advisor archives