30 Second Wine Advisor: Today's sponsor
• A message from eRobertParker.com
http://www.eRobertParker.com

In This Issue
• Get what you pay for?
• Torbreck 2000 Barossa Valley "Juveniles"
• Yellow Tail 2001 South Eastern Australia Shiraz
• eRobertParker.com adds vast Bordeaux archive
• Administrivia
Get what you pay for?
Like most people, I'm always on the lookout for a really good everyday wine, an item that costs $10 or less in the U.S. but delivers quality for which you might expect to pay more.
At the same time, like many of us who get excited about quality wine, I'm willing to go to significantly higher budget ranges, at least on occasion, for an exceptional wine experience.
The real question, though ... literally the "bottom line" question ... is whether you get what you pay for.
In my ongoing effort to find ways to test this equation, I set up an unusual "blind tasting" the other night. I asked my long-suffering wife and companion to pour me two wines in unmarked glasses so I could taste them against each other without the handicap of knowing which glass held the purportedly "better" wine.
One glass held Yellow Tail 2001 Shiraz, a red wine from Australia that has been selling very well indeed in the low-price range. It cost $6 locally, although I've heard reports of it being discounted for less than $5. The other glass contained Torbreck Barossa Valley 2000 "Juveniles", a sought-after Australian specialty that cost me a cool $35 at full-price retail (although it's less in Australia, and I've seen it discounted as low as $20 in the U.S.).
Could I detect any difference? You bet I could! Only briefly misled by the inexpensive wine's opaque color, which could have passed for a "cultish" Barossa red, a quick comparison of the aromas left little doubt, and the last of that was dispelled by a quick taste:
• The Yellow Tail wasn't a bad wine, mind you, but it was simple, mellow and a bit sweet, characteristics guaranteed to find a ready audience in bars and eateries serving modest wines by the glass, but nothing to engage the senses.
• The "Juveniles" (named, by the way, for a popular Paris wine bar) showed its lofty breeding in the form of subtle, complex and frankly interesting aromas and flavors that made the wine something not merely to quaff but to sit and contemplate.
This is the difference that quality makes. But qualitatively, is the Torbreck worth six times the cost of the Yellow Tail? Unfortunately, that's not a question I can answer for you. Only you can decide what kind of an investment you are willing to make from your personal budget for wine flavor interest, or even excitement. It should be noted, however, that attention-getting complexity is possible for much less than the $30s ... and my quest for wines that meet this definition continues.
OOPS! A QUICK CORRECTION: A little knowledge being a dangerous thing, my limited command of Spanish collided with my similarly weak Italian the other day, resulting in a spelling error in my reference to the Spanish terms for wines long-aged in oak casks. The proper Spanish word is "Reserva," not the Italian "Riserva" that I wrote. I hope all my Spanish and Italian friends (and the rest of you) will pardon the error.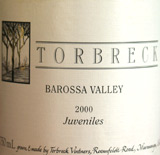 Torbreck 2000 Barossa Valley "Juveniles" ($34.99)
Dark ruby, with a reddish glint. Black plums, menthol, leather and a distant, pleasant whiff of earthy "barnyard" scents combine in a luscious aroma dominated by ripe fruit and spice. Big and full but not overwhelming; while it's loaded with fruit, it doesn't knock you down in its rush to get out of the glass. A blend of 60 percent Grenache, 20 percent Mourvedre (here called "Mataro") and 20 percent Shiraz and made without oak aging, it's an appealing blend of Barossa character with unusual complexity and balance. U.S. importer: The Grateful Palate, Oxnard, Calif. (Oct. 30, 2002)
FOOD MATCH: Tasted against the simple background of roast chicken, the wine shows well; the food match seems to bring up the wine's complexity of flavor while keeping its exuberant fruit in balance.
VALUE: When you get into the $30-plus range, "value" becomes very much an individual decision ... but this wine is more than competitive in its market niche, and is often seen discounted.
WEB LINKS: The importer's Website, featuring imported foods and wine, is at
http://www.gratefulpalate.com/.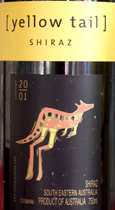 Yellow Tail 2001 South Eastern Australia Shiraz ($5.99)
Very dark purple, almost black in the glass, this inexpensive, approachable wine has the look of an Australian Shiraz, but its varietal and regional character is more muted on the nose and palate. Almost no scent is apparent at first, but swirling in the glass brings up hints of brown sugar and distant, plummy fruit. Fruit is much more apparent in the flavor, which is juicy, grapey and somewhat sweet. It's very easy drinking, smooth and mellow, with no real flaws in its simple expression of black fruit, which may help explain its popularity as a casual "glass of red." But for those more serious wine lovers seeking even a slight intellectual challenge in their wine, this may fall short. U.S. importer: W. J. Deutsch & Sons Ltd., Harrison, N.Y. (Oct. 30, 2002)
FOOD MATCH: Quaffs well with chicken (or just about any other food), but adds little to the match.
VALUE: Delivers fair value for its bottom-end price.
WEB LINKS: Here's the winery fact sheet on Yellow Tail Shiraz:
http://www.yellowtailwine.com/shiraz.html.

A message from eRobertParker.com
One of the leading English-language resources for information about tasting and buying the wines of Bordeaux is going online today in full, easy-to-access form as eRobertParker.com adds more than 2,000 wine reviews from Robert M. Parker Jr.'s massive "Bordeaux: A Comprehensive Guide to the Wines Produced from 1961-1997."
Until now, the eRobertParker.com database has been complete with reviews from Parker's "The Wine Advocate" back through the 1992 issues, which reviewed the 1989 Bordeaux vintage ... not a bad place to start! It also included Parker's more recent re-reviews of great wines from older vintages.
But this massive update will fill in the gaps, making reviews available for Bordeaux wines going back, in some cases, to the 1800s! The update features 15 reviews from the 1947 vintage, 47 from the 1961 vintage and 58 from the 1970 vintage, among the top older vintages of the 20th century. From more recent vintages, the update will add more than 800 new reviews from the 1980s alone.
Online subscribers have organized online access to Parker's "Wine Advocate" ratings and reviews, plus plenty of exclusive content including special tasting reports in the Hedonist's Gazette and the useful "Find It Online" feature, with "one-click" listings of Internet retailers and auction sites that have Parker-rated wines of interest for sale.
With the holidays coming up, a subscription to eRobertParker.com is a gift to a loved one - or for yourself - that can't be beat. Click now to
http://www.eRobertParker.com/
for all the details.
Administrivia
To subscribe or unsubscribe from The 30 Second Wine Advisor, change your E-mail address, switch from weekly to daily distribution, or for any other administrative matters, click to http://www.wineloverspage.com/wineadvisor/admin.phtml. In all administrative communications, please be sure to include the exact E-mail address that you used when you subscribed, so we can find your record. If you must unsubscribe, please take a moment to tell us why you're leaving, and to offer any comments or suggestions you may have. We do not use our E-mail list for any other purpose and will never give or sell your name or E-mail address to anyone.
I welcome feedback, suggestions, and ideas for future columns. To contact me, send E-mail to wine@wineloverspage.com.
All the wine-tasting reports posted here are consumer-oriented. In order to maintain objectivity and avoid conflicts of interest, I purchase all the wines I rate at my own expense in retail stores and accept no samples, gifts or other gratuities from the wine industry.
Friday, Nov. 1, 2002
Copyright 2002 by Robin Garr. All rights reserved.
Subscribe to the 30 Second Wine Advisor
Wine Advisor archives