30 Second Wine Advisor: This week's sponsor
• Don't Wait! Avoid the holiday rush with California Wine Club!
(Wine Advisor readers: Get your free 101 WINE TIPS book!)
http://www.cawineclub.com

In This Issue
• Spanish wine words: Crianza
• Pergolas Crianza 1997 Valdepeñas Old Vines Tempranillo
• Administrivia
Spanish wine words: Crianza
Following up on Monday's wine-tasting trip around Spain, let's stay with the theme today to report on a good, low-cost Spanish red while we review a common Spanish wine word that's worth getting to know.
The wine is from Valdepeñas in central Spain (not far south of Toledo), where the classic Spanish grape variety Tempranillo ("Temp-rah-neel-yo") is known locally as Cencibel. A dry, rather oaky red that works well with food, I picked it up for a bargain $7.
Today's word is "Crianza," ("Cree-ahn-zah"), a term that you'll often see on Spanish wine labels ... including today's tasting report. Based on the Spanish word for "nursing" or "bringing up," its definition is a bit fuzzy, as the specifics may change from one Spanish wine region to another. But to make a long story short, "Crianza" on the label guarantees that the wine is aged for a specific term before it can be sold, and that at least some of that aging occurs in oak casks.
Throughout Spain, Crianzas in general may not be released until at least two years after the vintage, of which at least six months must have been spent in 225-liter oak casks ("barricas" in Spanish, a relative of the more familiar "barriques" in French). In Rioja and Ribera del Duero, the rule is 12 full months in oak.
This may seem like a long time in barrels, but in Spain, where oak aging is traditional, Crianzas are actually in the least-oaked category - you'll need to look for "Riserva" or "Gran Riserva" if you want still more!
PRONOUNCING WINE WORDS Check out our Wine Lovers' Lexicon, a pronouncing dictionary of many common wine terms, with yours truly taking his best shot at pronouncing some of the non-English words (in MP3 sound files), at
http://www.wineloverspage.com/lexicon/.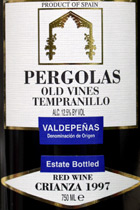 Pergolas Crianza 1997 Valdepeñas Old Vines Tempranillo ($6.99)
This dark-ruby wine shows reddish glints in the glass. Sweet cherries and vanilla blend in the aroma, over a faint scent oddly reminiscent of fresh butter. Tart-cherry fruit flavors are surprisingly fresh for a five-year-old wine at a modest price; aromatic oak forms a backdrop but doesn't dominate. Nothing too fancy here, but it's an appealing wine and offers a lot for a low-end price. U.S. importer: J & D Selections (Kysela), Winchester, Va. (Oct. 28, 2002)
FOOD MATCH: A ration of crumbled Italian sausage brings an otherwise light broccoli-and-pasta up to speed with this fruity-oaky red. (Recipe featured in the November-December 2002 issue of Cooks Illustrated.)
VALUE: Hard to beat for value at this price.
WEB LINKS: The importer has a fact sheet on the previous vintage of this wine at:
http://www.kysela.com/spain/pergolas.htm.

Administrivia
To subscribe or unsubscribe from The 30 Second Wine Advisor, change your E-mail address, switch from weekly to daily distribution, or for any other administrative matters, click to http://www.wineloverspage.com/wineadvisor/admin.phtml. In all administrative communications, please be sure to include the exact E-mail address that you used when you subscribed, so we can find your record. If you must unsubscribe, please take a moment to tell us why you're leaving, and to offer any comments or suggestions you may have. We do not use our E-mail list for any other purpose and will never give or sell your name or E-mail address to anyone.
I welcome feedback, suggestions, and ideas for future columns. To contact me, send E-mail to wine@wineloverspage.com.
All the wine-tasting reports posted here are consumer-oriented. In order to maintain objectivity and avoid conflicts of interest, I purchase all the wines I rate at my own expense in retail stores and accept no samples, gifts or other gratuities from the wine industry.
Wednesday, Oct. 30, 2002
Copyright 2002 by Robin Garr. All rights reserved.
Subscribe to the 30 Second Wine Advisor
Wine Advisor archives