30 Second Wine Advisor: This week's sponsor
• The 2002 Vintage at Chateau Haut-Brion
http://haut-brion.com/rg/2002Harvest.php
In This Issue
• Chenin Blanc and (gourmet) pizza
• Chappellet 1999 Old Vine Cuvee Napa Valley White Wine
• Administrivia
Chenin Blanc and (gourmet) pizza
Two favorites converged in our house recently, when one of my favorite California white wines rose to the top of my tasting list just in time to inspire an unexpected but delicious food match.
The wine was Chappellet's "Old Vine Cuvee," a rich and robust wine made from Chenin Blanc (Shay-nan Blanc, with a hint of French nasality on the final Ns if you can handle it). Technically it's a Napa Valley wine, but if you ever have the good fortune to visit this small but friendly producer (by appointment only) in its stunning modern-architecture facility, you'll find it's well above the valley, being located on Pritchard Hill high above the east side of the valley floor, with its old-vines Chenin vineyard some 1,800 feet above sea level.
Based on tastings of this wine in previous vintages going back for years, I expected it to be consistent with its past style: Big and ripe, with plenty of fruit and a firm structure of steely acidity and warming alcohol (a prediction that was borne out in the tasting; notes below). What kind of food would work well with this big wine? It's really too much for most seafood. I've matched past tastings with Asian fare, which worked very well, and with pork, which wasn't bad.
But this time a much more off-the-wall approach occurred to me: Pizza! Not a traditional pizza, though, but a "gourmet" pie made with an assortment of robust flavors to stand up to this hearty white. We called a favorite local pizzeria and had them build a pie with the earthiest toppings available: Roasted garlic, green olives, mushrooms, onions and ... anchovies!
This unexpected combination was far from traditional, but it clicked. The pizza's crusty bread and mellow cheese, with delicate tomato sauce more in the background than up front, made a perfect pallette for the flavorful toppings, and the flavors all came together to stand up to the powerful wine.
Two lessons are clear here: First, good wine doesn't require fancy food. And second, hearty wine deserves hearty fare.
Old Vine Cuvee is a relatively limited-production wine, with just 3,900 twelve-bottle cases of the Old Vine Cuvee made; but it seems to be fairly well distributed around the U.S. and may occasionally turn up in the rest of the world. If you can't find it but want a reasonable substitute, I would pass by most lighter-weight U.S. and South African Chenins in favor of a Savennieres from the Loire, a dry Chenin Blanc of real gravity that needs time to show its best but that might just wake up with something like an anchovy-bedecked pizza.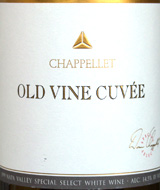 Chappellet 1999 Old Vine Cuvee Napa Valley White Wine ($12.99)
Clear gold, not dark but rich in color, with appetizing aromas of apples and pears - ripe and accurate representation of fruit - surrounded by whiffs of spice. Big and full in flavor, clean fruit and piercing acidity given body by substantial (14.5 percent) alcohol. An idiosyncratic expression of Chenin Blanc, it may be the most impressive American example of this often lightweight variety; it's an equally far cry from the elegant French (Loire) style for this grape, but it shares with the Loire a noteworthy structure that holds promise of development over time. If you have an experimental nature, you might enjoy putting a couple of bottles away for several years to see where it goes. (Oct. 9, 2002)
FOOD MATCH: As noted, a non-traditional pizza with earthy flavors of garlic, onions, olives, mushrooms and anchovies made an unexpectedly appealing companion.
VALUE: Most California Chenin Blancs are modest wines, but this exceptional item's class and power makes it a virtual steal at $13.
WEB LINKS: Chappellet's Website features a fact sheet on this wine:
http://www.chappellet.com/99OldVineCuvee.htm.
The Website includes an online store, with shipping available where permitted by law.

Administrivia
To subscribe or unsubscribe from The 30 Second Wine Advisor, change your E-mail address, switch from weekly to daily distribution, or for any other administrative matters, click to http://www.wineloverspage.com/wineadvisor/admin.phtml. In all administrative communications, please be sure to include the exact E-mail address that you used when you subscribed, so we can find your record. If you must unsubscribe, please take a moment to tell us why you're leaving, and to offer any comments or suggestions you may have. We do not use our E-mail list for any other purpose and will never give or sell your name or E-mail address to anyone.
I welcome feedback, suggestions, and ideas for future columns. To contact me, send E-mail to wine@wineloverspage.com.
All the wine-tasting reports posted here are consumer-oriented. In order to maintain objectivity and avoid conflicts of interest, I purchase all the wines I rate at my own expense in retail stores and accept no samples, gifts or other gratuities from the wine industry.
Wednesday, Oct. 23, 2002
Copyright 2002 by Robin Garr. All rights reserved.
Subscribe to the 30 Second Wine Advisor
Wine Advisor archives