30 Second Wine Advisor: This week's sponsors
• Don't Wait! Avoid the holiday rush with California Wine Club!
Wine Advisor readers: Get your free 101 WINE TIPS book!
http://www.cawineclub.com
• Hotel Vintage Court, San Francisco:
Special $109 rate to celebrate the harvest!
http://www.vintagecourt.com
In This Issue
• Gigondas
• Le Mas des Collines 1998 Gigondas
• Help us test our new Forum software!
• Administrivia
Gigondas
Let's stay with the theme of hearty red Rhone wines from France for one more day, moving from Monday's look at Hermitage's neighbors and Wednesday's taste of the Cotes-du-Rhone to finish up the week in Gigondas, a scenic and historic region high on the hillsides of the Southern Rhone.
Wine has been produced for many centuries in this region just below the craggy limestone landmark, "Les Dentelles de Montmirail," which is pictured on my June 2002 Gigondas trip report at
http://www.wineloverspage.com/wines/wt020611.phtml.
But Gigondas was only permitted to label its wines as generic Cotes-du-Rhone until the 1960s, when it earned the right to have the village name on the label. In 1971, it was given full "appellation" status, whereupon its prices inevitably began to rise.
Pronounced "Jee-gohn-dahss" (in this part of Southern France, the locals don't drop the "s" at the end of words), this robust, complex wine is based largely on Grenache with optional elements of Syrah, Mourvedre and other Rhone grape varieties. It usually bears a distinct resemblance to the wines of nearby Chateauneuf-du-Pape, often in a more hearty and "old-fashioned" style that I admire; and it still manages to stay - mostly - below its more sought-after neighbor's price.
If you like Mediterranean reds but haven't tried Gigondas, it is well worth seeking out, whether you sample this rather limited-production label or another from the region.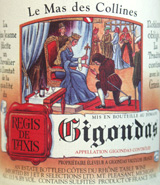 Le Mas des Collines 1998 Gigondas ($18.49)
Inky dark garnet, breathing plummy fruit so ripe that it's almost "grapey" at first. Opens up with swirling and time in the glass to show herbs and spice and juicy black plums on the nose and palate: Full fruit built on a firm acidic structure. Palatable but distinct tannins suggest that additional aging will pay dividends, but it's very approachable now. U.S. importer: J et R Selections Ltd., Mount Pleasant, Mich. (Oct. 12, 2002)
FOOD MATCH: Just right in a mixed-Mediterranean match with an Italian pasta favorite, the ragu Bolognese featured in yesterday's Wine Advisor FoodLetter.
VALUE: A bit above an everyday drinking budget for most of us at near $20, but well worth the price for complexity, balance and at least reasonable ageworthiness.
WEB LINKS: The importer has a long list of the properties it represents, including Mas des Collines, on what appears to be a personal home page on a university site:
http://www-personal.umich.edu/~mwolly/tc475/catalog1.htm

Help us test our new Forum software!
If you know computer programming OR wine or simply enjoy helping test new software, you're invited to drop by and help us beat the kinks out of an updated system we're developing for the next generation of Wine Lovers' Discussion Groups, the interactive online forums at WineLoversPage.com.
You won't find much serious wine talk there yet, but if you would like to help us beta-test the program, I would be delighted to have you stop by
http://www.wineloverspage.com/forum/test,
read the messages, try the various features, and let us know if you find any bugs or have comments, suggestions or ideas.
Administrivia
To subscribe or unsubscribe from The 30 Second Wine Advisor, change your E-mail address, switch from weekly to daily distribution, or for any other administrative matters, click to http://www.wineloverspage.com/wineadvisor/admin.phtml. In all administrative communications, please be sure to include the exact E-mail address that you used when you subscribed, so we can find your record. If you must unsubscribe, please take a moment to tell us why you're leaving, and to offer any comments or suggestions you may have. We do not use our E-mail list for any other purpose and will never give or sell your name or E-mail address to anyone.
I welcome feedback, suggestions, and ideas for future columns. To contact me, send E-mail to wine@wineloverspage.com.
All the wine-tasting reports posted here are consumer-oriented. In order to maintain objectivity and avoid conflicts of interest, I purchase all the wines I rate at my own expense in retail stores and accept no samples, gifts or other gratuities from the wine industry.
Friday, Oct. 18, 2002
Copyright 2002 by Robin Garr. All rights reserved.
Subscribe to the 30 Second Wine Advisor
Wine Advisor archives