30 Second Wine Advisor: This week's sponsors
• Don't Wait! Avoid the holiday rush with California Wine Club!
Wine Advisor readers: Get your free 101 WINE TIPS book!
http://www.cawineclub.com
• Hotel Vintage Court, San Francisco:
Special $109 rate to celebrate the harvest!
http://www.vintagecourt.com
In This Issue
• Another from Guigal
• E. Guigal 2000 Côtes-du-Rhône
• Administrivia
Another from Guigal
The E. Guigal 2000 Crozes-Hermitage reported in Monday's edition - a decent Northern Rhône Syrah at a $16 price tag a few dollars above many people's comfort level for everyday sipping - prompted me to take another look the same producer's slightly simpler but more affordable Côtes-du-Rhône.
Guigal ("Ghee-gahl"), a third-generation winemaker based in Ampuis in the Northern Rhône since 1946, owns relatively limited vineyards, winning respect for its relatively pricey estate-bottled Cote-Rotie La Mouline, La Turque and La Landonne and Condrieu La Doriane.
It is a much larger producer than grower, however, making more Cote-Rotie (Brune et Blonde) and Condrieu in its cellars as well as red and white Hermitage and the Crozes-Hermitage; Guigal also reaches to sources in the Southern Rhône for its Chateauneuf-du-Pape, Gigondas and - in the greatest quantity and widest distribution - the more generic Côtes-du-Rhône.
Although I have been underwhelmed with the Côtes-du-Rhône in some vintages, the 2000 definitely passes muster, a hearty blend of Grenache (50 percent), Mourvedre (25 percent) and Syrah (25 percent) from 35-year-old vines, aged a year in oak casks and drinking very well indeed right now. At $10 or less at retail in most markets and widely discounted, it's hard to find a better dollar-for-value everyday red from the Rhône.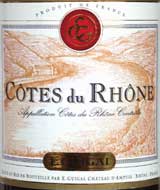 E. Guigal 2000 Côtes-du-Rhône ($9.99)
This clear but dark garnet wine offers pleasant fresh-fruit aromas of berries and plums with fragrant black pepper. Ripe and full in flavor, it offers good, rich black fruit and appetizingly tangy acidity in balance. Not particularly complex, but all its parts are in the right places; a fine food wine. U.S. importer: Ex-Cellars Wine Agencies Inc., Solvang, Calif. (Oct. 2, 2002)
FOOD MATCH: Fine with roast chicken; the wine's fresh but not lightweight fruit makes a particularly appealing flavor match.
VALUE: Good value at $10 or less.
WEB LINKS: E. Guigal's home page is at
http://www.guigal.com/; click the national flag for your choice of French or English.

Administrivia
To subscribe or unsubscribe from The 30 Second Wine Advisor, change your E-mail address, switch from weekly to daily distribution, or for any other administrative matters, click to http://www.wineloverspage.com/wineadvisor/admin.phtml. In all administrative communications, please be sure to include the exact E-mail address that you used when you subscribed, so we can find your record. If you must unsubscribe, please take a moment to tell us why you're leaving, and to offer any comments or suggestions you may have. We do not use our E-mail list for any other purpose and will never give or sell your name or E-mail address to anyone.
I welcome feedback, suggestions, and ideas for future columns. To contact me, send E-mail to wine@wineloverspage.com.
All the wine-tasting reports posted here are consumer-oriented. In order to maintain objectivity and avoid conflicts of interest, I purchase all the wines I rate at my own expense in retail stores and accept no samples, gifts or other gratuities from the wine industry.
Wednesday, Oct. 16, 2002
Copyright 2002 by Robin Garr. All rights reserved.
Subscribe to the 30 Second Wine Advisor
Wine Advisor archives