30 Second Wine Advisor: This week's sponsor
• French Wine Explorers
http://www.wine-tours-france.com/
In This Issue
• A Swiss rarity
• Chateau d'Auvernier 2000 Neuchatel
• Administrivia
A Swiss rarity
Today let us consider Switzerland.
Surrounded by such great wine-producing nations as Italy, Germany (and Austria) and France, this small but ancient and traditionally neutral country claims French, German and Italian as co-equal national languages. Vineyards thrive in all 24 of Switzerland's cantons, and beautiful Lake Geneva is the source of that great wine-growing river, the Rhone.
So we might expect Switzerland's wines to be as famous as its cheeses and its craggy, snow-capped Alps. In fact, however, Swiss wine earns little more than an asterisk in the international market. Switzerland actually imports more wine than it makes, and few of the local wines achieve much notoriety.
Why should this be? Blame those beautiful Alps: Because Switzerland sits on the roof of Europe, the high-altitude climate in most of the country is far too cold for growing wine grapes. Its vineyard regions cluster separately along the nation's borders with its neighbors, producing wine for local consumption but lacking the critical mass to make much of a mark outside the local region.
The whites are largely made from the Chasselas grape (known in some Swiss regions as Fendant), and the reds, often made from Pinot Noir and Gamay, tend to be more akin to Beaujolais than Burgundy. Often tasty and enjoyable, Swiss wines are typically light and fruity, good with food and easy to drink ... and they're most often drunk within a few kilometers of the place where they were produced.
So wine lovers in the rest of the world who seek a taste of Swiss wine may find their options limited. In our largest local wine shop, a vast facility featuring several thousand different wines from around the world, I found exactly one Swiss wine recently - and it was shelved under "France."
That being said, this particular item offers a good sample of the best from the country's French-speaking wine regions. Made in a historic property on the north shore of Lake Neuchatel, it is a good benchmark example of high-quality Chasselas.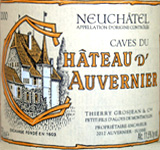 Chateau d'Auvernier 2000 Neuchatel ($15.99)
This clear, straw-color wine offers a good example of quality Swiss Chasselas. Showing fresh apple, musky melon and lime on the nose and palate, it is crisp, tart and refreshing, with snappy citric flavors and a "stony" minerality in a long finish. U.S. importer: Dreyfus, Ashby & Co., NYC. (Oct. 7, 2002)
FOOD MATCH: Went well with a quick involtini, thin-sliced peppered ham wrapped around white asparagus and quickly broiled under a topping of Fontina cheese.
VALUE: I willingly paid the price for a rare taste of Swiss wine, but judged objectively, $16 is a bit on the high side for a fresh and fruity but not particularly complex white.
WEB LINK: The U.S. importer's Swiss-wines page is at
http://www.dreyfusashby.com/wines/wineframe.html.
The winery has reserved the address
http://www.chateau-auvernier.ch/,
but at this time the Website remains "under construction," containing only a drawing of the chateau.

Administrivia
To subscribe or unsubscribe from The 30 Second Wine Advisor, change your E-mail address, switch from weekly to daily distribution, or for any other administrative matters, click to http://www.wineloverspage.com/wineadvisor/admin.phtml. In all administrative communications, please be sure to include the exact E-mail address that you used when you subscribed, so we can find your record. If you must unsubscribe, please take a moment to tell us why you're leaving, and to offer any comments or suggestions you may have. We do not use our E-mail list for any other purpose and will never give or sell your name or E-mail address to anyone.
I welcome feedback, suggestions, and ideas for future columns. To contact me, send E-mail to wine@wineloverspage.com.
All the wine-tasting reports posted here are consumer-oriented. In order to maintain objectivity and avoid conflicts of interest, I purchase all the wines I rate at my own expense in retail stores and accept no samples, gifts or other gratuities from the wine industry.
Wednesday, Oct. 9, 2002
Copyright 2002 by Robin Garr. All rights reserved.
Subscribe to the 30 Second Wine Advisor
Wine Advisor archives