30 Second Wine Advisor: Today's sponsor
• French Wine Explorers
http://www.wine-tours-france.com/
In This Issue
• Duty to be red?
• Omaka Springs 2001 Marlborough Riesling
• Tiefenbrunner 2001 Pinot Grigio delle Venezie
• French Wine Explorers
• Last Week's Wine Advisor Index
• Administrivia
Duty to be red?
The late Harry Waugh, an amiable British gentleman who probably did as much to communicate the joy of wine as any journalist or educator before or since, used to make two jokes in almost every talk he gave.
First, in a tale about himself, he claimed that when asked how long it had been since he mistook a Bordeaux for a Burgundy, he responded, "Not since lunch." And, speaking of these two great red wines of France, he would add, "It is a wine's duty to be red."
On that last, I have to confess that I can see his point. Although I enjoy wine in all its colors - and I'm sure that Waugh did too - I can't deny that when I'm selecting a wine purely for its pleasure, I'm much more likely to reach for a red than a white or pink.
Particularly when I'm looking for a good-value bargain, I instinctively think red first. Based on experience, I suspect that a modest red will be more likely than an inexpensive white to offer complexity and flavor interest, the mix of fruit, earthiness and body that makes a wine interesting, not just a palatable quaff to wash down food.
But today let me take the other side: I can think of plenty of affordable white wines that make my mouth water, from many Alsatians to the aromatic whites of Northeastern and Southern Italy; quality whites from the Rhone, flavorful Sauvignon Blancs from New Zealand - or Sancerre! White Burgundies, of course (although interest seems to track awfully closely with price in this niche); clean, limey Rieslings from Australia, and some of the really interesting Rhone-style (or Italianate) whites coming out of California ... and many more from all around the world.
For every rule there is an exception, and that goes double when there's something on the table that demands a white: Delicate white fish, lobster, many shellfish dishes; veal and even pork, if the sauce is light.
So today, with a particular nod to the friendly reader who sent me a note the other day asking for "More whites! Please!" I'm featuring today two recently tasted white wines of particular interest, one just under $10 and the other just a few dollars more.

Omaka Springs 2001 Marlborough Riesling ($13.99)
This excellent New Zealand Riesling shows a very clear straw color in the glass. Appealing lime and floral scents with a hint of minerality invite a taste; its flavors are delicious, mixed citrus - limes and lemons and a whiff of grapefruit - with very light, fresh sweetness fully balanced by snappy acidity. U.S. importer: T.G.I.C. Importers Inc., Woodland Hills, Calif. (Oct. 1, 2002)
FOOD MATCH: One of the best matches I have tried with ham.
VALUE: Head and shoulders above much of the competition in this price niche.
WEB LINK: You'll find the winery Website by clicking
http://www.omaka.co.nz/.
The importer has an Omaka Springs page at
http://www.wineofakind.com/oma.html.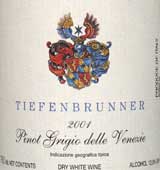 Tiefenbrunner 2001 Pinot Grigio delle Venezie ($9.99)
Despite the Germanic name of the producer, this is a Northeastern Italian wine, showing a clear pale-gold color and appetizing grapefruit-like aroma that adds attractive white flower (acacia) notes as it warms in the glass. Fresh, fruity and tartly cleansing, it offers ripe mixed citrus flavors and tangy acidity that lingers in a long finish. U.S. importer: Winebow Inc., NYC; a Leonardo Locascio Selection. (Oct. 4, 2002)
FOOD MATCH: An outstanding seafood match, it was a delight with a risotto pescatore made with shrimp, squid and white fish.
VALUE: As good as Pinot Grigio gets at the $10 point.
WEB LINK: The U.S. importer's fact sheet on Tiefenbrunner will be found at
http://www.winebow.com/show_producer.asp?producer=64.

Tour France with French Wine Explorers
Our wine tour with our friends at French Wine Explorers last June was one of my most enjoyable wine-travel experiences yet, thanks to the the knowledge and the efforts of Lauriann Greene and Jean-Pierre Sollin, the certified sommeliers who live in France and run these tours. They fully live up to their offer to "Learn about wine in a fun, relaxed atmosphere," in a year-round schedule of small-group tours as well as private wine tours that can be customized just for you.
I'll be joining them as guest "expert" on a tour of Bordeaux in mid-May; unfortunately this tour group is already full, but Jean-Pierre and Lauriann will lead another group to the same top Bordeaux properties July 20-26, and this one still has openings. For information about this and other French Wine Explorers tour of all the major French wine regions, you're invited to visit the organization's Website,
http://www.wine-tours-france.com/,
or send E-mail to info@wine-tours-france.com for information and to sign up for their monthly newsletter.
Last Week's Wine Advisor Index
The Wine Advisor's daily edition is currently distributed on Mondays, Wednesdays and Fridays (and, for those who subscribe, the FoodLetter on Thursdays). Here's the index to last week's columns:
• Another good Lirac (Oct. 4)
http://www.wineloverspage.com/wineadvisor/tswa021004.phtml
• Two from Zenato (Oct. 2)
http://www.wineloverspage.com/wineadvisor/tswa021002.phtml
• What is an oenophile? (Sept. 30)
http://www.wineloverspage.com/wineadvisor/tswa020930.phtml
• Complete 30 Second Wine Advisor archive:
http://www.wineloverspage.com/wineadvisor/thelist.shtml
• Last week's Wine Advisor Foodletter: Mushroom Risorzotto (Oct. 3)
http://www.wineloverspage.com/wineadvisor/tsfl021003.phtml
• Wine Advisor Foodletter archive:
http://www.wineloverspage.com/wineadvisor/foodlist.phtml
Administrivia
To subscribe or unsubscribe from The 30 Second Wine Advisor, change your E-mail address, switch from weekly to daily distribution, or for any other administrative matters, click to http://www.wineloverspage.com/wineadvisor/admin.phtml. In all administrative communications, please be sure to include the exact E-mail address that you used when you subscribed, so we can find your record. If you must unsubscribe, please take a moment to tell us why you're leaving, and to offer any comments or suggestions you may have. We do not use our E-mail list for any other purpose and will never give or sell your name or E-mail address to anyone.
I welcome feedback, suggestions, and ideas for future columns. To contact me, send E-mail to wine@wineloverspage.com.
All the wine-tasting reports posted here are consumer-oriented. In order to maintain objectivity and avoid conflicts of interest, I purchase all the wines I rate at my own expense in retail stores and accept no samples, gifts or other gratuities from the wine industry.
Monday, Oct. 7, 2002
Copyright 2002 by Robin Garr. All rights reserved.
Subscribe to the 30 Second Wine Advisor
Wine Advisor archives