30 Second Wine Advisor: This week's sponsors
• Chateau Palmer Harvest Report
http://chateau-palmer.com/Harvest2002
• California Wine Club
http://www.cawineclub.com

In This Issue
• Two from Zenato
• Zenato 1999 Valpolicella Classico Superiore
• Zenato 2001 Pinot Grigio delle Venezie
• Administrivia
Two from Zenato
Looking back over my wine-tasting notebooks, I'm intrigued - but hardly surprised - to notice how often I go back to the Italian winery Zenato when I'm looking for a particularly appealing wine at a value price.
Its name might not be one of the first to come up when wine enthusiasts bandy about the names of artisanal producers and pricey "cult" favorites. But I'm hard-pressed to think of another producer of widely available, reasonably priced wines whose offerings are any more consistently reliable than Zenato.
The third-generation, family-run winery is located in the Veneto, just a bit west of Verona near the southern shore of scenic Lake Garda, where the proprietors say surrounding mountains create a protected environment for their vineyards. Let's go directly to my reports on two fine Zenato wines I've tasted recently: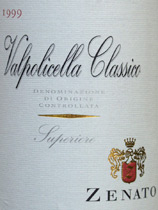 Zenato 1999 Valpolicella Classico Superiore ($10.99)
Very dark, almost inky garnet color makes clear that this is no featherweight Valpolicella. A marked dried-cherry aroma, typical of the region, gains interest from distinct notes of cinnamon and allspice. Very ripe and spicy red-fruit flavors are laced up with crisp, fresh acidity in an appetizing flavor that's balanced and long. U.S. importer: Winebow Inc., NYC; a Leonardo Locascio Selection. (Oct. 1, 2002)
FOOD MATCH: Surprisingly good with a pan-grilled ham steak, a somewhat difficult wine match. The wine's red-fruit flavor, crisp acidity and low tannins worked well with the salty sweetness of the ham.
VALUE: Amid the rising prices of Italian wines in general, a Valpolicella Classico Superiore of this quality rates as a bargain in the $10-$12 range.
WEB LINKS: To reach the Zenato Website, click to
http://www.zenato.it/.
Select the tiny Italian or British flag icon in the upper corners to choose the language you prefer. The importer's fact sheet on Zenato and its wines is at
http://www.winebow.com/show_producer.asp?producer=69,
with details on this wine at
http://www.winebow.com/shortdet.asp?ID=217.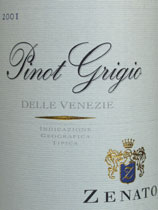 Zenato 2001 Pinot Grigio delle Venezie ($9.99)
This clear, straw-color wine offers pleasant melon and citrus scents, textbook Pinot Grigio. Crisp and appealing white-fruit flavors are framed by a refreshing acidic snap. U.S. importer: Winebow Inc., NYC; a Leonardo Locascio Selection. (Sept. 8, 2002)
FOOD MATCH: A stunning match with a simple pasta dish from Northwestern Italy, spaghetti tossed with butter and chopped fresh sage.
VALUE: Although this item has gone up $2 from the previous vintage at my local retailer, it remains a favorite and justifies the $10 price tag.
WEB LINKS: As above, with the importer's fact sheet on the Pinot Grigio at
http://www.winebow.com/shortdet.asp?ID=519.

Administrivia
To subscribe or unsubscribe from The 30 Second Wine Advisor, change your E-mail address, switch from weekly to daily distribution, or for any other administrative matters, click to http://www.wineloverspage.com/wineadvisor/admin.phtml. In all administrative communications, please be sure to include the exact E-mail address that you used when you subscribed, so we can find your record. If you must unsubscribe, please take a moment to tell us why you're leaving, and to offer any comments or suggestions you may have. We do not use our E-mail list for any other purpose and will never give or sell your name or E-mail address to anyone.
I welcome feedback, suggestions, and ideas for future columns. To contact me, send E-mail to wine@wineloverspage.com.
All the wine-tasting reports posted here are consumer-oriented. In order to maintain objectivity and avoid conflicts of interest, I purchase all the wines I rate at my own expense in retail stores and accept no samples, gifts or other gratuities from the wine industry.
Wednesday, Oct. 2, 2002
Copyright 2002 by Robin Garr. All rights reserved.
Subscribe to the 30 Second Wine Advisor
Wine Advisor archives