30 Second Wine Advisor: This week's sponsor
• California Wine Club:
Don't miss the semiannual WINE SALE!
http://www.cawineclub.com

In This Issue
• More bargain-hunting
• Santa Julia 2001 Mendoza (Argentina) Malbec
• Administrivia
More bargain-hunting
Staying with this week's focus on wines of value that deliver more pleasure than you might expect for an affordable price, today's featured wine comes from Argentina. The Zuccardi family winery in Mendoza, the beautiful wine region on the eastern flank of the Andes, offers a fruity, snappy version of Malbec, a simple but enjoyable wine at a low-end $7.
Before we cut directly to my tasting report, let me offer you an early invitation to participate in our new Wine Lovers' Voting Booth that goes online this morning.
In an effort to create a worldwide shopping list for the bargain-seeking wine lover, our advisory panel has built a list of 20 widely available wines from around the world that offer unusual quality for a relatively low price. You're welcome to choose one of these as your pick of the week, or select "other" to name your own wine-bargain favorite.
To check the list as it grows - and of course, to add your own favorite - simply click to the Voting Booth at
http://www.wineloverspage.com/votebooth/index.shtml.
Now, here's that tasting report: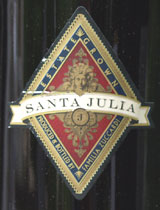 Santa Julia 2001 Mendoza (Argentina) Malbec ($6.99)
This clear but very dark reddish-purple wine offers a hint of brown sugar and a whiff of spicy ripe cherries in its inviting aroma. Its fresh tart-cherry flavor is balanced by ample, sharp acidity, making it a natural with food. U.S. importer: Winesellers Ltd., Skokie, Ill. (Sept. 23, 2002)
FOOD MATCH: Malbec has become a favorite with pizza, and this one made a fine match with a large one topped with sausage, green olives, green peppers, mushrooms and onions.
VALUE: Seven dollars may not buy you elegance or finesse, but in terms of simple drinking pleasure, it's not easy to find more "bang for the buck."
WEB LINK: The U.S. importer has a Santa Julia fact sheet at
http://www.winesellersltd.com/argentina.htm.
The winery's Website reports "under construction," but links to a previous site at
http://www.familiazuccardi.net/indexold.html.
Administrivia
To subscribe or unsubscribe from The 30 Second Wine Advisor, change your E-mail address, switch from weekly to daily distribution, or for any other administrative matters, click to http://www.wineloverspage.com/wineadvisor/admin.phtml. In all administrative communications, please be sure to include the exact E-mail address that you used when you subscribed, so we can find your record. If you must unsubscribe, please take a moment to tell us why you're leaving, and to offer any comments or suggestions you may have. We do not use our E-mail list for any other purpose and will never give or sell your name or E-mail address to anyone.
I welcome feedback, suggestions, and ideas for future columns. To contact me, send E-mail to wine@wineloverspage.com.
All the wine-tasting reports posted here are consumer-oriented. In order to maintain objectivity and avoid conflicts of interest, I purchase all the wines I rate at my own expense in retail stores and accept no samples, gifts or other gratuities from the wine industry.
Friday, Sept. 27, 2002
Copyright 2002 by Robin Garr. All rights reserved.
Subscribe to the 30 Second Wine Advisor
Wine Advisor archives