30 Second Wine Advisor: This week's sponsor
• California Wine Club:
Don't miss the semiannual WINE SALE!
http://www.cawineclub.com

In This Issue
• Can wine be cheap and good?
• Vino de Eyzaguirre 1999 San Francisco de Mostaxal Colchagua Valley Cabernet Sauvignon
• Casa la Luna 2000 Vino de la Tierra de Castilla y Leon Cabernet Sauvignon
• California Wine Club: Is your wine cellar looking empty?
• Last Week's Wine Advisor Index
• Administrivia
Can wine be cheap and good?
Even if you're doing well, thank you, there comes a time when jitters about falling markets and weakening dollars and a squishy economy can make just about anyone stop and wonder whether it's possible to find a really interesting table wine for $5 or $6.
In a world where some collectors will fight for the right to pay hundreds of dollars for a rare bottle of a popular "cult" item and many of the rest of us have made our reluctant peace with quality wine prices that start around $10 or $12 (or the equivalent in pounds sterling, Australian or Canadian dollars or your local currency), it's increasingly tempting to scavenge through the bargain bins.
So what's wrong with a $6 wine? Thanks to modern vine growing and wine making technology, truly awful wine is largely a thing of the past. You will rarely find a bottle of vinegar or funky, disgusting fluid passing as wine these days. But from the standpoint of the wine enthusiast who enjoys complexity and flavor interest in wine that shows at least a reasonable amount of subtlety and balance, the problem with too many cheap wines is simply that they aren't interesting. A taste of fruit, a bit of alcohol, and that's the end of the story.
Happily - while you have to kiss quite a few frogs in your quest for a princess - it's possible to find both good and interesting wines at the low end of the price spectrum. I make it my business to check out this low-rent neighborhood from time to time, and to let you know when I find something exceptional.
Today's tasting reports on two relatively inexpensive Cabernet Sauvignons: One from Chile that could pass muster among much more pricey companions; and one from Spain that's, well, worth about what I paid for it, not bad but perhaps a little boring. You'll find my notes below.
In a related matter, a new consumer-participation feature on affordable wines of good value begins today on our interactive Wine Lovers' Discussion Group. To read about specific good buys that wine lovers around the world have enjoyed during the past week - and, if you wish, to add your own nomination - click to http://www.wineloverspage.com/cgi-bin/sb/index.cgi?fn=1&tid=34256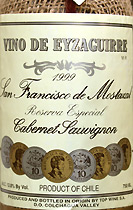 Vino de Eyzaguirre 1999 San Francisco de Mostaxal Colchagua Valley Cabernet Sauvignon ($6.99)
This dark reddish-purple wine from Chile offers perfumed and ripe scents of Cabernet blackcurrant and dried herbs. Fresh and surprisingly well structured with acidity and light tannins, it could pass for a modest Bordeaux. U.S. importer: Cabernet Corp., Novato, Calif. (Sept. 22, 2002)
FOOD MATCH: A natural partner with roast chicken.
VALUE: As in other recent vintages, this burlap-wrapped bargain offers as good a value as you'll find in its price range.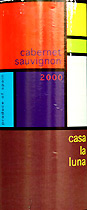 Casa la Luna 2000 Vino de la Tierra de Castilla y Leon Cabernet Sauvignon ($5.99)
Clear dark ruby with glints of orange against the light. Spicy fruit aromas, surprisingly reminiscent of cherry Kool-Aid, lead into a flavor that's grapey, simple and a bit sweet. U.S. importer: T.G.I.C. Importers Inc., Woodland Hills, Calif. (Sept. 22, 2002)
FOOD MATCH: Might be best suited for sipping by the glass as an aperitif.
VALUE: This simple, popular-style wine's soft and slightly sweet impression makes it competitive with jug wines at this price, but it shows little Cabernet character.

California Wine Club:
Don't miss the semiannual WINE SALE!
Don't miss The California Wine Club's semiannual WINE SALE. With savings up to 52 percent off normal retail prices, now is a great time to stock up for the holidays.
The sale ends Monday, Sept. 30, 2002. Feel free to mix a case or half a case! There are bottles as low as $5.50, Champagnes, Merlots, Cabernets, some great blends and much more.
Check out their list of available wines at
http://www.cawineclub.com or call (800) 777-4443. Mention the 30 Second Wine Advisor with your order, and they'll include an Engraved Wooden Wine Collectors Case - FREE!
Speaking of the holidays, The California Wine Club also makes a great gift. Just $32.95 plus shipping and includes a fun 8-page newsletter, Uncorked. Send as many months as you wish. Call (800) 777-4443.
Available in the U.S. wherever wine shipping is permitted by law.
Last Week's Wine Advisor Index
The Wine Advisor's daily edition is currently distributed on Mondays, Wednesdays and Fridays (and, for those who subscribe, the FoodLetter on Thursdays. Here's the index to last week's columns:
• Two more Austrians (Sept. 20)
http://www.wineloverspage.com/wineadvisor/tswa020920.phtml
• When vintage matters (Sept. 18)
http://www.wineloverspage.com/wineadvisor/tswa020918.phtml
• Drinking rocks? (Sept. 16)
http://www.wineloverspage.com/wineadvisor/tswa020916.phtml
• Complete 30 Second Wine Advisor archive:
http://www.wineloverspage.com/wineadvisor/thelist.shtml
• Last week's Wine Advisor Foodletter: Mackerel with onions and capers (Sept. 19)
http://www.wineloverspage.com/wineadvisor/tsfl020919.phtml
• Wine Advisor Foodletter archive:
http://www.wineloverspage.com/wineadvisor/foodlist.phtml
Administrivia
To subscribe or unsubscribe from The 30 Second Wine Advisor, change your E-mail address, switch from weekly to daily distribution, or for any other administrative matters, click to http://www.wineloverspage.com/wineadvisor/admin.phtml. In all administrative communications, please be sure to include the exact E-mail address that you used when you subscribed, so we can find your record. If you must unsubscribe, please take a moment to tell us why you're leaving, and to offer any comments or suggestions you may have. We do not use our E-mail list for any other purpose and will never give or sell your name or E-mail address to anyone.
I welcome feedback, suggestions, and ideas for future columns. To contact me, send E-mail to wine@wineloverspage.com.
All the wine-tasting reports posted here are consumer-oriented. In order to maintain objectivity and avoid conflicts of interest, I purchase all the wines I rate at my own expense in retail stores and accept no samples, gifts or other gratuities from the wine industry.
Monday, Sept. 23, 2002
Copyright 2002 by Robin Garr. All rights reserved.
Subscribe to the 30 Second Wine Advisor
Wine Advisor archives