30 Second Wine Advisor: This week's sponsors
• California Wine Club:
Is your wine cellar looking empty?
http://www.cawineclub.com
• Corkmasters.com
http://www.wineloverspage.com/cork
In This Issue
• Two more Austrians
• E. u. M. Berger 1999 Gedersdorfer Gebling Kremstal Grüner Veltliner
• Hiedler 2000 Novemberlese Kamptal Grüner Veltliner
• Administrivia
Two more Austrians
Let's close out the week by returning to Monday's topic, with two more quick notes on Grüner Veltliners, the unusual but increasingly popular Austrian white.
These wines are from the Kremstal and Kamptal wine regions, which lie along the Danube just downriver (toward Vienna) from the Wachau region featured Monday. Although the grapes grown here are similar - Grüner Veltliner and Riesling predominate - the unusual Wachau classifications based on ripeness (Steinfeder, Federspiel and Smaragd) aren't used here.
I don't propose generalizing from this limited sample, but these two GVs in particular differ stylistically from the Wachau wine reviewed Monday - they're more "Germanic," perhaps, in their lightly sweet character, but lack the steely acidity of the best German whites and don't show the same level of stony minerality as our Wachau example.
But they continue to shine at what may be GV's best feature: Their easy affinity with food.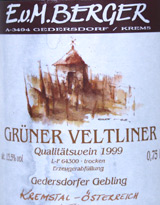 E. u. M. Berger 1999 Gedersdorfer Gebling Kremstal Grüner Veltliner ($10.99)
Clear pale-golden color, with a pleasantly vegetal "green pea" aroma that opens up to complex white fruit and a whiff of butterscotch. Fresh, off-dry flavors are structured with sufficient acidity for balance. U.S. importer: Michael Skurnik Wines, Syosset, N.Y.; A Terry Theise Estates Selection. (Sept. 18, 2002)
FOOD MATCH: The wine's flavors make a good match with baked mackerel, a relatively assertive fish; but a bit more acidity would have been welcome.
VALUE: Fairly priced in the $10 neighborhood.
WEB LINK: You'll find the winery Website (in German only) at
http://www.eum-berger.at/.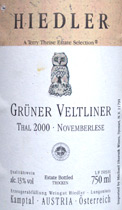 Hiedler 2000 Novemberlese Kamptal Grüner Veltliner ($15.99)
This clear straw-colored wine shows little aroma at first, seeming simple and vinous; but time to air and warm in the glass opens it up to delicious floral-peachy scents with just a hint of Grüner Veltliner "minerals." Ripe apples and pears in a delicious, very slightly sweet flavor, with a good citric tang to keep things in proportion. U.S. importer: Michael Skurnik Wines, Syosset, N.Y.; A Terry Theise Estates Selection. (Sept. 18, 2002)
FOOD MATCH: Aroma-flavor complexity and crisp acidity make it a natural with the baked mackerel dish featured in the Sept. 19 Wine Advisor's FoodLetter.
VALUE: GV prices are rising with its increasing popularity, but it's still competitive at this price point.
WEB LINK: Hiedler's Website is available in German and English. Here's a link to the English-language home page:
http://www.hiedler.at/winery/index.html.

Administrivia
To subscribe or unsubscribe from The 30 Second Wine Advisor, change your E-mail address, switch from weekly to daily distribution, or for any other administrative matters, click to http://www.wineloverspage.com/wineadvisor/admin.phtml. In all administrative communications, please be sure to include the exact E-mail address that you used when you subscribed, so we can find your record. If you must unsubscribe, please take a moment to tell us why you're leaving, and to offer any comments or suggestions you may have. We do not use our E-mail list for any other purpose and will never give or sell your name or E-mail address to anyone.
I welcome feedback, suggestions, and ideas for future columns. To contact me, send E-mail to wine@wineloverspage.com.
All the wine-tasting reports posted here are consumer-oriented. In order to maintain objectivity and avoid conflicts of interest, I purchase all the wines I rate at my own expense in retail stores and accept no samples, gifts or other gratuities from the wine industry.
Friday, Sept. 20, 2002
Copyright 2002 by Robin Garr. All rights reserved.
Subscribe to the 30 Second Wine Advisor
Wine Advisor archives