30 Second Wine Advisor: This week's sponsors
• Brentwood Wine Company:
Introducing the Brentwood "Taste First" Rare Wine Club
http://www.brentwoodwine.com/wineclub.html
In This Issue
• Traditional or not?
• Allegrini 2000 Valpolicella Classico
• La Cadalora 2000 Vallagarina Pinot Grigio
• Administrivia
Traditional or not?
Let's wrap up the work week with a couple of appealing Italian wines that illustrate a somewhat controversial trend in the wine market.
In many of the world's wine regions, perhaps especially in Europe, there is a growing tension between producers who consider tradition a key element in their regional wines, and those who strike out in new directions, experimenting with variations in the blend of grapes, vinification techniques and the use of oak, creating wines that may be tasty but that move the wine away from its region's traditional character toward an "international" style.
Needless to say, these wines can be controversial, separating wine lovers into opposing camps: those who decry the loss of regional character, versus those who respond, "Forget tradition, this stuff tastes good!"
I won't sit in judgement today, other than to note that both of today's Italian wines - a red from Valpolicella, and a white from Vallagarina in Trento-Alto Adige - strike me as non-traditional and good.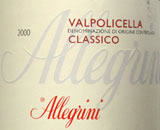 Allegrini 2000 Valpolicella Classico ($11.99)
Dark garnet in color, its appetizing aromas of fresh cherries, a hint of anise and spicy, vanilla-scented oak invite a taste. Flavors follow the nose, ripe tart cherries well balanced by fresh-fruit acidity and a whiff of fragrant black pepper. U.S. importer: Winebow Inc., NYC. (Aug. 30, 2002)
FOOD MATCH: Quaffable and spicy fruit make it a good companion with a somewhat difficult wine match: A frittata with ham, green peppers and onions.
VALUE: Fair price for an appealing wine in the "international" style.
WEB LINK: The importer's fact sheet on Allegrini is at
http://www.winebow.com/show_producer.asp?producer=1
where you will also find links to information on this and other Allegrini wines.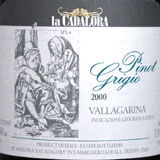 La Cadalora 2000 Vallagarina Pinot Grigio ($12.99)
Clear pale gold, this wine's complex aromas include elements of cooking apples, damp wool, minerals and, over it all, a distinct scent of oak. Full-bodied and rather rich on the palate, tart white fruit is balanced with firm acidity; snappy citrus and a surprisingly bitter note of almonds persist in a long finish. U.S. importer: Vintner Select, Cincinnati, Skurnik Wines, NYC, North Berkeley Wine Merchant, California, and other regional importers; a Marc de Grazia Selection. (Sept. 10, 2002)
FOOD MATCH: The wine's rich fruit and tart acid worked very well with the chicken with figs recipe featured in this week's Wine Advisor FoodLetter,
http://www.wineloverspage.com/wineadvisor/tsfl020912.phtml.
VALUE: Idiosyncratic but complex and pleasing; a reasonable value at this price.
WEB LINK: For Marc de Grazia's information page on La Cadalora, click to
http://www.marcdegrazia.com:8080/mdg/ing/scheda_produ.jsp?KProduttori=23&lingua=ING.

Administrivia
To subscribe or unsubscribe from The 30 Second Wine Advisor, change your E-mail address, switch from weekly to daily distribution, or for any other administrative matters, click to http://www.wineloverspage.com/wineadvisor/admin.phtml. In all administrative communications, please be sure to include the exact E-mail address that you used when you subscribed, so we can find your record. If you must unsubscribe, please take a moment to tell us why you're leaving, and to offer any comments or suggestions you may have. We do not use our E-mail list for any other purpose and will never give or sell your name or E-mail address to anyone.
I welcome feedback, suggestions, and ideas for future columns. To contact me, send E-mail to wine@wineloverspage.com.
All the wine-tasting reports posted here are consumer-oriented. In order to maintain objectivity and avoid conflicts of interest, I purchase all the wines I rate at my own expense in retail stores and accept no samples, gifts or other gratuities from the wine industry.
Friday, Sept. 13, 2002
Copyright 2002 by Robin Garr. All rights reserved.
Subscribe to the 30 Second Wine Advisor
Wine Advisor archives