30 Second Wine Advisor: This week's sponsors
• Brentwood Wine Company:
Introducing the Brentwood "Taste First" Rare Wine Club
http://www.brentwoodwine.com/wineclub.html
In This Issue
• Comparing differences
• Louis Téte 2000 "Le Pot" Beaujolais Villages
• San Fabiano 1999 Chianti
• Swirling wine: A quick follow-up
• Administrivia
Comparing differences
As I mention periodically, one of the best ways to sharpen your wine-appreciation skills is to open two bottles of similar wines for a side-by-side tasting. This "compare-and-contrast" procedure makes it relatively easy to pick out the subtle differences between, say, two wines made from the same grape in different regions - or two different single-vineyard bottlings from the same producer.
For today's wine report, I used a slightly different approach to comparative tasting, comparing and contrasting two different wines of significantly different styles: A Chianti and a Beaujolais. Two red wines, but from entirely different countries (Italy and France, respectively) and utterly different grapes (Sangiovese and others in the Chianti, Gamay in the Beaujolais).
Whether you're a novice taster or an expert, sampling two rather different wines in direct comparison helps fix the characteristics of each in your palate's memory ... and if you have the wines poured into unmarked glasses out of your sight, you can enjoy the small challenge of figuring which is which.
Worried that it's extravagant to open two bottles of wine? Invite friends over to share the wine and the fun. Or pour the leftovers together into one bottle and pop it into the fridge to use for cooking.
If you try this with a pair of wines of your own choosing, I hope you'll take the time to drop me a note and tell how it went.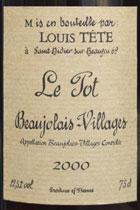 Louis Téte 2000 "Le Pot" Beaujolais Villages ($7.99)
Bright rosy-violet with a reddish tinge. Full and "grapey" fruit aromas add pleasant notes of herbs and spice as it airs in the glass. Fresh and bright flavors, if a bit on the simple side, a characteristic Beaujolais "bowl of fruit." U.S. importer: Bercut-Vandervoort & Co., San Francisco. (Sept. 10, 2002)
FOOD MATCH: The wine's ripe and grapey fruit worked nicely with grilled tuna, pairing particularly well with its red-wine reduction sauce.
VALUE: Good budget-level value.
WEB LINK: Click to
http://www.tete-beaujolais.com/eng/index.asp
for the winery's English-language Web page.
You'll find the importer's Website at
http://www.bvcwine.com/.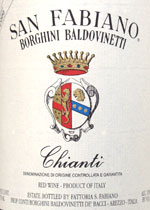 San Fabiano 1999 Chianti ($9.49)
Clear garnet in color, this wine presents classic Chianti aromas of fresh black fruit, spicy oak and a hint of burnt sugar. Black cherries and a citric tang provide good balance on the palate. U.S. importer: VIAS Imports Ltd., NYC. (Sept. 10, 2002)
FOOD MATCH: The wine's spicy-fruity character and crisp acidity work well with pan-grilled fresh tuna crusted with aromatic Asian spice.
VALUE: In today's market, a decent Chianti under $10 has to rate as a reasonably good value.
WEB LINK: The importer's information page on San Fabiano, with a link to a fact sheet on this wine, will be found at
http://www.viaswine.com/prodotti/prod_cantina.asp?cantina=6.

Swirling wine: A quick follow-up
Following Monday's article about the analytical benefits of sniffing your wine both before and after "swirling" it to release aromatic elements by exposing the wine to air, several of you wrote to remind me of an important additional benefit to this practice.
Specifically, many of the problems that can cause flaws in wine - ranging from the musty scent of a "corked" wine to the sharp, "burnt-match" aroma of an oversulfited wine - can better be detected before the wine is swirled, because the waft of aromatics may briefly overwhelm a minor flaw and make it more difficult to pick up.
So when you're checking the sommelier's sample pour in a restaurant, for instance, or considering a purchase at a wine-shop tasting, it makes particular sense to sniff before you swirl.
Administrivia
To subscribe or unsubscribe from The 30 Second Wine Advisor, change your E-mail address, switch from weekly to daily distribution, or for any other administrative matters, click to http://www.wineloverspage.com/wineadvisor/admin.phtml. In all administrative communications, please be sure to include the exact E-mail address that you used when you subscribed, so we can find your record. If you must unsubscribe, please take a moment to tell us why you're leaving, and to offer any comments or suggestions you may have. We do not use our E-mail list for any other purpose and will never give or sell your name or E-mail address to anyone.
I welcome feedback, suggestions, and ideas for future columns. To contact me, send E-mail to wine@wineloverspage.com.
All the wine-tasting reports posted here are consumer-oriented. In order to maintain objectivity and avoid conflicts of interest, I purchase all the wines I rate at my own expense in retail stores and accept no samples, gifts or other gratuities from the wine industry.
Wednesday, Sept. 11, 2002
Copyright 2002 by Robin Garr. All rights reserved.
Subscribe to the 30 Second Wine Advisor
Wine Advisor archives