30 Second Wine Advisor: This week's sponsors
• Brentwood Wine Company:
Introducing the Brentwood "Taste First" Rare Wine Club
http://www.brentwoodwine.com/wineclub.html
In This Issue
• Swirl or not?
• Château de Ségriès 2001 Côtes du Rhône
• Domaine Grand Veneur 2000 Châteauneuf-du-Pape
• Brentwood Wine Company: Introducing the Brentwood "Taste First" Rare Wine Club
• Last Week's Wine Advisor Index
• Administrivia
Swirl or not?
As just about everyone who enjoys wine knows, swirling the wine in your glass is an important part of the wine-tasting ritual.
Holding your glass in the air or placing its base on the table, you rock or turn the glass gently until the wine sloshes up its sides. This coats the inside of the glass with a thin layer of wine, which evaporates quickly, sending up a waft of aromatic elements for your sniffing pleasure. (This procedure explains why it's best to fill your wine glass only halfway, or less, to allow plenty of room for swirling.)
Eyes, nose, mouth and throat ... that's the simple sequence of steps that makes serious wine-tasting an analytical experience.
But here's a nuance that you may not know about the swirling step: Watch a wine judge or sommelier at his work, and you may notice an unexpected thing: The experts will usually sniff the wine BEFORE they swirl it, then sniff again AFTER the swirl-and-slosh move.
What's going on there? Under some circumstances, swirling the wine doesn't merely increase its aromas but may actually yield different scents than you find in the unswirled wine.
This may seem strange, but the explanation is simple enough: Fine wines offer a variety of scents, including aromas that come from the natural fruit in wine, scents that stem from the wine maker's hand (such as the use of oak barrels or yeasts that impart recognizable smells), and the so-called "bouquet," elusive characteristics that develop with age in the bottle. Some of these elements are more volatile than others, and those are the aromas that gain impact when you swirl the wine. So taking your first sniff before swirling, then checking again after giving the glass a spin offers a deeper insight (or maybe "in-smell"?) to analyzing the wine.
It is absolutely not necessary to take this extra step. You can certainly enjoy wine without analyzing it at all. But if you're the kind of wine hobbyist who enjoys putting a wine through its paces and keeping track of your impressions, it's worth giving this two-stage sniffing process a try.
For today's wines - two good reds from the Southern Rhone - I made it a point to distinguish between pre-swirl and post-swirl in my tasting reports. If you try it with a wine of your own, I hope you'll take a moment to let me know how it went.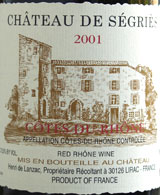 Château de Ségriès 2001 Côtes du Rhône ($11.99)
Very dark garnet in color, this wine shows delicate dried-cherry scents at first; swirling brings up more open aromas of black cherries, pepper and spice. Good body and balance, plummy black fruit and crisp acidity, fresh and lingering. U.S. importer: Kysela Pere et Fils Ltd., Winchester, Va. (Sept. 6, 2002)
FOOD MATCH: Went well with a beef and okra gumbo, Cajun-style but with the heat turned down to accommodate a wine match.
VALUE: Fair to good value at $12.
WEB LINK: You'll find the importer's Website at
http://www.kysela.com/,
with a fact sheet on Segries at
http://www.kysela.com/rhone/segri.htm.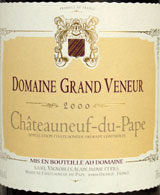 Domaine Grand Veneur 2000 Châteauneuf-du-Pape ($27.99)
Dark ruby in color with a distinct reddish-orange glint when the glass is held up to a light. Relatively closed at first, with soft spicy notes; black fruit and fragrant black pepper rise up after the glass is swirled. A load of fresh, full black fruit on the palate, much more open than the nose at this youthful point, with lemon-tart acidity and firm, rather dry tannins showing behind the fruit. Enjoyable now, but it will gain complexity with cellar time. U.S. importer: Kysela Pere et Fils Ltd., Winchester, Va. (Sept. 7, 2002)
FOOD MATCH: Lamb loin chops dusted with black pepper and pan-grilled medium-rare tame the tannins and make an exceptional flavor match.
VALUE: Quality Chateauneuf is no longer cheap, but this under-$30 price is fair for a special occasion.
WEB LINK: The winery's English-language Web page is
http://www.kysela.com/.
For the importer's Grand Veneur fact sheet, click to
http://www.kysela.com/rhone/veneu.htm.

Brentwood Wine Company:
Introducing the Brentwood "Taste First" Rare Wine Club
Brentwood Wine Company - already your best online source for rare, collectible wines - has taken the wine club concept to a whole new level with their "Taste First" Rare Wine Club. The idea of a wine club where you have to buy wines you've never tasted just didn't make sense to the folks at Brentwood, so they found a way to let you taste first, then decide. What an idea!
The club features top-quality, hard-to-find wines such as cult California Cabernets, limited-production Oregon Pinot Noirs, special Burgundy bottlings, top sweet wines and undiscovered treasures from around the world. Among the first few offerings were the 1998 Croze Napa Valley Cabernet Sauvignon ($34.99 per bottle) and the 2000 Hospices de Beaune Bâtard Montrachet Cuvée Dames de Flandres ($135).
Don't miss out on this exceptional program. Join the Brentwood "Taste First" Wine Club today! For details, visit the Brentwood Web site: http://www.brentwoodwine.com/wineclub.html.
Last Week's Wine Advisor Index
We're returning to daily publication one day at a time, now offering three Wine Advisor issues and one FoodLetter per week. Here's the index:
• Low-rent Lirac (Sept. 6)
http://www.wineloverspage.com/wineadvisor/tswa020906.phtml
• Goats Do Roam (again) (Sept. 4)
http://www.wineloverspage.com/wineadvisor/tswa020904.phtml
• Zin for the Day (Sept. 2)
http://www.wineloverspage.com/wineadvisor/tswa020902.phtml
• Complete 30 Second Wine Advisor archive:
http://www.wineloverspage.com/wineadvisor/thelist.shtml
• Last week's Wine Advisor Foodletter: Baba Ganoush (Sept. 5)
http://www.wineloverspage.com/wineadvisor/tsfl020905.phtml
• Wine Advisor Foodletter archive:
http://www.wineloverspage.com/wineadvisor/foodlist.phtml
Administrivia
To subscribe or unsubscribe from The 30 Second Wine Advisor, change your E-mail address, switch from weekly to daily distribution, or for any other administrative matters, click to http://www.wineloverspage.com/wineadvisor/admin.phtml. In all administrative communications, please be sure to include the exact E-mail address that you used when you subscribed, so we can find your record. If you must unsubscribe, please take a moment to tell us why you're leaving, and to offer any comments or suggestions you may have. We do not use our E-mail list for any other purpose and will never give or sell your name or E-mail address to anyone.
I welcome feedback, suggestions, and ideas for future columns. To contact me, send E-mail to wine@wineloverspage.com.
All the wine-tasting reports posted here are consumer-oriented. In order to maintain objectivity and avoid conflicts of interest, I purchase all the wines I rate at my own expense in retail stores and accept no samples, gifts or other gratuities from the wine industry.
Monday, Sept. 9, 2002
Copyright 2002 by Robin Garr. All rights reserved.
Subscribe to the 30 Second Wine Advisor
Wine Advisor archives