30 Second Wine Advisor: This week's sponsors
• Corkmasters.com
http://www.wineloverspage.com/cork
• California Wine Club:
Join now, earn a FREE bottle of wine!
http://www.cawineclub.com
In This Issue
• Low-rent Lirac
• Domaine de la Mordorée 2000 "La Dame Rousse" Lirac
• Administrivia
Low-rent Lirac
Stand on the banks of the Rhone near Avignon, looking north. On your right, the stony fields and craggy hillsides of Chateauneuf-du-Pape and the Cotes-du-Rhone stretch upriver for many kilometers, producing the ripe reds and aromatic whites that many of us have come to know and love.
But now turn and look to your left, across the river. Sprawling across the lowlands on the Rhone's right bank lies Lirac ("Lee-rock"), a district that, like the comedian Rodney Daingerfield, doesn't always get much respect.
But that's not bad news, for as savvy wine-bargain hunters know, you can often find affordable treasures by looking in the less-known regions that border on, and produce wines similar to, the more sought-after wine-producing areas.
Such is the case in Lirac, where the best red wines - built from a blend of Grenache, Syrah, Mourvedre and Cinsault - at their best can bear a close resemblance to the wines from the other side of the river.
This is certainly true of the wines made at Domaine de la Mordorée by the acclaimed wine maker Christophe Delorme. Today's wine could easily pass for Chateauneuf-du-Pape ... at about one-half the price.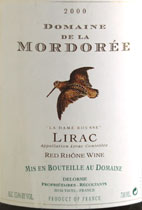 Domaine de la Mordorée 2000 "La Dame Rousse" Lirac ($14.99)
Very dark reddish-purple, almost black. Perfumed and aromatic, opens up to reveal ripe raspberry scents characteristic of Grenache. Fresh and tart flavor is consistent with the nose, berry fruit and lemon-squirt acidity over soft, palatable tannins. Very enjoyable wine, drinkable now but may gain a little complexity with a year or two in the bottle. U.S. importer: Kysela Pere et Fils Ltd., Winchester, Va. (Sept. 5, 2002)
FOOD MATCH: Excellent with rare beef (leftover strip steak sliced and re-warmed in broth).
VALUE: Fairly priced at $15.
WEB LINK: The importer has a Website at
http://www.kysela.com/,
with a somewhat obsolete page about Mordoree (showing last year's releases) at
http://www.kysela.com/rhone/mordo.htm.
Administrivia
To subscribe or unsubscribe from The 30 Second Wine Advisor, change your E-mail address, switch from weekly to daily distribution, or for any other administrative matters, click to http://www.wineloverspage.com/wineadvisor/admin.phtml. In all administrative communications, please be sure to include the exact E-mail address that you used when you subscribed, so we can find your record. If you must unsubscribe, please take a moment to tell us why you're leaving, and to offer any comments or suggestions you may have. We do not use our E-mail list for any other purpose and will never give or sell your name or E-mail address to anyone.
I welcome feedback, suggestions, and ideas for future columns. To contact me, send E-mail to wine@wineloverspage.com.
All the wine-tasting reports posted here are consumer-oriented. In order to maintain objectivity and avoid conflicts of interest, I purchase all the wines I rate at my own expense in retail stores and accept no samples, gifts or other gratuities from the wine industry.
Friday, Sept. 6, 2002
Copyright 2002 by Robin Garr. All rights reserved.
Subscribe to the 30 Second Wine Advisor
Wine Advisor archives