30 Second Wine Advisor: This week's sponsors
• Corkmasters.com
http://www.wineloverspage.com/cork
• California Wine Club:
Join now, earn a FREE bottle of wine!
http://www.cawineclub.com
In This Issue
• Goats Do Roam (again)
• Fairview 2001 Goats Do Roam Red Table Wine
• Administrivia
Goats Do Roam (again)
One of the special joys of wine, for me, is discovering the changes that occur with each new vintage in a wine that I have enjoyed before.
You needn't indulge in pricey, ageworthy bottles to enjoy this linear progression down the years in your glass: It's just as much fun with quality wines of value.
Our case in point today is a South African red from a wine maker with a sense of humor: "Goats Do Roam," an intentional pun on the French "Cotes-du-Rhone," with which it bears a more than passing resemblance.
Made by Charles Back of the Fairview winery in Paarl, South Africa, this wine got its punning name, according to the back label, from an incident in which his "mischievous" son Jason and a friend let the family's goats out of their enclosure, whereupon the animals bolted for the vineyards and ate some of the best grapes. The winery followed the goats' example, according to this tale, and created a Euro-style red blend from a melange of grape varieties.
The 2000 vintage, which I reported last December, contained a mix of seven grapes - Pinotage, Shiraz, Grenache, Cinsaut, Carignan, Mourvedre and Gamay, a range of varieties that lent unexpected complexity of aroma and flavor to a $9 wine. The 2001, $1 more expensive than last year's blend in our market, features just five of those grapes: Grenache, Pinotage, Shiraz, Cinsaut and Carignan. It is perhaps a bit less earthy and a touch more harsh than the 2000, but it remains a fine value, a South African red that stays closely in touch with its Old World heritage.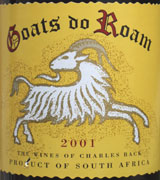 Fairview 2001 Goats Do Roam (South Africa) Red Table Wine ($9.99)
This clear, dark garnet wine offers jammy fruit aromas, plums and berries, with hints of spice and licorice that become more evident as the wine opens up in the glass. Full, plummy and ripe flavors, tasty fruit over an acidic edge so keen that it becomes a bit hot on the finish. Time in the glass and a good food match softens the sharpness, revealing an interesting table wine of real value. U.S. importer: Vineyard Brands Inc., Birmingham, Ala. (Sept. 3, 2002)
FOOD MATCH: Works well with pork medallions in a lightly spicy sauce with green peppers and onions.
VALUE: Still a very good buy at $10.
WEB LINK: The winery Website, featuring a stunning photo of the property's mountainous setting, is at
http://www.fairview.co.za/.
The importer's site is at http://www.vineyardbrands.com,
with a story and pictures of Mr. Back and the Fairview winery at
http://www.vineyardbrands.com/brandsheets/fairview.html.
Administrivia
To subscribe or unsubscribe from The 30 Second Wine Advisor, change your E-mail address, switch from weekly to daily distribution, or for any other administrative matters, click to http://www.wineloverspage.com/wineadvisor/admin.phtml. In all administrative communications, please be sure to include the exact E-mail address that you used when you subscribed, so we can find your record. If you must unsubscribe, please take a moment to tell us why you're leaving, and to offer any comments or suggestions you may have. We do not use our E-mail list for any other purpose and will never give or sell your name or E-mail address to anyone.
I welcome feedback, suggestions, and ideas for future columns. To contact me, send E-mail to wine@wineloverspage.com.
All the wine-tasting reports posted here are consumer-oriented. In order to maintain objectivity and avoid conflicts of interest, I purchase all the wines I rate at my own expense in retail stores and accept no samples, gifts or other gratuities from the wine industry.
Wednesday, Sept. 4, 2002
Copyright 2002 by Robin Garr. All rights reserved.
Subscribe to the 30 Second Wine Advisor
Wine Advisor archives