Special announcement from Corkmasters.com:
Real opinions from real people in the Real Cork debate
In June and July 2002, we asked people to join the Real Cork debate. Over 4000 wine lovers visited our online survey to answer questions about cork and wine and give us their opinions.
In the survey, we asked if a wine label currently tells you the grape, the origin and the age of the wine inside, should it also tell you the type of closure used in the bottle? Over 60% of wine lovers said they would like the label to say if itís real cork.
You can read more views in the Real Cork debate and explore the Corkmasters website through the link at:
http://www.wineloverspage.com/cork.
30 Second Wine Advisor: This week's sponsors
• Corkmasters.com
http://www.wineloverspage.com/cork
• California Wine Club:
Join now, earn a FREE bottle of wine!
http://www.cawineclub.com
In This Issue
• Special announcement: Corkmasters.com
• Zin for the day
• Cline 2000 California Zinfandel
• Ridge California Coast Range
• California Wine Club: Join now, earn a FREE bottle of wine!
• A reader reports: A visit to Unti
• Last Week's Wine Advisor Index
• Administrivia
Zin for the Day
It's Labor Day in the U.S., the national holiday in honor of working people ... a day that usually features one last round of summer recreation, picnics and cook-outs. What better wine to celebrate the day than Zinfandel, the grape with the mysterious history that America has made its own?
Zinfandel - "Zin" for short - was the featured wine for August in our Wine Tasting 101 program, where I noted that for many years, it was considered a mystery grape, one that suddenly appeared in California in Gold Rush days, its origins somewhere in Eastern Europe. Recent research based on DNA studies reveals that it's actually the descendant of a Croatian grape called Crljenik Kasteljanski, and is genetically identical to the Italian Primitivo.
Zin's fans love it for its big, ripe flavors and juicy berry fruit; it has become a mainstay of the California wine country and is gaining increasing popularity in Australia. Although it's less accessible in Europe, at least a few major brands are exported around the world.
Although Zinfandel has the manners to serve at the formal dinner table, its best food match may be red meat served sizzling and rare from the grill. And that makes it an exceptional choice for a holiday cookout.
Following are my notes on two quite different manifestations of Zinfandel: A popular, relatively low-price offering from Cline, and a red blend that includes Zin with a supporting cast of players from Ridge, a producer widely ranked among California's top names.
For more about Wine Tasting 101, click to
http://www.wineloverspage.com/forum/wt101.phtml
to learn more about this free, interactive online communith where you can learn and practice recording your wine notes in a friendly setting where there are no wrong answers. We're wrapping up the Zin month and will soon announce September's featured wines - Pinot Gris and Pinot Grigio.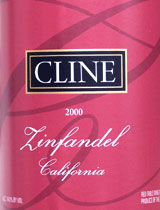 Cline 2000 California Zinfandel ($9.99)
This clear, dark garnet wine offers a blast of perfumed fruit aromas, mixed berries and vanilla; swirling the wine in the glass brings out marked raspberry scents. It is full and warm in flavor, with a hint of prickliness on the tongue and a hot sensation borne on high (14.8%) alcoholic content. Mixed-berry flavors are intense but seem almost overripe, slightly sweet and low in acid, a bit on the soft side. It's a mass-market crowd-pleaser in a distinctly "New World" style. (Aug. 31, 2002)
FOOD MATCH: Charcoal-grilled lamb chops work well, highlighting the wine's berry flavors and adding balance.
VALUE: Reasonably priced in the $10 range.
WEB LINK: Cline Cellars' Website is at
http://www.clinecellars.com/.

Ridge California Coast Range ($16.99)
Inky reddish-purple color, almost black. Earthy and spicy aromas focus on blackberries and plums, with hints of licorice playing counterpoint. Big and "chewy" flavors center on black fruit and subtle earthy notes, with palatable tannins and crisp, lemony acidity to keep things in balance. An excellent wine, a thoughtful blend that adds dimension to the Zin. (Aug. 31, 2002)
FOOD MATCH: Fine companion with grilled lamb.
VALUE: Fairly priced at this level.
WEB LINK: You'll find Ridge at
http://www.ridgewine.com/index.taf.

Wine Lovers' Voting Booth: Your wine-buying preferences
If you have been enjoying and buying wine for any length of time - even a fairly short time - you may find that your preferences have changed. Some of us seek more variety. Others go back to the same old favorites. How about you? Please drop by the Voting Booth,
http://www.wineloverspage.com/votebooth/index.shtml,
and tell us, "Are you buying more or fewer different wines these days?"
California Wine Club:
Join now, earn a FREE bottle of wine!
Harvest has begun in Californiaís wine country and thereís a wine buzz in the air! At The California Wine Club they too are brimming with excitement about their upcoming selections! Thatís because each and every one of The California Wine Club wines is hand-selected from the best of Californiaís small, family-owned wineries.
As a wine club member, youíll receive a monthly selection that includes two bottles of award-winning wine along with Uncorked, a fun and informative 8-page newsletter. Itís a wine adventure that takes you from Napa and Sonoma to Monterey, Santa Ynez, Temecula and all the exciting wine spots in between!
Each two-bottle shipment is just $32.95 plus shipping. You can stay for as long as you wish, the wines are guaranteed and thereís never any membership fee!
For more information call (800) 777-4443 or visit the club's website at
http://www.cawineclub.com
ABOUT THAT FREE BOTTLE: Mention the 30 Second Wine Advisor and they'll include a FREE bottle of wine in your first shipment. Wine shipping available in the U.S. wherever the law permits.
A reader reports: A visit to Unti
Thanks to longtime Wine Advisor reader Don Grogg for this brief report on a visit to Unti Winery in Northern California:
While in San Francisco in July, I had dinner at two great restaurants: Boulevard, Nancy Oakes; prime establishment; and a corner neighborhood place, Trattoria Contadina, 1800 Mason at Union. Both dinners were fantastic. The odd thing was at both of these two very different places, the waiter, discovering I knew something about wine, recommended to me to seek out Unti Winery in the Dry Creek Valley during my tasting vacation.
Although the road sign said "Sales Only", winemaker Mick Unti beckoned us to taste his wine when I told him this story. Tasting is done in the barrel room and may include a taste or two out of the barrels. The three wines tasted were the 2000 vintage. A straight Syrah ($26, 1,825 cases made), which won an 89 rating from Robert Parker; a peppery Zinfandel ($20, 1,350 cases) was made with 83% Zinfandel, 12% Petite Sirah and 5% Syrah; and the winery's proprietary Segromigno ($18, 929 cases), a Unti blend of 85% Sangiovese and 15% Syrah. All are ready to drink now. We tried all three with some zesty Italian food and all worked superbly. Our favorite all round was probably the Zin.
Unti is an excellent place to taste some great Dry Creek Valley wines. Plan on at least an hour for the tasting. Mick is a great conversationalist and knows his wine. Check them out at their website:
http://www.untivineyards.com/.
Last Week's Wine Advisor Index
We're returning to daily publication one day at a time, now offering three Wine Advisor issues and one FoodLetter per week. Here's the index:
• The shape of the glass (Aug. 30)
http://www.wineloverspage.com/wineadvisor/tswa020830.phtml
• The name seems familiar (Aug. 28)
http://www.wineloverspage.com/wineadvisor/tswa020828.phtml
• Chablis: True or false? (Aug. 26)
http://www.wineloverspage.com/wineadvisor/tswa020826.phtml
• Complete 30 Second Wine Advisor archive:
http://www.wineloverspage.com/wineadvisor/thelist.shtml
• Last week's Wine Advisor Foodletter: Italian lemon chicken (Aug. 29)
http://www.wineloverspage.com/wineadvisor/tsfl020829.phtml
• Wine Advisor Foodletter archive:
http://www.wineloverspage.com/wineadvisor/foodlist.phtml
Administrivia
To subscribe or unsubscribe from The 30 Second Wine Advisor, change your E-mail address, switch from weekly to daily distribution, or for any other administrative matters, click to http://www.wineloverspage.com/wineadvisor/admin.phtml. In all administrative communications, please be sure to include the exact E-mail address that you used when you subscribed, so we can find your record. If you must unsubscribe, please take a moment to tell us why you're leaving, and to offer any comments or suggestions you may have. We do not use our E-mail list for any other purpose and will never give or sell your name or E-mail address to anyone.
I welcome feedback, suggestions, and ideas for future columns. To contact me, send E-mail to wine@wineloverspage.com.
All the wine-tasting reports posted here are consumer-oriented. In order to maintain objectivity and avoid conflicts of interest, I purchase all the wines I rate at my own expense in retail stores and accept no samples, gifts or other gratuities from the wine industry.
Monday, Sept. 2, 2002
Copyright 2002 by Robin Garr. All rights reserved.
Subscribe to the 30 Second Wine Advisor
Wine Advisor archives