30 Second Wine Advisor: This week's sponsor
• California Wine Club:
Join now, earn a FREE bottle of wine!
http://www.cawineclub.com

In This Issue
• The name seems familiar
• Cantele 1997 Salice Salentino Riserva
• Administrivia
The name seems familiar
If you have much interest in wines of value, you probably know about Salice Salentino. This robust southern Italian wine, pronounced "Sah-lee-chay Sah-len-tee-no," is almost always a good bargain.
It comes from the region called Apulia in English and Puglia in Italian - the narrow "heel" of the Italian "boot," and it is made primarily from the local Negroamaro grape - an ancient variety that is said to have been planted there since the sixth century B.C. - along with, usually, some Malvisia Nera grapes.
If you have tried it, the chances are good that you chose a wine produced by Taurino, a large producer with substantial exports. Until recently, I had never seen a Salice Salentino from any other maker.
But variety is the spice of wine life, so when I spotted a Salice Salentino from Cantele, a less-familiar producer, I had to try it. (In fact, about 100 Apulian wine makers offer Salice Salentino, but many are small and rarely or never exported.)
As with other Italian wine regions, "Riserva" on the label means that the wine has spent extra time in oak barrels. Happily, however, Cantele's offering is balanced and flavorful, with oak as an accent that does not overwhelm the fruit.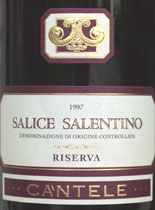 Càntele 1997 Salice Salentino Riserva ($8.99)
Clear garnet color, with ripe cherry and raspberry aromas and grace notes of tar and smoke to lend complexity, pleasant and interesting. Big, forward fruit flavors, with acidity and tannins generating a bit of heat on the pleasantly bitter finish. The blend is 85% Negroamaro grapes and 15% Malvasia Nera. U.S. importer: VIAS Imports Ltd., NYC. (Aug. 21, 2002)
FOOD MATCH: A natural with char-grilled steaks or lamb, but serves well with roast chicken, too.
VALUE: Stands well above the competition at this price.
WEB LINKS: The winery home page (in Italian and English) will be found at
http://www.cantele.it.
The importer's fact sheet on this wine is at
http://www.viaswine.com/prodotti/prod_vini.asp?vino=48,
with an article about the winery at
http://www.viaswine.com/prodotti/prod_cantina.asp?cantina=22

Administrivia
To subscribe or unsubscribe from The 30 Second Wine Advisor, change your E-mail address, switch from weekly to daily distribution, or for any other administrative matters, click to http://www.wineloverspage.com/wineadvisor/admin.phtml. In all administrative communications, please be sure to include the exact E-mail address that you used when you subscribed, so we can find your record. If you must unsubscribe, please take a moment to tell us why you're leaving, and to offer any comments or suggestions you may have. We do not use our E-mail list for any other purpose and will never give or sell your name or E-mail address to anyone.
I welcome feedback, suggestions, and ideas for future columns. To contact me, send E-mail to wine@wineloverspage.com.
All the wine-tasting reports posted here are consumer-oriented. In order to maintain objectivity and avoid conflicts of interest, I purchase all the wines I rate at my own expense in retail stores and accept no samples, gifts or other gratuities from the wine industry.
Wednesday, Aug. 28, 2002
Copyright 2002 by Robin Garr. All rights reserved.
Subscribe to the 30 Second Wine Advisor
Wine Advisor archives