30 Second Wine Advisor: This week's sponsor
• California Wine Club:
Join now, earn a FREE bottle of wine!
http://www.cawineclub.com

In This Issue
• Chablis: True or false?
• La Chablisienne 1999 "Le Chablis" Premier Cru
• California Wine Club: Join now, earn a FREE bottle of wine!
• Bordeaux trip filled; other opportunities open
• Last Week's Wine Advisor Index
• Administrivia
Chablis: True or false?
Are you old enough to remember the days when asking for "Chablis" - in much of the United States at least - would get you a glass of inexpensive domestic white wine?
Looking back on it now, it's hard to believe that, as recently as the 1970s, relatively few Americans had discovered the joys of fine wine, and for many people and most mass-market wine producers, the fine old French names "Chablis" and "Burgundy" stood in as generic terms for white wine and red. (You may also recall "Rhine" as the label for slightly sweeter whites, and "Sauterne" - without the final "s" - for those sweeter still.)
What a difference a generation makes! Nowadays, only a few unrepentant producers at the low end of the market still make jug wines with the old French names (except for "Champagne," which is a separate story all by itself). In fact, the European Union and most other wine-producing nations have agreed to ban such use by law and treaty (a treaty that the U.S., under pressure from a few large wineries, declines to ratify).
As more of us became more conscious of quality wine in the 1980s and thereafter, most producers switched over to "varietal" labeling, using the wine's grape variety to identify it. It didn't take long for "Chardonnay" to supplant "Chablis" as the most popular white wine; and now just about all of us know the major varieties and have a good grasp on what to expect when we call for just about any variety from Aligote to Zinfandel.
And the real Chablis - the genuine article from the French region of the same name, made from Chardonnay grapes and boasting luscious apple aromas and a steely, bone-dry flavor that seems to speak of the chalky soil in which it is grown - has regained its reputation among wine enthusiasts who now know the difference.
Whether you choose the basic Chablis or the Premier Cru and Grand Cru bottlings from designated vineyards in specific sub-regions with a long history of high quality, you can count on getting a wine that expresses all that the grape and the land have to offer. But you won't get it for jug-wine prices.
Today's tasting, a Premier Cru produced by the Chablis region's large cooperative, offers a good example of the type.
For more information about Chablis in English, browse to the appellation search page of B.I.V.B., the Bureau Interprofessionel des Vins de Bourogne
http://www.bivb.com/uk/appellationsb-uk.html,
and enter "Chablis" into the search form.
For a peek at one U.S. producer who still uses the old generic term, check out
http://www.almaden.com/products/tablewines.htm.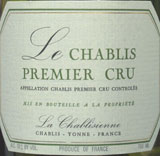 La Chablisienne 1999 "Le Chablis" Premier Cru ($19.99)
Very pale golden-straw color, with a rich scent of ripe apples and hints of wool and spice. Full and round flavor, white fruit borne by the steely acidity that typifies Chablis. Very fine wine, will likely gain complexity with a few years of age in the bottle. U.S. importer: Monsieur Henri Wine Co., New Orleans. (Aug. 23, 2002)
FOOD MATCH: The wine's body, fruit and acid made it a natural partner with crab cakes.
VALUE: The $20 price, though moving out of everyday range, is appropriate for a Chablis Premier Cru.
WEB LINK: The La Chablisienne cooperative has a Website at
http://www.chablisienne.com/.
It is in French only and "under construction," offering only an online form seeking opinions on what topics readers would like to see on the site.

California Wine Club:
Join now, earn a FREE bottle of wine!
Harvest has begun in Californiaís wine country and thereís a wine buzz in the air! At The California Wine Club they too are brimming with excitement about their upcoming selections! Thatís because each and every one of The California Wine Club wines is hand-selected from the best of Californiaís small, family-owned wineries.
As a wine club member, youíll receive a monthly selection that includes two bottles of award-winning wine along with Uncorked, a fun and informative 8-page newsletter. Itís a wine adventure that takes you from Napa and Sonoma to Monterey, Santa Ynez, Temecula and all the exciting wine spots in between!
Each two-bottle shipment is just $32.95 plus shipping. You can stay for as long as you wish, the wines are guaranteed and thereís never any membership fee!
For more information call (800) 777-4443 or visit the club's website at
http://www.cawineclub.com
ABOUT THAT FREE BOTTLE: Mention the 30 Second Wine Advisor and they'll include a FREE bottle of wine in your first shipment. Wine shipping available in the U.S. wherever the law permits.
Bordeaux trip filled; other opportunities open
If you were considering joining our wine tour of Bordeaux with French Wine Explorers next May 11-17, I regret to have to tell you that the tour has now filled.
The good news, however, is that my friends Lauriann Green and Jean-Pierre Sollin will lead a similar seven-day, six-night tour of Bordeaux, featuring the same itinerary, next July 20-26.
French Wine Explorers has many other wine tours of France coming up from next April through November, featuring Cooking and Wine in Provence; two Best of Bordeaux tours; the Southern Rhone Valley and Provence; Burgundy and the Northern Rhone; Paris, Champagne and the Loire; a Burgundy and Champagne Luxury Tour, and the Beaujolais Nouveau Celebrations 2003.
Lauriann and Jean-Pierre are certified sommeliers-conseils and experienced tour leaders with extensive knowledge of France and its wines. Their tours, like the Rhone and Provence tour that I joined with them to lead this past June, are designed for wine lovers and offer a remarkable combination of tastings, wine education, delicious meals at restaurants that typify the foods of their region, with first-class accommodations. I recommend them and their tours highly.
For more information about all their wine tours, visit the French Wine Explorers Website,
http://www.wine-tours-france.com/,
or contact info@wine-tours-france.com by E-mail.
Last Week's Wine Advisor Index
We're moving gradually back toward daily publication, with two Wine Advisor issues and one FoodLetter per week for now. Here's the index:
• Wine vocabulary: Rustic (Aug. 21)
http://www.wineloverspage.com/wineadvisor/tswa020821.phtml
• Red wine with ... (Aug. 19)
http://www.wineloverspage.com/wineadvisor/tswa020819.phtml
• Complete 30 Second Wine Advisor archive:
http://www.wineloverspage.com/wineadvisor/thelist.shtml
• Last week's Wine Advisor Foodletter: Asparagus risotto (Aug. 22)
http://www.wineloverspage.com/wineadvisor/tsfl020822.phtml
• Wine Advisor Foodletter archive:
http://www.wineloverspage.com/wineadvisor/foodlist.phtml
Administrivia
To subscribe or unsubscribe from The 30 Second Wine Advisor, change your E-mail address, switch from weekly to daily distribution, or for any other administrative matters, click to http://www.wineloverspage.com/wineadvisor/admin.phtml. In all administrative communications, please be sure to include the exact E-mail address that you used when you subscribed, so we can find your record. If you must unsubscribe, please take a moment to tell us why you're leaving, and to offer any comments or suggestions you may have. We do not use our E-mail list for any other purpose and will never give or sell your name or E-mail address to anyone.
I welcome feedback, suggestions, and ideas for future columns. To contact me, send E-mail to wine@wineloverspage.com.
All the wine-tasting reports posted here are consumer-oriented. In order to maintain objectivity and avoid conflicts of interest, I purchase all the wines I rate at my own expense in retail stores and accept no samples, gifts or other gratuities from the wine industry.
Monday, Aug. 26, 2002
Copyright 2002 by Robin Garr. All rights reserved.
Subscribe to the 30 Second Wine Advisor
Wine Advisor archives