30 Second Wine Advisor: This week's sponsor
• California Wine Club:
Join now, earn a FREE bottle of wine if you mention The 30 Second Wine Advisor!
http://www.cawineclub.com

In This Issue
• Wine vocabulary: Rustic
• Colosi 2000 Sicilia Dry Red Wine
• Administrivia
Wine vocabulary: Rustic
Like the Country Mouse of childhood fable, a wine that's "rustic" lacks the smooth veneer of urban sophistication.
"Rustic" is not the most useful tasting term because it's imprecise - its meaning varies, and my "rustic" might be your "urbane." But since it turns up now and then in published tasting notes, let's take advantage of today's wine - a country-style red from Sicily - to take a quick look at the term.
It's recent enough, or vague enough, that it's not listed as an entry in the basic wine encyclopedias. Neither Hugh Johnson's nor Frank Schoonmaker's encyclopedia mentions it; nor does Jancis Robinson's huge and comprehensive "Oxford Companion to Wine."
But it's clearly in modern use. A quick Web search on "rustic as wine descriptor" turned up 74 examples, ranging from "Wine Spectator" magazine to a column in the Houston Chronicle and many wine-shop reviews.
So what does it mean? I would describe a "rustic" wine as hearty, earthy, and perhaps even a bit rough. It's a wine that somehow communicates the impression of the good old days, before technology made it easy to produce "squeaky clean" wines that manifest nothing but pure fruit. Hey, I told you it's imprecise! Perhaps the best way to explain it is through a tasting note: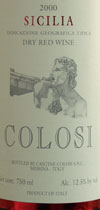 Colosi 2000 Sicilia Rosso ($9.99)
A blend of 90 percent Nero d'Avola and 10 percent other local grapes, this Sicilian quaffer shows a clear but very dark reddish-purple color in the glass. Warm, plummy and smoky scents and a hint of nuttiness that suggests slight oxidation are built on a base of caramel, an aroma combination that's oddly evocative of Bourbon. Full and soft flavors segue from plums to prunes; tart acidity, soft tannin and a whiff of bitter almond become evident as fruit fades in a long finish. An appealing country wine, could be used to illustrate "rustic" in a wine dictionary. U. S. importer: VIAS Imports Ltd., NYC (Aug. 20, 2002)
FOOD MATCH: Matching country wine to rural cuisine, it went very nicely with arroz con pollo.
VALUE: Fairly priced at $10.
WEB LINK: The importer's fact sheet on Colosi Rossi is at
http://www.viaswine.com/prodotti/prod_vini.asp?vino=34.

Administrivia
To subscribe or unsubscribe from The 30 Second Wine Advisor, change your E-mail address, switch from weekly to daily distribution, or for any other administrative matters, click to http://www.wineloverspage.com/wineadvisor/admin.phtml. In all administrative communications, please be sure to include the exact E-mail address that you used when you subscribed, so we can find your record. If you must unsubscribe, please take a moment to tell us why you're leaving, and to offer any comments or suggestions you may have. We do not use our E-mail list for any other purpose and will never give or sell your name or E-mail address to anyone.
I welcome feedback, suggestions, and ideas for future columns. To contact me, send E-mail to wine@wineloverspage.com.
All the wine-tasting reports posted here are consumer-oriented. In order to maintain objectivity and avoid conflicts of interest, I purchase all the wines I rate at my own expense in retail stores and accept no samples, gifts or other gratuities from the wine industry.
Wednesday, Aug. 21, 2002
Copyright 2002 by Robin Garr. All rights reserved.
Subscribe to the 30 Second Wine Advisor
Wine Advisor archives