30 Second Wine Advisor: This week's sponsor
• California Wine Club:
Join now, earn a FREE bottle of wine!
http://www.cawineclub.com

In This Issue
• Red wine with ...
• Laurel Glen 2000 REDS California Red Table Wine
• Voting Booth: How much wine do you open in a month?
• California Wine Club: Join now, earn a FREE bottle of wine!
• Last Week's Wine Advisor Index
• Administrivia
Red wine with ...
"Red wine with red meat, white wine with white meat."
This old bit of wine wisdom may be one of the most familiar basic "rules" about wine. It offers good guidance for the basics. Confronted with a restaurant menu and wine list, you'll know that you can't go far wrong by choosing a red - Cabernet Sauvignon, Merlot, Sangiovese - with a rare steak, and you won't err if you call for a Chardonnay with lobster.
But it is also one of the first rules that emerging wine lovers learn to break, when we discover that Pinot Noir is a great companion with salmon, and that dry reds go very well indeed with grilled chicken. This adds a footnote to the rule: "Red with red, white with white, but watch out for tasty exceptions."
The other night, I ran into a somewhat different problem. I wanted to make an asparagus risotto, a dish that demands a crisp white, probably a Sauvignon Blanc. But I also had Laurel Glen's 2000 REDS, a value favorite, up for tasting, and I was in no mood for a substitute.
This posed a challenge: Could I tweak the risotto recipe by adding enough red-friendly ingredients to make it stand up to a wine whose very name trumpets its redness? It was worth a try. First, I abandoned the risotto's meatless nature by adding beef broth to the usual reserved asparagus-cooking water as the liquid medium. Then I peeled, seeded and diced a couple of fresh tomatoes and added them to the dish along with the asparagus. And finally I doubled the amount of grated Parmigiano Reggiano to be stirred in at the end.
The result, even with no meat added other than the broth, was delicious, much heartier if not so pristine as the all-asparagus original. And thanks to the wine's bright, forward fruit, it didn't overwhelm the almost-meatless dish at all.
If you enjoy cooking and have ever tried altering a dish to make it more compatible with a red wine (or even vice versa), I would love to hear from you about it. Sent me E-mail at wine@wineloverspage.com, or join in the conversations in our Food Lovers' Discussion Group,
http://www.wineloverspage.com/cgi-bin/sb/index.cgi?fn=2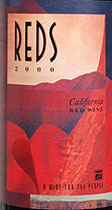 Laurel Glen 2000 REDS California Red Table Wine ($7.99)
Very dark garnet, the wine appears almost purple in the glass. Forward blackberry and raspberry aromas rise from the glass; spicy berry flavors structured with crisp fresh-fruit acidity for balance. A pleasant smoky-peppery quality emerges with time in the glass. The blend of grapes in this good-value favorite varies from year to year but is almost always a fusion of Mediterranean and California varieties. The 2000 blends Syrah, Petite Syrah, Grenache and Barbera over a base of old-vines Zinfandel. (Aug. 17, 2002)
FOOD MATCH: The winery recommends it, correctly, with pizza, barbecue and bistro fare. As noted, we experimented with an asparagus risotto rendered "red-friendly" with beef broth, fresh tomatoes and cheese.
VALUE: At $8, it is one of the best values in the market.
WEB LINK: Laurel Glen's Website has a REDS page at
http://www.laurelglen.com/reds.html.
You'll find information on where to purchase Laurel Glen wines around the world at
http://www.laurelglen.com/purchase.html.
Voting Booth: How much wine do you open in a month?
Some of us enjoy wine but drink it rarely. Some open a bottle daily with dinner. And quite a few more fall between these extremes. How about you? Please drop by the Voting Booth,
http://www.wineloverspage.com/votebooth
and tell us, "How much wine do you open in a month?"
California Wine Club:
Join now, earn a FREE bottle of wine!
Harvest has begun in Californiaís wine country and thereís a wine buzz in the air! At The California Wine Club they too are brimming with excitement about their upcoming selections! Thatís because each and every one of The California Wine Club wines is hand-selected from the best of Californiaís small, family-owned wineries.
As a wine club member, youíll receive a monthly selection that includes two bottles of award-winning wine along with Uncorked, a fun and informative 8-page newsletter. Itís a wine adventure that takes you from Napa and Sonoma to Monterey, Santa Ynez, Temecula and all the exciting wine spots in between!
Each two-bottle shipment is just $32.95 plus shipping. You can stay for as long as you wish, the wines are guaranteed and thereís never any membership fee!
For more information call (800) 777-4443 or visit the club's website at
http://www.cawineclub.com
ABOUT THAT FREE BOTTLE: Mention the 30 Second Wine Advisor and they'll include a FREE bottle of wine in your first shipment. Wine shipping available in the U.S. wherever the law permits.
Last Week's Wine Advisor Index
We're moving gradually back toward daily publication, with two Wine Advisor issues and one FoodLetter per week for now. Here's the index:
• The globe in a glass (Aug. 14)
http://www.wineloverspage.com/wineadvisor/tswa020814.phtml
• Ten truths about collecting wine (Aug. 12)
http://www.wineloverspage.com/wineadvisor/tswa020812.phtml
• Complete 30 Second Wine Advisor archive:
http://www.wineloverspage.com/wineadvisor/thelist.shtml
• Last week's Wine Advisor Foodletter: Greek-style lemon chicken (Aug. 15)
http://www.wineloverspage.com/wineadvisor/tsfl020808.phtml
• Wine Advisor Foodletter archive:
http://www.wineloverspage.com/wineadvisor/foodlist.phtml
Administrivia
To subscribe or unsubscribe from The 30 Second Wine Advisor, change your E-mail address, switch from weekly to daily distribution, or for any other administrative matters, click to http://www.wineloverspage.com/wineadvisor/admin.phtml. In all administrative communications, please be sure to include the exact E-mail address that you used when you subscribed, so we can find your record. If you must unsubscribe, please take a moment to tell us why you're leaving, and to offer any comments or suggestions you may have. We do not use our E-mail list for any other purpose and will never give or sell your name or E-mail address to anyone.
I welcome feedback, suggestions, and ideas for future columns. To contact me, send E-mail to wine@wineloverspage.com.
All the wine-tasting reports posted here are consumer-oriented. In order to maintain objectivity and avoid conflicts of interest, I purchase all the wines I rate at my own expense in retail stores and accept no samples, gifts or other gratuities from the wine industry.
Monday, Aug. 19, 2002
Copyright 2002 by Robin Garr. All rights reserved.
Subscribe to the 30 Second Wine Advisor
Wine Advisor archives