30 Second Wine Advisor: This week's sponsor
• California Wine Club:
Join now, earn a FREE bottle of wine if you mention The 30 Second Wine Advisor!
http://www.cawineclub.com

In This Issue
• The globe in a glass
• Omaka Springs 2001 Marlborough Sauvignon Blanc
• Administrivia
The globe in a glass
A glass of wine is the next best thing to a globe for taking you around the world without ever leaving your house. Open a bottle from a place you've been and happily remember, and the wine will bring memories flooding back. Try one from a place you've never been, and the wine will set off a daydream about the way it might be.
Utter whimsy? Perhaps. But one of the greatest joys of wine, for me, is the near-infinite variety of places, grapes, names and vintage years, a choice so bedazzling that you could almost go through life drinking wine every night with dinner and never have to repeat yourself.
If you're like me, and like many of us who enjoy wine, you'll appreciate each glass a little more if you entertain your mind with thoughts of its heritage, its history and its sense of place at the same time as you're tantalizing your palate with the wine itself.
Which brings us around to today's tasting. I've been drinking an awful lot of French wine this summer, during and after our trip to the Rhone and Provence in June. Last night it occurred to me that it was time to spin the globe, and turn it upside-down: Where better to go for a change of pace than New Zealand?
This scenic country east of Australia produces wonderful wines, and it is perhaps best known for its Sauvignon Blanc. Mention this variety, and most people will think of the Cloudy Bay winery, the first to gain international attention and still a highly sought-after item. But there are many, many more excellent producers. Today we take a virtual taste of the offering from Omaka Springs, a neighbor of Cloudy Bay in the Marlborough region.
Want more about New Zealand and its wines? My friend Sue Courtney, who produces the excellent NZ Wine of the Week page at
http://www.wineoftheweek.com/,
recently contributed a new article to WineLoversPage.com, an extensive tasting report and analysis of the 2001 Cloudy Bay Sauvignon Blanc and the 2001 Isabel Estate Sauvignon Blanc:
http://www.wineloverspage.com/nz/marlborough.phtml.
My report on a visit to New Zealand in 2000, including photos, is at
http://www.wineloverspage.com/wines/marlbor.shtml.
And finally, if you would like an 800x600 photo of a scenic New Zealand wine region as "wallpaper" for your computer, you'll find a panorama of the Martinborough region at
http://www.wineloverspage.com/wallpaper/martin.shtml.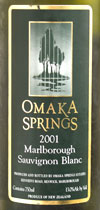 Omaka Springs 2001 Marlborough Sauvignon Blanc ($15.59)
Clear pale straw color, with a full citric grapefruit aroma enhanced by an aromatic hint of pine, more ripe and not as "green" as many NZ Sauvignon Blancs. A blast of grapefruit flavor, so fruity it almost seems sweet, shaped by tart fresh-fruit acidity; tart and dry citrus in a long finish. A bit more body and texture than expected, perhaps thanks to the addition of 10 percent Semillon in the blend. U. S. importer: T.G.I.C. Importers Inc., Woodland Hills, Calif. (Aug. 13, 2002)
FOOD MATCH: Worked with baked chicken, although its ripe fruit would make it a pleasant aperitif on its own.
VALUE: Appropriate for the price.
WEB LINK: The importer has an Omaka Springs page at
http://www.wineofakind.com/oma.html.
Administrivia
To subscribe or unsubscribe from The 30 Second Wine Advisor, change your E-mail address, switch from weekly to daily distribution, or for any other administrative matters, click to http://www.wineloverspage.com/wineadvisor/admin.phtml. In all administrative communications, please be sure to include the exact E-mail address that you used when you subscribed, so we can find your record. If you must unsubscribe, please take a moment to tell us why you're leaving, and to offer any comments or suggestions you may have. We do not use our E-mail list for any other purpose and will never give or sell your name or E-mail address to anyone.
I welcome feedback, suggestions, and ideas for future columns. To contact me, send E-mail to wine@wineloverspage.com.
All the wine-tasting reports posted here are consumer-oriented. In order to maintain objectivity and avoid conflicts of interest, I purchase all the wines I rate at my own expense in retail stores and accept no samples, gifts or other gratuities from the wine industry.
Wednesday, Aug. 14, 2002
Copyright 2002 by Robin Garr. All rights reserved.
Subscribe to the 30 Second Wine Advisor
Wine Advisor archives