30 Second Wine Advisor: This week's sponsors
• Brentwood Wine Company:
Once-in-a-lifetime wines, available every day
http://www.brentwoodwine.com

In This Issue
• An Argentine bargain
• Villa Mendoza 1999 Mendoza (Argentina) Malbec
• Administrivia
An Argentine bargain
Following up on Monday's discussion of finding bargains in Bordeaux, a region not currently known for wine value, let's take a quick look today at an exceptionally fine low-price wine from Argentina, where excellent quality-price ratio abounds.
This is another Malbec, a grape variety that I've been checking out fairly regularly these days. As you'll recall, it's traditionally a minor player in the Bordeaux blend, but one that the Argentines have adopted in its own right and made a national trademark. Fine with grilled meat and poultry, excellent with pizza, Malbec's popularity may stem from its quaffability, its affinity with a variety of food, and, of course, the affordability of most labels.
Today's wine, Villa Mendoza, is imported to the U.S. by Laurel Glen, one of my favorite California wineries. At a sale price of $7, it's a remarkable bargain, as it's good enough to represent a fair value even at twice that price.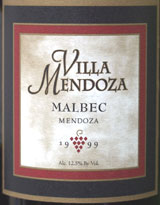 Villa Mendoza 1999 Mendoza (Argentina) Malbec ($6.99)
Very dark ruby color, with a ripe plummy scent laced by whiffs of licorice, full and appetizing. Ripe and juicy, approachable fruit nicely structured with crisp fresh-fruit acidity. Excellent wine, remarkable value. U.S. importer: Laurel Glen Winery, Santa Rosa, Calif. (July 17, 2002)
FOOD MATCH: Ripe fruit and cleansing acidity make it a very good match indeed with roast chicken.
VALUE: A wine of this complexity and balance at this price ranks as one of the top values of the year.
WEB LINK: Laurel Glen's Website is
http://www.laurelglen.com
There doesn't seem to be any information about Villa Mendoza there, but you'll find a useful "Where to purchase wines" page, including links to U.S. and international distributors, at
http://www.laurelglen.com/purchase.html.
Administrivia
To subscribe or unsubscribe from The 30 Second Wine Advisor, change your E-mail address, switch from weekly to daily distribution, or for any other administrative matters, click to http://www.wineloverspage.com/wineadvisor/admin.phtml. In all administrative communications, please be sure to include the exact E-mail address that you used when you subscribed, so we can find your record. If you must unsubscribe, please take a moment to tell us why you're leaving, and to offer any comments or suggestions you may have. We do not use our E-mail list for any other purpose and will never give or sell your name or E-mail address to anyone.
I welcome feedback, suggestions, and ideas for future columns. To contact me, send E-mail to wine@wineloverspage.com.
All the wine-tasting reports posted here are consumer-oriented. In order to maintain objectivity and avoid conflicts of interest, I purchase all the wines I rate at my own expense in retail stores and accept no samples, gifts or other gratuities from the wine industry.
Wednesday, Aug. 7, 2002
Copyright 2002 by Robin Garr. All rights reserved.
Subscribe to the 30 Second Wine Advisor
Wine Advisor archives