30 Second Wine Advisor: This week's sponsors
• Brentwood Wine Company:
Once-in-a-lifetime wines, available every day
http://www.brentwoodwine.com

In This Issue
• 2000 Bordeaux: an affordable preview
• Chateau Haut Sociondo 2000 Premiere Cotes de Blaye
• Brentwood Wine Company: Once-in-a-lifetime wines, available every day
• Entries open for Sydney International Wine Competition
• Join me in Bordeaux in Spring 2003
• Last Week's Wine Advisor Index
• Administrivia
2000 Bordeaux: an affordable preview
If you follow wine news, you're probably already aware of the excitement surrounding the 2000 vintage in Bordeaux. After a dismal string of mediocre to poor years that saw rains at harvest time during most of the 1990s, Bordeaux heralded the turn of the millennium with the first really high-quality vintage in a decade.
From the consumer standpoint, however, it has become difficult to justify the cost of Bordeaux - particularly the "classed growths" and other sought-after labels. Even in lackluster vintages the prices seemed to creep upward, and 2000 reached new peaks.
The top wines won't be released to the marketplace until next spring, but "futures" - in which consumers pay for wine in advance to be delivered later - range from nearly $100 for most classified wines to as much as $300 to $350 for the top-ranked names like Chateau Margaux, Chateau Haut-Brion, Chateau Latour, Chateau Lafite-Rothschild and Chateau Mouton-Rothschild. I have seen Chateau Cheval Blanc offered in futures for $500, and the cultish Chateau Petrus - if you can get it - at a cool $1,000.
What's a value-seeking wine lover to do? If prices like those are out of your reach, either practically or philosophically, you'll have to pass on the big-name labels. Happily, though, 2000 was the kind of vintage in which just about every producer did well. It's possible to get a taste of what the excitement is all about at the lower end of the price range, if you look for the "petits chateaux" ("little chateaus") and consider the "satellite" regions of Bordeaux that lie outside the most favored sections like Pauillac, Margaux and Pomerol.
These less-sought-after bottlings, many of which are already released and starting to turn up at local wine shops, can be found for as little as $10, with excellent values to be had in the $20 range.
One outlying appellation that I often find pleasing is Blaye, specifically the Premieres Cotes de Blaye. Lying just across the Gironde estuary from the Medoc, its wines are generally inexpensive and, with a few noteworthy exceptions, ready to drink young. Fancy Bordeaux it's not ... but it's not pricey Bordeaux either. Today's wine - the first 2000 I've tried - cost just over $10. It's not Petrus, but it went mighty well with dinner.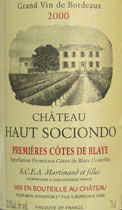 Chateau Haut Sociondo 2000 Premiere Cotes de Blaye ($10.99)
Clear garnet, with ripe berry aromas and a hint of spice. Tart and fresh, on the light side for a Bordeaux, but good fruit-acid balance makes for a pleasant wine that goes well with food. U. S. importer: William Grant & Sons Inc., NYC. (Aug. 4, 2002)
FOOD MATCH: A natural with roast chicken.
VALUE: Appropriately priced in the $10 range - you won't find much drinkable Bordeaux for less.
WEB LINK: The importer's Website is at
http://www.grantusa.com/.
Brentwood Wine Company:
Once-in-a-lifetime wines, available every day
Since 1998, Brentwood Wine Company has helped wine lovers find rare treasures, both new and old, with its continuous online auctions. A complete wine shop, Brentwood also has a selection of fine wines at fixed prices, many interesting accessories and excellent prices on Riedel glassware. To learn more and sign up for our complimentary newsletter, visit us at
http://www.brentwoodwine.com.
Brentwood Wine Company will also buy your well-stored private collections at competitive prices and pay within days – not weeks or months. We'll appraise your collections for free using current pricing data. To learn more:
http://www.brentwoodwine.com/auctions/buy.html
Entries open for Sydney International Wine Competition
If you're a wine producer and would like to enter your current releases in the coming Sydney International Wine Competition, you'll want to know that a secure online entry form for the 2003 competition is now online at
https://www.top100wines.com/entry-forms/default.cfm.
You may also print out an entry form to get a hard copy if you prefer to enter in that form.
For more information, E-mail admin@top100wines.com. Deadline for entries and submission of samples for judging is Monday, Sept. 9, so don't delay.
Since its beginning in 1982, the Sydney International ("Top 1OO") has held firm to the philosophy that wine is best enjoyed with food; that the greatest pleasure wine can give us is when it is part of the dining experience. Accordingly, it is perhaps unique among wine competitions in that the 100 winning wines are judged both by themselves and served with appropriate food.
To view last year's winners, tasting notes, and much more, visit the Competition's content-rich Website at
http://www.top100wines.com/.
Join me in Bordeaux in Spring 2003
There's been quite a response to our planned wine tour of Bordeaux next spring, when I will join again with French Wine Explorers to lead a tour of some of the region's top producers May 11-17, 2003.
You can get a preview - including a sampling of the wineries we'll visit and the fine restaurants and hotels being arranged for the tour - by visiting Best of Bordeaux Wine Tours on the French Wine Explorers Website,
http://www.wine-tours-france.com/Bordeaux03.htm.
If you think there's a good chance you might join us, I would urge you to contact French Wine Explorers soon, as the tour has a limited number of places, and we expect it to fill up early. For more information, send E-mail to info@wine-tours-france.com.
Last Week's Wine Advisor Index
We're moving gradually back toward daily publication, with two Wine Advisor issues and one FoodLetter per week for now. Here's the index:
• Tasting vocabulary: Extracted (July 31)
http://www.wineloverspage.com/wineadvisor/tswa020731.phtml
• Cool it for the dog days! (July 29)
http://www.wineloverspage.com/wineadvisor/tswa020729.phtml
• Complete 30 Second Wine Advisor archive:
http://www.wineloverspage.com/wineadvisor/thelist.shtml
• Last week's Wine Advisor Foodletter: Fresh herbs, simple pleasures (Aug. 1)
http://www.wineloverspage.com/wineadvisor/tsfl020801.phtml
• Wine Advisor Foodletter archive:
http://www.wineloverspage.com/wineadvisor/foodlist.phtml
Administrivia
To subscribe or unsubscribe from The 30 Second Wine Advisor, change your E-mail address, switch from weekly to daily distribution, or for any other administrative matters, click to http://www.wineloverspage.com/wineadvisor/admin.phtml. In all administrative communications, please be sure to include the exact E-mail address that you used when you subscribed, so we can find your record. If you must unsubscribe, please take a moment to tell us why you're leaving, and to offer any comments or suggestions you may have. We do not use our E-mail list for any other purpose and will never give or sell your name or E-mail address to anyone.
I welcome feedback, suggestions, and ideas for future columns. To contact me, send E-mail to wine@wineloverspage.com.
All the wine-tasting reports posted here are consumer-oriented. In order to maintain objectivity and avoid conflicts of interest, I purchase all the wines I rate at my own expense in retail stores and accept no samples, gifts or other gratuities from the wine industry.
Monday, Aug. 5, 2002
Copyright 2002 by Robin Garr. All rights reserved.
Subscribe to the 30 Second Wine Advisor
Wine Advisor archives