Special announcement: Corkmasters.com
As a wine enthusiast you'll have an opinion on the best type of closure for wine.
Please spare two minutes to complete our short online questionnaire:
http://www.wineloverspage.com/cork.
30 Second Wine Advisor: This week's sponsors
• California Wine Club
http://www.cawineclub.com
• Corkmasters.com
http://www.wineloverspage.com/cork
In This Issue
• Special announcement: Corkmasters.com
• Falling dollar, rising wine
• Cogno 2000 Dolcetto d'Alba Vigna del Mandorla
• California Wine Club: Can't Tell The Good From the Bad?
• Administrivia
Falling dollar, rising wine
When we were in France last month, the Euro was worth only about 93 cents against the U.S. dollar, resulting in a small but significant effective discount for American travelers abroad.
Last week, though, as the Dow-Jones index continued its slide, the Euro broke through parity with the dollar for the first time in more than two years. Although there has been some brief recovery, many analysts predict that the dollar's fall will continue amid concerns about the state of the American stock market.
What does the weakening dollar mean for wine lovers?
In the U.S., it's not good news: The prices of wines from Europe sold in the States are all but certain to increase, making them less attractive to U.S. buyers. And if history is any guide, U.S. producers, seeing the price of competitive wines go up, will be tempted to grab a bit of profit by raising their prices to match.
If wine prices increase significantly while consumers start watching expenses amid declining confidence in the state of the market, a serious slowdown could hurt the entire wine industry - producers, wholesalers and retailers alike.
All this seems ominous ... but what can we do? If you're cautious, and not inclined to give up wine, it may be time to stock up on pricey, cellar-worthy favorites before prices rise. If you're a market player, one of my savvy wine friends suggests buying into a Euro bond fund so as to have a position in both currencies whichever way the ratio moves.
These strategies may be a bit arcane for most of us. But here's a strategy what works for everyone: It's never a bad idea to redouble our commitment to get to know the wines of particular value at the lower end, the exceptional items that show real complexity and flavor interest in the $12-and-under range. You can count on me to be there, and to tell you what I find!
Market worries aside, however, today let's take a look at a somewhat more pricey wine. Dolcetto d'Alba from Northwestern Italy, a wine that I think of as a good $10 drink, has been flirting with the $20 mark lately, moving up in price in the U.S. (although not in Italy) without regard to the dollar-euro balance. It's enough to prompt consumer resistance ... but it is hard to resist when the wine is this good.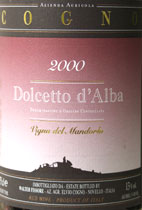 Cogno 2000 Dolcetto d'Alba Vigna del Mandorla ($21.49)
Inky dark ruby color, opaque. Plummy black fruit and an aromatic hint of almonds (or is that just the vineyard name, "vineyard of the almonds," playing with my mind?) Big, mouth-filling black-fruit flavor and hints of "tar" and "smoke" over soft but perceptible tannins. There's nothing "little" or "sweet" about this Dolcetto, but structure and balance make it a memorable wine. U.S. importer: VIAS Imports Ltd., NYC. (July 15, 2002)
FOOD MATCH: The smoky flavor of char-grilled chicken makes an exceptional match.
VALUE: Something - perhaps high critical ratings - has boosted the local price tag on this wine significantly above its price in Europe, but to its credit, it's an exceptional red wine, certainly competitive with other wines in the $20 range.
WEB LINKS: The winery Website is at
http://www.elviocogno.com/,
and the importer's site is
http://www.viaswine.com/.
California Wine Club: Can't Tell The Good From the Bad?
When it comes to selecting great wine, the choices can sometimes be daunting.
With The California Wine Club, each month's two bottle shipment is hand-selected from the best of California's small, "Mom & Pop" wineries! Their credo? To only sell wines that they would serve to their own family and friends.
Each month is $32.95 plus shipping and includes a fun 8-page newsletter, Uncorked. Visit the California Wine Club website at
http://www.cawineclub.com
or call (800) 777-4443.
Makes a fun and unique gift, too!
Wine shipping available in the U.S. wherever permitted by law.
Administrivia
To subscribe or unsubscribe from The 30 Second Wine Advisor, change your E-mail address, switch from weekly to daily distribution, or for any other administrative matters, click to http://www.wineloverspage.com/wineadvisor/admin.phtml. In all administrative communications, please be sure to include the exact E-mail address that you used when you subscribed, so we can find your record. If you must unsubscribe, please take a moment to tell us why you're leaving, and to offer any comments or suggestions you may have. We do not use our E-mail list for any other purpose and will never give or sell your name or E-mail address to anyone.
I welcome feedback, suggestions, and ideas for future columns. To contact me, send E-mail to wine@wineloverspage.com.
All the wine-tasting reports posted here are consumer-oriented. In order to maintain objectivity and avoid conflicts of interest, I purchase all the wines I rate at my own expense in retail stores and accept no samples, gifts or other gratuities from the wine industry.
Wednesday, July 24, 2002
Copyright 2002 by Robin Garr. All rights reserved.
Subscribe to the 30 Second Wine Advisor
Wine Advisor archives