Special announcement: Corkmasters.com
As a wine enthusiast you'll have an opinion on the best type of closure for wine.
Please spare two minutes to complete our short online questionnaire:
http://www.wineloverspage.com/cork.
30 Second Wine Advisor: This week's sponsors
• Magnum Wines: The Online Auction House for Specialty Wines
http://www.magnumwines.com
• Corkmasters.com
http://www.wineloverspage.com/cork
In This Issue
• Special announcement: Corkmasters.com
• Sherry is not always sweet
• Emilio Lustau Single Cask Dry Oloroso Sherry
• Voting Booth: When did you become serious about wine?
• A message from MagnumWines.com
• Last Week's Wine Advisor Index
• Administrivia
Sherry is not always sweet
From time to time I like to preach the gospel of Sherry, an unusual Spanish wine too often and most unfairly stereotyped as sweet and insipid stuff.
Although some Sherries are indeed sweet, many are bone-dry, and either way it's a wine capable of real complexity and power. But Sherry is so completely different from table wine in the French and Italian (and Californian and Australian) tradition that many wine lovers find it difficult to get to know.
Before we get to today's tasting - an "Oloroso" Sherry that's full-bodied but entirely dry - let's take a quick refresher on the major styles of this wine from Jerez in Southern Spain. (Jerez is pronounced "Hay-reth" in Castilian Spanish, by the way, a name that early English visitors mangled into "Sherry.")
The lightest Sherry is called "Fino" ("fee-no"), a delicate and bone-dry wine that's fermented in open containers protected under a fuzzy white blanket of an unusual natural yeast called "flor." Naturally strong, but not fortified with brandy as are the heavier Sherries, Fino often evokes almonds with its aromatic scent, and it makes a delicious before-dinner aperitif. (Manzanilla, made in a neighboring town, is virtually identical, although some tasters find in it a "salty" quality allegedly reflecting the nearby seacoast.)
Amontillado - made famous in Poe's short story - is also dry, but it's fortified and is a more full-bodied wine than Fino. Next step up the stylistic ladder is today's wine, Oloroso, also fortified and dry, and even more full-bodied. Some Olorosos are sweetened after vinification and sold as "Cream" Sherry, the very sweet style that gives all Sherry its reputation for cloying sweetness.
But for a really serious sugar dose, save your taste buds for the dessert Sherries made from Moscatel and Pedro Ximenez grapes, so syrupy and thick that they can literally be served over ice cream.
Because of its open-air production, Sherry is naturally oxidized, resulting in pleasant nutlike flavors that may range from almonds to hazelnuts to pecans or walnuts. Usually blended from numerous vintages in a unique system of barrels called "solera," Sherry is rarely labeled with a vintage date.
Strong, sometimes sweet, Sherries are most often served as aperitifs, as noted, or as after-dinner drinks. But if you're adventurous, try doing as they do in Jerez and serve Sherries with a variety of foods. From nuts and cheeses to onion soup or even turtle soup, they can make unexpectedly good pairings with a range of foods. And despite a reasonable popularity around the world, Sherry remains surprisingly affordable, with even a limited-production "single cask" bottling like today's tasting available under $20.
For more information about Sherry, I recommend the English-language pages of the wine region's official governing body, the Consejo Regulador of the Denominations of Origin:
http://www.sherry.org/envhp01.html.
(This site is also available in German and Spanish - click the national flag icon for the language of your choice.)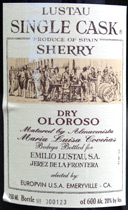 Emilio Lustau Single Cask Dry Oloroso Sherry ($19.99)
Very clear dark amber color, with a delicious aroma of fresh pecans, characteristic Sherry, full and appealing, with nuances of mixed nuts, brazil nuts and cashews, to lend complexity. The flavor is very full-bodied and dry, no hint of residual sugar, with mouth-filling nutlike flavors consistent with the nose, all framed by warm alcohol and snappy acidity. The appetizing quality of fresh cracked pecans carries through in a very long finish. U.S. importer: Europvin USA, Emeryville, Calif. (July 11, 2002)
FOOD MATCH: Fine sipped by itself as either an aperitif or after-dinner drink; marries nicely with a mild, nutlike Swiss or French cheese like Fol d'Epi or Emmenthaler.
VALUE: It would be difficult to find the equivalent of this special single-cask bottling in any other wine niche for twice the price.
WEB LINK: Emilio Lustau offers a comprehensive Website at
http://www.emilio-lustau.com/.

Voting Booth: When did you become serious about wine?
Many of us grew into our love for wine gradually, starting out as more casual drinkers who might ask for "a glass of white wine" without worrying about variety, vintage or "terroir," before we saw our interest evolve into something more like a hobby or even a passion.
For this week's Wine Lovers' Voting Booth, we ask you to tell us how old you were when wine truly captured your imagination: When did you become serious about wine?
To cast your ballot, click to
http://www.wineloverspage.com/votebooth.
After you vote, the software will recalculate the totals so you can compare your opinion with those of other wine lovers around the world.
A message from MagnumWines.com
Magnumwines.com is offering Thirty Second Wine Advisor readers $15 ground shipping for any bids placed in its current auction today (Monday, July 15), Tuesday (July 16) and Wednesday (July 17). The auction closes Thursday, July 25, and features many great selections from the Ribero Del Duero region of Spain, California Cabernets galore, and Chardonnays to cool the summer temperatures. Magnum also offers free storage over the summer months for all visitors from WineLoversPage.com.
Viva Espana!
$28 Vintage Pesquera Crianza
$45 Vintage Pesquera Reserva

Oldies But Goodies
$80 - Beringer Private Reserve 1991
$60 - Phelps Backus 1992

Wonderful Whites
$75 - Kistler Durrell 1996
$127 - Pouilly Fuisse Verget 1996 Half Case
$105 - Ladoix Verget 1996 Half Case
$80 - Bourgogne Blanc Verget 1996 Half Case

Magnum's monthly wine club is now able to ship to 12 more states. The wine club is a wineries-direct club and offers a Magnum and 750ml (as a taster!) per month direct to your home.
To take advantage of these special offers and for more information visit Magnum Wines, http://www.magnumwines.com.
Last Week's Wine Advisor Index
We're moving gradually back toward daily publication, with two Wine Advisor issues and one FoodLetter last week. Here's the index:
• Chianti ... Rufina (July 10)
http://www.wineloverspage.com/wineadvisor/tswa020710.phtml
• A visit to Gascony (July 8)
http://www.wineloverspage.com/wineadvisor/tswa020708.phtml
• Complete 30 Second Wine Advisor archive:
http://www.wineloverspage.com/wineadvisor/thelist.shtml
• Last week's Wine Advisor Foodletter: Reviewing FoodTV/Cauliflower (July 11)
http://www.wineloverspage.com/wineadvisor/tsfl020711.phtml
• Wine Advisor Foodletter archive:
http://www.wineloverspage.com/wineadvisor/foodlist.phtml
Administrivia
To subscribe or unsubscribe from The 30 Second Wine Advisor, change your E-mail address, switch from weekly to daily distribution, or for any other administrative matters, click to http://www.wineloverspage.com/wineadvisor/admin.phtml. In all administrative communications, please be sure to include the exact E-mail address that you used when you subscribed, so we can find your record. If you must unsubscribe, please take a moment to tell us why you're leaving, and to offer any comments or suggestions you may have. We do not use our E-mail list for any other purpose and will never give or sell your name or E-mail address to anyone.
I welcome feedback, suggestions, and ideas for future columns. To contact me, send E-mail to wine@wineloverspage.com.
All the wine-tasting reports posted here are consumer-oriented. In order to maintain objectivity and avoid conflicts of interest, I purchase all the wines I rate at my own expense in retail stores and accept no samples, gifts or other gratuities from the wine industry.
Monday, July 15, 2002
Copyright 2002 by Robin Garr. All rights reserved.
Subscribe to the 30 Second Wine Advisor
Wine Advisor archives