30 Second Wine Advisor: Corkmasters.com
As a wine enthusiast you'll have an opinion on the best type of closure for wine. Please spare two minutes to complete our short online questionnaire:
http://www.wineloverspage.com/cork.
This week's sponsors
• Corkmasters.com
http://www.wineloverspage.com/cork
• eRobertParker.com
http://www.eRobertParker.com
In This Issue
• Special announcement: Corkmasters.com
• Chianti ... Rufina
• Renzo Masi 1998 Chianti Rufina Riserva
• A message from eRobertParker.com
• Administrivia
Chianti ... Rufina
Next time you've got out your wine maps, take a close look at Chianti.
This favored wine region, a personal favorite, hangs down from Florence almost all the way to Siena, bulging like a sturdy wineskin filled with fine red wine, with the favored Chianti Classico zone occupying its central region, and a group of other Chianti producing regions around it.
But then look well off to the upper right (northeast), where a smallish, single zone perches to the east of Florence, well separated from all the rest.
You've found your way to Chianti Rufina, an odd branch of the Chianti family tree that's well worth getting to know.
Not to be confused with Ruffino, a similarly named but unrelated producer of regular Chianti, Rufina is a separate zone that, for one reason or another, was incorporated with its other Sangiovese-based cousins when the Chianti region was "delimited" (defined as a specific wine region under law) several hundred years ago.
Blessed with a distinctive climate and soil, Rufina's long, warm and dry summers foster the development of fruity, structured wines that stand up particularly well to aging. It certainly is Chianti, like its neighbors. But the addition of "Rufina" on the label signals that its special status ... and the good news is that these wines are often available at a very reasonable price. Today's tasting is just one good example. You'll find quite a few other good Rufina producers, and they're worth seeking out.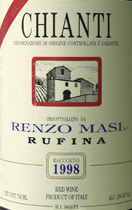 Renzo Masi 1998 Chianti Rufina Riserva ($12.99)
Very dark ruby color, blackish-purple at the center. Ripe black-cherry fruit and spicy oak aromas, textbook Chianti. Full, juicy fruit flavor is consistent with the nose, so ripe it almost seems sweet, but with plenty of lemon-squirt acidity to give it balance and make it sing with food. U.S. importer: HB Wine Merchants, NYC. (July 5, 2002)
FOOD MATCH: Excellent match with a Pugliese-style pasta dish of cauliflower with tomatoes and garlic over penne, a riff on a recipe seen on FoodTV's "Molto Mario."
VALUE: A price that's more than fair for an accessible, enjoyable Chianti Rufina.

A message from eRobertParker.com
If you're getting serious about wine, you'll want to know what Robert M. Parker Jr. has to say.
Calling Parker "The Million-Dollar Nose," Atlantic Monthly declared that Parker "is revolutionizing the wine industry" with his widely followed, no-nonsense wine reports.
For many years Parker was available only through subscriptions to his print publication, "The Wine Advocate." But now you can have instant, exclusive access to his reports online by subscription at eRobertParker.com.
A subscription to eRobertParker.com brings you not only organized access to Parker's ratings and reviews (Issue 140 of Wine Advocate is now online with articles on 1999 and 2000 Northern Rhônes, 2001 Bordeaux, 1999 Bordeaux From the Bottle, and Recommended New Releases from South America.
Much more information, exclusive for online subscribers, includes the Hedonist's Gazettes (recent entries include a review of Dinner at Tour d'Argent, a horizontal of the 1982 First Growths plus Petrus, Ausone and Cheval Blanc and a horizontal of California Cabs from the mid-1970's).
Add in such exclusive Website features as "Find It Online," which provides "one-click" listings of Internet retailers and auction sites that currently offer Parker-rated wines of interest for sale, and you've got a deal for wine lovers that's hard to beat.
To sign on, simply click to
http://www.eRobertParker.com/.
You won't regret your decision to subscribe!
Administrivia
To subscribe or unsubscribe from The 30 Second Wine Advisor, change your E-mail address, switch from weekly to daily distribution, or for any other administrative matters, click to http://www.wineloverspage.com/wineadvisor/admin.phtml. In all administrative communications, please be sure to include the exact E-mail address that you used when you subscribed, so we can find your record. If you must unsubscribe, please take a moment to tell us why you're leaving, and to offer any comments or suggestions you may have. We do not use our E-mail list for any other purpose and will never give or sell your name or E-mail address to anyone.
I welcome feedback, suggestions, and ideas for future columns. To contact me, send E-mail to wine@wineloverspage.com.
All the wine-tasting reports posted here are consumer-oriented. In order to maintain objectivity and avoid conflicts of interest, I purchase all the wines I rate at my own expense in retail stores and accept no samples, gifts or other gratuities from the wine industry.
Wednesday, July 10, 2002
Copyright 2002 by Robin Garr. All rights reserved.
Subscribe to the 30 Second Wine Advisor
Wine Advisor archives