30 Second Wine Advisor: This week's sponsors
• Corkmasters.com
http://www.wineloverspage.com/cork
• eRobertParker.com
http://www.eRobertParker.com
In This Issue
• Special announcement: Corkmasters.com
• A visit to Gascony
• Domaine de Pouy 2000 Vin de Pays des Cotes de Gascogne
• Moving back toward daily distribution
• A message from eRobertParker.com
• Last Week's Wine Advisor Index
• Administrivia
Special announcement: Corkmasters.com
As a wine enthusiast you'll have an opinion on the best type of closure for wine.
Please spare two minutes to complete our short online questionnaire:
http://www.wineloverspage.com/cork.
A visit to Gascony
Gascony, called Gascogne ("Gahs-co-n'yuh") in French, is probably better known in literature than for its wine. Who hasn't cheered the exploits of the heroic character D'Artagnan in Alexandre Dumas' "Three Musketeers," a Gascon through and through ... but who ever heard of Gascon wine?
Even the major wine references devote little attention to Gascony. "The Oxford Companion to Wine" gives it just 6 1/2 lines, noting that it's in Southwestern France, produces the fiery spirit Armagnac, and was under English rule in medieval times. Hugh Johnson's "Modern Encyclopedia of Wine" and "Frank Schoonmaker's "New Encyclopedia of Wine" don't list it as a separate entry at all.
All of which makes the inexpensive white wine we're sipping for today's tasting a bit of a discovery. Year in and year out, Domaine de Pouy is one of the best white-wine bargains around.
It's made from the Ugni Blanc ("Oo-n'yee BlaN") grape (identical to the Italian Trebbiano), which, surprisingly, is by far the most widely grown white grape in France, almost all of it going into anonymous white wines or distilled into brandy.
In the hands of Domaine du Pouy, however, careful handling turns Ugni Blanc into a crisp, fresh, quaffable white that, if lacking in the complexity needed for greatness, displays a delicious freshness and aromatic fruit that makes it a natural sipper on a hot summer day.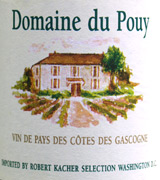 Domaine de Pouy 2000 Vin de Pays des Cotes de Gascogne ($6.99)
Clear straw color, with pleasant, forward pear and floral aromas. Crisp and fresh in flavor, simple but appealing, with snappy acidity that makes it a natural with food. U.S. importer: Robert Kacher Selection, Washington, D.C. (July 7, 2002)
FOOD MATCH: Perfect with a light summer dinner of spaghetti tossed with butter, garlic and fresh sage, a treat we discovered in Alba in Northwestern Italy.
VALUE: As good as a white wine gets for $7.

WEB LINK: The importer's Website is at
http://www.robertkacher.com/.
Moving back toward daily distribution
First, allow me a moment to thank all of you who took time to send me words of encouragement, support and hope after I told you about my operation last week. I wish I could respond to you all individually, but the sheer numbers - hundreds of replies - make that impractical for now. Please know that I appreciate all of your thoughts, and your kindness.
Now, I'm delighted to report that I seem to be bouncing back quickly enough to consider moving back toward resuming our daily edition. I intend to begin by sending around a second edition later this week, then gradually move to three, four and then daily editions as quickly as I feel I can. Thanks for your patience during this period!
A message from eRobertParker.com
If you're getting serious about wine, you'll want to know what Robert M. Parker Jr. has to say.
Calling Parker "The Million-Dollar Nose," Atlantic Monthly declared that Parker "is revolutionizing the wine industry" with his widely followed, no-nonsense wine reports.
For many years Parker was available only through subscriptions to his print publication, "The Wine Advocate." But now you can have instant, exclusive access to his reports online by subscription at eRobertParker.com.
A subscription to eRobertParker.com brings you not only organized access to Parker's ratings and reviews (Issue 140 of Wine Advocate is now online with articles on 1999 and 2000 Northern Rhônes, 2001 Bordeaux, 1999 Bordeaux From the Bottle, and Recommended New Releases from South America.
Much more information, exclusive for online subscribers, includes the Hedonist's Gazettes (recent entries include a review of Dinner at Tour d'Argent, a horizontal of the 1982 First Growths plus Petrus, Ausone and Cheval Blanc and a horizontal of California Cabs from the mid-1970's).
Add in such exclusive Website features as "Find It Online," which provides "one-click" listings of Internet retailers and auction sites that currently offer Parker-rated wines of interest for sale, and you've got a deal for wine lovers that's hard to beat.
To sign on, simply click to
http://www.eRobertParker.com/.
You won't regret your decision to subscribe!
Last Week's Wine Advisor Index
We've gone to once-a-week publication for a summer break, planning to resume daily publication in mid-July. Here's last week's index:
• A strictly personal note
http://www.wineloverspage.com/wineadvisor/tswa020701.phtml
• Complete 30 Second Wine Advisor archive:
http://www.wineloverspage.com/wineadvisor/thelist.shtml
• Wine Advisor Foodletter archive:
http://www.wineloverspage.com/wineadvisor/foodlist.phtml
Administrivia
To subscribe or unsubscribe from The 30 Second Wine Advisor, change your E-mail address, switch from weekly to daily distribution, or for any other administrative matters, click to http://www.wineloverspage.com/wineadvisor/admin.phtml. In all administrative communications, please be sure to include the exact E-mail address that you used when you subscribed, so we can find your record. If you must unsubscribe, please take a moment to tell us why you're leaving, and to offer any comments or suggestions you may have. We do not use our E-mail list for any other purpose and will never give or sell your name or E-mail address to anyone.
I welcome feedback, suggestions, and ideas for future columns. To contact me, send E-mail to wine@wineloverspage.com.
All the wine-tasting reports posted here are consumer-oriented. In order to maintain objectivity and avoid conflicts of interest, I purchase all the wines I rate at my own expense in retail stores and accept no samples, gifts or other gratuities from the wine industry.
Monday, July 8, 2002
Copyright 2002 by Robin Garr. All rights reserved.
Subscribe to the 30 Second Wine Advisor
Wine Advisor archives