30 Second Wine Advisor: Today's Sponsor
• Landware Inc.
http://www.landware.com/wineguide/

In This Issue
• A strictly personal note
• Affordable Bordeaux is possible!
• A message from Landware, Inc.
• Last Week's Wine Advisor Index
• Administrivia
A strictly personal note
I ask your indulgence today while I interrupt the wine talk for just a moment with a brief but important personal note to the Wine Advisor's community of readers. Should you just as soon skip over it, please feel free to page on down to today's Tasting Note, "Affordable Bordeaux is possible!"
Still here? I'm opening up a window into my personal life for two reasons: First, a surprising number of you have "read between the lines" of my summer cutback to weekly publication and sent me friendly and caring E-mails; and second, the outcome of the long, strange trip I've been on contains a message that I'm keen to repeat to anyone who's willing to listen.
Here's the story: Last Tuesday morning, a week after coming home from our tour of France, I entered a hospital in Louisville for planned surgery to remove my prostate. I am delighted to report that the operation went very well, I'm convalescing at home, and the outlook for the future is 100 percent good.
I thought long and hard about "going public" with this personal story, but I feel it's important because of the message I mentioned: My prostate cancer was discovered while it was in an extremely early, fully operable stage, because my family physician was wise enough to insist that I have a Prostate Specific Antigen (PSA) test as part of my regular checkups.
Prostate cancer, it seems, shows few symptoms until it is advanced and serious - UNLESS its possible presence is detected through PSA. An increasing PSA number is not proof of cancer, but it is a signal that something is going on and that further diagnosis is important.
For me, it may have been literally a life-saver.
And that's the message: If you, or a man you love, is getting close to 50, please encourage him to talk with his doctor about having PSA testing done annually. It's a simple blood test, easily done as part of a regular exam. Believe me, I recommend it.
I would like to thank in public my doctors, Dr. Albert ("Cap") Hoskins, who would be a great physician even if he wasn't the wine enthusiast that he is; Dr. John Hubbard, the urologist who made the diagnosis and helped me sort through the alternatives, and most of all, Dr. Kerry Short, the skilled and friendly surgeon who has made me one of his many fans with his surgical skill and his manner. And I can't close this letter down without a public word of love for my wife, Mary Johnson, who was there when I needed her throughout this voyage ... just as I knew she would be.
I won't be able to spend a lot of time at the computer as I convalesce, so I'll be skipping the weekly FoodLetter this week. But I do intend to keep the weekly Wine Advisor coming on Mondays ... and yes, we surely will go back to daily publication later in the summer.
If you would like to send me E-mail comments or questions at wine@wineloverspage.com, I would be delighted, although please understand that I may not be able to reply. Please DON'T use our "Ask A Question" feature on WineLoversPage.com right now, as I won't be able to attend to those for some time.
Finally, if any of you want more details on my experience or prostate testing in general, both these non-wine subjects are currently active on our Wine Lovers' Discussion Group at the following links. You are welcome to take part:
• Report from the hospital: http://www.wineloverspage.com/cgi-bin/sb/index.cgi?fn=1&tid=31534
• And a follow-up replying to some of the questions that my friends raised there:
http://www.wineloverspage.com/cgi-bin/sb/index.cgi?fn=1&tid=31635
Again, all the best, and thanks for enduring my all-too-personal digression. Now, back to wine!
Affordable Bordeaux is possible!
Quickly told, here's a wine I tasted before leaving for France. As I've pointed out before, Bordeaux is a tough niche to enjoy these days because of the recent combination of lackluster vintages and rising costs. But whenever I can find an estate-bottled "Right Bank" Bordeaux from 1998 (that's Saint-Emilion, Pomerol and satellites) for $20 or less, I'm tempted, as I've been finding quite a bit of pleasure in these.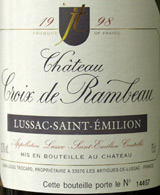 Chateau Croix de Rambeau 1998 Lussac-Saint-Emilion ($15.99)
Very dark garnet. Intriguing scents of cherries, black coffee and dark chocolate are mirrored in a full, structured flavor. A bit closed at first, it opens up with time in the glass; in combination with firm but palatable tannins, it shows significant potential for aging. U.S. importer: Bercut-Vandervoort & Co., San Francisco (June 19, 2002)
FOOD MATCH: Steak braised in red wine.
VALUE: Unusually good value for a complex and interesting Bordeaux, even if it's not a big-name label.

A message from Landware, Inc.
Fellow wine lover,
LandWare Inc, a leading developer of handheld software and hardware solutions, has teamed with respected Wine Enthusiast Magazine to produce the premier mobile companion for choosing, evaluating, managing and enjoying wine.
The Wine Enthusiast Guide 2002 for Palm Powered handhelds can be downloaded from:
http://www.landware.com/wineguide/.
A CD-ROM and Palm Expansion media card is also available.
Key features include:

• Quickly select wines by cost, rating, style, grape variety, and region
• Authoritative up-to-date reviews, ratings, and details for over 9,000 wines
• Complete wine cellar and buying list management
• Comprehensive wine glossary with over 1,400 terms and definitions
• Interactive vintage chart with wine maturity and harvest quality ratings
• Maintain personal tasting records and notes
• Beam wine details to another Palm OS handheld
• Supports removable Palm OS memory cards
• Sophisticated compression minimizes memory usage
The Wine Enthusiast Guide 2002 can be installed on devices running Palm OS 3.0 or higher including Handspring, Palm and Sony branded handhelds. Full details can be found by visiting:
http://www.landware.com/wineguide/.

Last Week's Wine Advisor Index
We've gone to once-a-week publication for a summer break, planning to resume daily publication in mid-July. Here's last week's index:
• Following up on Malbec
http://www.wineloverspage.com/wineadvisor/tswa020624.phtml
• Complete 30 Second Wine Advisor archive:
http://www.wineloverspage.com/wineadvisor/thelist.shtml
• Wine Advisor Foodletter archive:
http://www.wineloverspage.com/wineadvisor/foodlist.phtml
Administrivia
To subscribe or unsubscribe from The 30 Second Wine Advisor, change your E-mail address, switch from weekly to daily distribution, or for any other administrative matters, click to http://www.wineloverspage.com/wineadvisor/admin.phtml. In all administrative communications, please be sure to include the exact E-mail address that you used when you subscribed, so we can find your record. If you must unsubscribe, please take a moment to tell us why you're leaving, and to offer any comments or suggestions you may have. We do not use our E-mail list for any other purpose and will never give or sell your name or E-mail address to anyone.
I welcome feedback, suggestions, and ideas for future columns. To contact me, send E-mail to wine@wineloverspage.com.
All the wine-tasting reports posted here are consumer-oriented. In order to maintain objectivity and avoid conflicts of interest, I purchase all the wines I rate at my own expense in retail stores and accept no samples, gifts or other gratuities from the wine industry.
Monday, July 1, 2002
Copyright 2002 by Robin Garr. All rights reserved.
Subscribe to the 30 Second Wine Advisor
Wine Advisor archives