<!TODAY'S TEXT STARTS HERE!>

30 Second Wine Tasting Tip:
Chateauneuf-du-Pape

At the dawn of the 14th century almost 700 years ago, driven by church and national politics, Pope Clement V of the Catholic Church moved the seat of the papacy from its traditional home in Rome to the village of Avignon in the southern reaches of France's Rhone Valley. And naturally enough, one of the first things the papal court did in Avignon was to plant vineyards to make wine for the Pope's table.

The Papacy stayed in Avignon for less than 70 years, a period that Church historians call "the Babylonian Captivity," before returning to Rome in 1377. But the vines they planted there began a tradition that has come down to wine lovers today as one of my favorite red wines: Chateauneuf-du-Pape, "The New Castle of the Pope."

The vineyards were planted in an unusually stony, rocky soil, a happy geological coincidence that catches and stores summer heat and thus fosters full ripeness in the grapes, creating the circumstances for red wine that's characteristically robust and full-bodied. Because of the region's long tradition, many varieties of grapes were used there, and modern law permits Chateauneuf to be made from any of a shopping list of 13 kinds of grape. In practice, though, although a few traditionalists like Chateau de Beaucastel use all 13, most wineries limit their blend to a critical few: Grenache, with its bold, ripe fruit, is predominant, with earthy Mourvèdre, peppery Syrah and sturdy Cinsaut usually included. (A white Chateauneuf-du-Pape is also made, but it's relatively uncommon, and quite frankly, the best examples are expensive and the cheap examples aren't very interesting.)

Because of the grape-blend variations, not to mention significant differences in wine-making style, Chateauneuf can be a variable wine. As noted, it is usually full-bodied and fruity, sometimes peppery, sometimes earthy, and sometimes - especially from producers who emphasize the style - full of "barnyard" aromas associated with the wild yeast brettanomyces that we discussed in our Aug. 16, 1999 edition, "Bad flavors in good wines." Vintage is also a consideration in this region; although most of the years of the '90s have been good ones in Avignon, the 1997 is not highly regarded; in contrast, the 1998s - which are just coming into the marketplace in most of the world - seem to be exceptionally fine, fruity and ripe and easy to drink when young, the reward of a long, hot summer in the Rhone.

Most Chateauneuf-du-Pape can be drunk with enjoyment while it's young, then goes into a sleepy period between about four to eight years after the vintage, then finally matures into an earthy complexity that most people find most enjoyable, although the conventional wisdom is that most of these wines are best drunk up before they're 15 to 20 years old.

The combination of history, scenic interest and very fine wine makes the Avignon region a great place for wine touring. I'm looking forward to a short visit there in May.

What's your take on Chateauneuf-du-Pape? Better yet, have you toured the wine region? If you've got suggestions or comments, send them by E-mail to wine@wine-lovers-page.com. I regret that the growing circulation of the "Wine Advisor" makes it difficult for me to reply individually to every note, but I'll answer as many as I can; and please be assured that all your input helps me do a better job of writing about wine. Please feel free to get in touch if you'd like to comment on our topics and tasting notes, suggest a topic for a future bulletin, or just talk about wine.

If you're enjoying The 30 Second Wine Advisor, we hope you'll tell your wine-loving friends to register for their own free weekly copy at http://www.wine-lovers-page.com/wineadvisor.

30 Second Tasting Notes
A good, typical Chateauneuf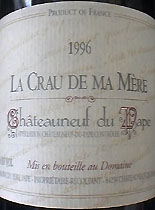 La Crau de ma Mère 1996 Chateauneuf-du-Pape ($19.99)
Very dark reddish-purple. Floral perfume and fragrant black pepper along with subtle leathery and earthy notes. Bright red-fruit and earthy flavors consistent with the nose, peppery and tart in a long finish. U.S. Importer: Ex Cellars Wine Agencies Inc., Solvang, Calif. (Feb. 9, 2000)

FOOD MATCH: Italian sausage.


30 Second Wine Link

I haven't been able to find any really outstanding Chateauneuf-du-Pape Websites; the obvious address, Chateauneuf-du-Pape.com, is a commercial site in English with a few good pictures and some interesting restaurant listings in Avignon, but it's light on content. For general information about Avignon and environs, though, www.avignon-et-provence.com appears promising, with lots of information (in English and French) ranging from tourism to history, maps and links.

My Boston and New York tasting reports

I'm back from a quick but intense trip to Boston and New York City, including a full weekend at the Boston Wine Expo and dinners with wine friends on five consecutive nights. My Palm Pilot almost melted under the burden of taking notes on some 200 wines tasted during these events, but for those of you who enjoy reading notes on wines, you'll find them now online in the following pages:

If you live within reach of Washington, D.C., the same folks who put on the Boston Wine Expo are hosting a similar show there this weekend. For more information, see Washington Wine Expo.

30 Second Advertising Partner

California Wine Club, www.cawineclub.com, is the perfect, affordable way to get two different bottles of excellent wine every month, along with its fun and fact-filled newsletter Uncorked. Commercially unavailable, these wines are like secret treasures we hand-select from California's small, award-winning wineries. Join for as many months as you like, or use The California Wine Club as a special, unique gift for friends, family, customers and colleagues. You can reach the Club at the link above or, in the U.S., by calling 1-800-777-4443.

30 Second Administrivia

This free weekly E-mail publication is distributed to subscribers every Monday. Previous editions are archived on The Wine Lovers' Page. See www.wine-lovers-page.com/wineadvisor/thelist.shtml.

You are on the subscription list because our records indicate that you registered during a visit to Robin Garr's Wine Lovers' Page. If for any reason you don't want to receive this publication, simply send E-mail to 'wine@wine-lovers-page.com' and we'll remove your name from the list. We do not use this list for any other purpose and will never give or sell your name or E-mail to anyone.

If your E-mail program is having trouble handling the images in this edition, feel free to request that we switch you from the HTML to TEXT edition ... or vice versa. We welcome feedback, suggestions, and ideas for future columns. Send us E-mail at wine@wine-lovers-page.com.

All the wine-tasting reports posted here are consumer-oriented. In order to maintain objectivity and avoid conflicts of interest, I purchase all the wines I rate at my own expense in retail stores and accept no samples, gifts or other gratuities from the wine industry.

More time for wine?

You don't need to wait for Mondays to read about wine! Drop in any time on Robin Garr's Wine Lovers' Page, where we add new tasting notes several times each week and frequently expand our selection of wine-appreciation articles, tips and tutorials.

If you'd like to talk about wine online with fellow wine enthusiasts around the world, we'd be delighted to have you visit the interactive forums in our Wine Lovers' Discussion Group. If you're from another part of the world and don't feel entirely comfortable chatting in English, visit our International Forum and introduce yourself in the language of your choice.

Vol. 2, No. 3, Feb. 7, 2000

<!TODAY'S TEXT ENDS HERE!>

Subscribe (free) to The 30 Second Wine Advisor