30 Second Wine Advisor: Today's Sponsor
• Sydney International "TOP 1OO" Wine Competition 2002
http://www.top100wines.com/

In This Issue
• Announcement: About next week's edition
• More about Malbec
• Tasting notes: Two Malbecs
• Wine Lovers' Voting Booth: Next hot wine-grape trend?
• Windows of Hope Fund: A Report
• Sydney International "TOP 1OO" Wine Competition 2002
• Last Week's Wine Advisor Index
• Administrivia
Announcement: About next week's edition
Personal business will take me away from WineLoversPage.com and E-mail for this week, so there'll be no Wine Advisor's FoodLetter on Thursday. I hope to be back in time to distribute next week's edition on Monday as usual, but please accept my apologies in advance if we're late.
Following up on Malbec
First it was Cabernet Sauvignon, then Merlot, and eventually Cabernet Franc. Now Malbec is earning its place as still another of the grapes of the traditional red Bordeaux blend that is making a mark in the marketplace as an independent variety in its own right.
But there's something just a little different about Malbec.
In the case of each of the other prominent Bordeaux grape varieties, a cynic could argue that they are customarily blended with other grapes because they make better wine that way. Cabernet Sauvignon tends to be harsh and tannic alone; add a bit of mellower Merlot and you soften the wine and make it more palatable. But Merlot alone can be bland, and until modern times, hardly anyone even thought of using it alone. Cabernet Franc is often "weedy" and "green," a characteristic that can be a little hard to like by itself but that adds complexity to a blend.
But Malbec? Although it may never rise to the level of a great single-varietal wine, its fruit, power and structure have made it a favorite in Cahors in Southwestern France, and particularly in Argentina, where the locals drink a lot of it and let a little out for the rest of us to enjoy. Only Cabernet Franc can boast similar status as a single varietal outside Bordeaux, and that presence - in Chinon, Bourgueil and a few other points in the Loire Valley - remains relatively minor.
Malbec makes a great companion with grilled meat and works as well as Chianti with pizza and Italian-style tomato-sauced dishes, a connection that may salute Argentina's strong Italian heritage.
And to put the icing on the cake, Argentine Malbec remains affordable, with few but the most high-end labels commanding more than about $10. But don't underestimate Malbec because it's cheap: This is a wine well worth exploring.
Tasting notes: Two Malbecs
Here is my tasting report on the two wines featured in our current Wine Tasting 101 program. For more details on learning wine tasting by sampling wines in an interactive group setting, click to
http://www.wineloverspage.com/forum/wt101.phtml.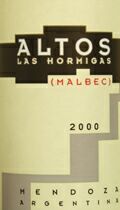 Altos 2000 Las Hormigas Mendoza Malbec ($8.99)
Inky dark garnet. Ripe and vinous black fruit with a touch of licorice and a whiff of smoke; absolutely no hint of the "barnyard" that was prominent in a previous tasting, suggesting that batch variation may occur. Full, juicy fruit laced with anise and structured with snappy acidity. Very good wine. U.S. importer: Vintner Select, Cincinnati, and other regional importers. (June 21, 2002)
FOOD MATCH: Both Malbecs worked well in a cross-ethnic match with a Southwestern French specialty, geziers de canard (duck gizzard confit, not cooked at home but imported in a jar) on a simple salad with a walnut-oil vinaigrette.
VALUE: Year in and year out, Altos Las Hormigas rates as a particularly good value.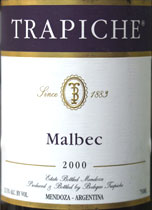 Trapiche 2000 Mendoza Malbec ($6.99)
Clear dark ruby. Ripe raspberries and a grind of fragrant black pepper make for an appetizing aroma; the flavor follows through with a mouth full of ripe berry fruit. Sufficient acidity for balance, but its soft and fruity flavor profile makes it a crowd-pleaser. U.S. importer: Cutting Edge Selections, Fairfax, Ohio, and other regional importers. (June 1, 2002)
VALUE: Simple and soft, it's obviously not a high-price wine, but it's hard to argue with all this fruit and quaffability for the price.

Wine Lovers' Voting Booth: Next hot wine-grape trend?
Every now and then a grape variety or blend emerges from obscurity to become the next hot thing, and the name of the grape and the wine it makes is suddenly on everyone's lips.
For our current survey, we invite you to select from a short list of newer varieties that are starting to catch the attention of the marketplace, and tell us which of this list you believe is most likely to be the next hot variety or grape blend. Simply click to the Wine Lovers' Voting Booth,
http://www.wineloverspage.com/votebooth/index.shtml,
to cast your ballot.
Windows of Hope Fund: A Report
You may recall that last autumn after the World Trade Center disaster we encouraged contributions to the Windows of Hope Family Relief Fund, a charitable organization formed to provide aid, future scholarships and funds to the surviving families of the victims of terrorism who had worked in the food, beverage and hospitality professions throughout the complex.
In late November, each family received an initial distribution of $10,000. Windows of Hope will also pay health insurance for each family for five years, and will make future distributions after individual needs are assessed by the Community Service Society of New York (CSS). The NY Times Neediest Fund generously donated the CSS caseworkers' salaries to Windows of Hope.
The organization has asked us to pass on this word of thanks: "Windows of Hope would like to thank everyone for their support and participation. To date your incredible generosity has raised over $18 million. We are most grateful for your continued support."
For more information, visit the Windows of Hope Website,
http://www.windowsofhope.org/.
Sydney International "TOP 1OO" Wine Competition 2002
Our friends at the Sydney International Wine Competition in Australia have recently updated their excellent Website, adding details and extensive judges' notes on the 100 winners of last year's event.
This was the 21st annual event, and as the competition's chairman, the amiable Warren Mason, notes, "From that very first wine-tasting dinner ... in 1982, we have held firm to the philosophy that wine is best enjoyed with food; that the greatest pleasure wine can give us is when it is part of the dining experience."
One of the main aims of the Competition is to offer consumers independent information to help in their choice of wines more likely to enhance the pleasures of the daily dining experience and, by so doing, to add enjoyment and contentment to their everyday lives.
I think you'll enjoy the Website, which also offers some of the award-winning wines for sale, and includes information for wineries and producers about entering the next year's event. You'll find it all at
http://www.top100wines.com/.

Last Week's Wine Advisor Index
We've gone to once-a-week publication for a summer break, planning to resume daily publication in mid-July. Here's last week's index:
• Blind tasting in Paris
http://www.wineloverspage.com/wineadvisor/tswa020617.phtml
• Complete 30 Second Wine Advisor archive:
http://www.wineloverspage.com/wineadvisor/thelist.shtml
• Last week's Wine Advisor Foodletter: On the food-and-wine trail (June 20)
http://www.wineloverspage.com/wineadvisor/tsfl020620.phtml
• Wine Advisor Foodletter archive:
http://www.wineloverspage.com/wineadvisor/foodlist.phtml
Administrivia
To subscribe or unsubscribe from The 30 Second Wine Advisor, change your E-mail address, switch from weekly to daily distribution, or for any other administrative matters, click to http://www.wineloverspage.com/wineadvisor/admin.phtml. In all administrative communications, please be sure to include the exact E-mail address that you used when you subscribed, so we can find your record. If you must unsubscribe, please take a moment to tell us why you're leaving, and to offer any comments or suggestions you may have.
We welcome feedback, suggestions, and ideas for future columns. To contact me, please click to http://wineloverspage.com/ask_a_question.phtml. You may also send E-mail to wine@wineloverspage.com, but the link above is the simplest way to reach me directly.
We do not use this E-mail list for any other purpose and will never give or sell your name or E-mail address to anyone.
All the wine-tasting reports posted here are consumer-oriented. In order to maintain objectivity and avoid conflicts of interest, I purchase all the wines I rate at my own expense in retail stores and accept no samples, gifts or other gratuities from the wine industry.
Monday, June 24, 2002
Copyright 2002 by Robin Garr. All rights reserved.
Subscribe to the 30 Second Wine Advisor
Wine Advisor archives