30 Second Wine Advisor: Today's Sponsor
• California Wine Club
http://www.cawineclub.com

In This Issue
• Admin note: We're off to France!
• Score one for the plastic cork
• Borsao 2000 Campo de Borja
• Wine Lovers' Voting Booth: Give your child a taste?
• California Wine Club: Can't Tell The Good From the Bad?
• Last Week's Wine Advisor Index
• Administrivia
Admin note: We're off to France!
You're getting the weekly Wine Advisor a day early this week because I'm leaving for France and our Rhone and Provence tour this afternoon. Next week's edition may turn up in your E-mail box either a day early or a few days late, depending on whether it proves practical to send it from France over the weekend or whether I have to wait until we're back home at midweek. One way or the other, we'll see you again soon!
Meanwhile, our summer Monday-only schedule continues, with daily publication (for those who subscribe to that edition) to resume in about six weeks. In the meantime, I will still be posting new articles, tasting notes, and other updates at http://www.wineloverspage.com, and of course the interactive wine talk will continue unabated in our online wine forums and chats. Please visit often.
Score one for the plastic cork
You may recall a flurry of publicity about fine wines closed with metal screw caps last month, including our May 15 article "Two more U.S. wineries embrace the screw cap," which was later picked up by the general news media.
Today let's take another look at a different alternative to natural cork: The artificial cork, a wine stopper that looks and acts like a cork but is made of plastic or similar synthetic material.
Perhaps a bit less jarring to traditionalists than the screw cap, which has an image problem to overcome because of its long association with cheap wine, synthetic corks have gained popularity over the past decade. Many are fashioned of a cork-color material intended to resemble a "real" cork. A few, however, flaunt their difference with bright colors never found in nature.
Why choose synthetics? The motive behind the wine industry's search for an alternative to natural cork is simple: A finite percentage of natural corks are "tainted" with a compound that can fatally afflict wine with an unpleasant musty scent, reminiscent of wet cardboard or a damp basement. Metal screwcaps and synthetic corks don't have this problem.
But we've had the natural cork around for 300 years, and many people consider it an important part of the romance and tradition of fine wine. To outweigh this heritage, any alternative will have to prove itself thoroughly.
In this trial-by-use, one of the strongest arguments made against synthetics is that they are too new for us to KNOW whether they can keep wine effectively for many years, without either admitting air that can spoil the wine or leaching adulterating elements from the "cork" into the wine. Most experts pooh-pooh the latter concern, as the commercial synthetics in current use are inert. But as for the aging question, only time will tell.
A recent tasting here, however, offers anecdotal support of the synthetic model. In cleaning out a little-used nook, I found a forgotten bottle of an Oregon wine not really meant for keeping. The Argyle 1994 Willamette Valley Oregon Pinot Noir had been sitting in a corner gathering dust for seven years or so, not at proper cellar temperature but through a series of Ohio Valley summers in which even air conditioning can't always keep room temperature below 80F.
Was it still good? Let's see ... I wiped the bottle, peeled the capsule, and guess what! This wine was stoppered with a synthetic, recalling that Argyle - which recently made news with its decision to use screw caps on some wines - was also one of the first wineries to try synthetics.
Out came the cork. Although the wine's ruby color was slightly hazy, it was youthfully clear at the edge, with absolutely no sign of browning. Intriguing and complex flavors began with a whiff of damp (but clean) laundry that quickly gave way to ripe red fruits and a distinct mineral character that seemed quite Burgundian. Fruit flavors were fresh, too, ripe black cherries and zippy lemon-squirt acidity in balance, with a pleasant underlying earthiness.
Complex and interesting, it was surprisingly youthful, bearing its years with remarkable grace. Chalk up one small but significant victory for the artificial cork.
For more online reading about synthetics, you might enjoy a visit to
http://www.neocork.com
, one of the top synthetic producers. The Argyle winery's site is at
http://www.argylewinery.com/.
To buy Oregon and other Pacific Northwest wines online (where the law permits), I recommend our friends at Avalon Wine in Oregon,
http://www.avalonwine.com.
Now, for this week's tasting report, here's an unusually good bargain red from Spain: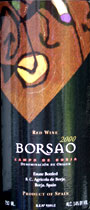 Borsao 2000 Campo de Borja ($7.99)
Clear dark ruby. Ripe raspberries and a grind of fragrant black pepper make for an appetizing aroma; the flavor follows through with a mouth full of ripe berry fruit. Sufficient acidity for balance, but its soft and fruity flavor profile makes it a crowd-pleaser. U.S. importer: Cutting Edge Selections, Fairfax, Ohio, and other regional importers. (June 1, 2002)
FOOD MATCH: A fine companion with a simple dish of tortellini and mushrooms with smoked duck sausage.
VALUE: You'll rarely find a better wine than this Spanish bargain at this low price, but watch for sales ... I have heard of it being offered as low as $3.99.

Wine Lovers' Voting Booth: Give your child a taste?
This week's topic has proven surprisingly controversial: Many people who enjoy wine consider it appropriate to introduce their children to wine from childhood. Others, however, consider wine strictly an adult beverage and don't allow their children to touch it until they grow up.
What do you think? Please stop by and tell us your opinion in the Wine Lovers' Voting Booth,
http://www.wineloverspage.com/votebooth as we ask, "Would you allow your children to taste wine at family meals?"
California Wine Club: Can't Tell The Good From the Bad?
When it comes to selecting great wine, the choices can sometimes be daunting.
With The California Wine Club, each month's two bottle shipment is hand-selected from the best of California's small, "Mom & Pop" wineries! Their credo? To only sell wines that they would serve to their own family and friends.
Each month is $32.95 plus shipping and includes a fun 8-page newsletter, Uncorked. Visit the California Wine Club website at
http://www.cawineclub.com
or call (800) 777-4443.
Makes a fun and unique gift, too!
Wine shipping available in the U.S. wherever permitted by law.
Last Week's Wine Advisor Index
We've gone to once-a-week publication for a summer break during June and part of July. Here's last week's index:
• Recalibrating for Rosé (June 3)
http://www.wineloverspage.com/wineadvisor/tswa020603.phtml
• Complete 30 Second Wine Advisor archive:
http://www.wineloverspage.com/wineadvisor/thelist.shtml
• Last week's Wine Advisor Foodletter: Favorite recipes: Salade Lyonnaise (June 6)
http://www.wineloverspage.com/wineadvisor/tsfl020606.phtml
• Wine Advisor Foodletter archive:
http://www.wineloverspage.com/wineadvisor/foodlist.phtml
Administrivia
To subscribe or unsubscribe from The 30 Second Wine Advisor, change your E-mail address, switch from weekly to daily distribution, or for any other administrative matters, click to http://www.wineloverspage.com/wineadvisor/admin.phtml. In all administrative communications, please be sure to include the exact E-mail address that you used when you subscribed, so we can find your record. If you must unsubscribe, please take a moment to tell us why you're leaving, and to offer any comments or suggestions you may have.
We welcome feedback, suggestions, and ideas for future columns. To contact me, please click to http://wineloverspage.com/ask_a_question.phtml. You may also send E-mail to wine@wineloverspage.com, but the link above is the simplest way to reach me directly.
We do not use this E-mail list for any other purpose and will never give or sell your name or E-mail address to anyone.
All the wine-tasting reports posted here are consumer-oriented. In order to maintain objectivity and avoid conflicts of interest, I purchase all the wines I rate at my own expense in retail stores and accept no samples, gifts or other gratuities from the wine industry.
Monday, June 10, 2002
Copyright 2002 by Robin Garr. All rights reserved.
Subscribe to the 30 Second Wine Advisor
Wine Advisor archives