30 Second Wine Advisor: Today's Sponsor
• Our Amazon.com Wine Bookshelf
http://www.wineloverspage.com/winebook/quickbooks.phtml

In This Issue
• Recalibrating for Rosé
• Chateau La Roque 2001 Coteaux du Languedoc Pic Saint Loup Rose
• Chateau de Lascaux 2001 Coteaux du Languedoc Rose
• Wine Tasting 101: Malbec
• A couple of corrections
• Announcement: Daily edition takes a summer break
• Summer wine reading at our Amazon.com Wine Bookstore
• Last Week's Wine Advisor Index
• Administrivia
Recalibrating for Rosé
It's all too easy to dismiss pink wine. Just ask my wife.
"It's not worth the bother," she says, arguing that rosé wine resembles nothing so much as watered-down red, lacking even the saving graces of steel or minerals that elevate the best whites. The best pink wine you ever tasted is probably not all that much better than the worst, she insists.
Well, maybe.
Rosé wine hasn't enjoyed the greatest reputation in modern times. Perhaps influenced by the lack of snob appeal of American White Zinfandel, a wine known as modest, simple and usually quite sweet, the marketplace seems to dismiss all pink wines as uninteresting and forgettable.
But every year around this time, when heat and humidity start to lie like a heavy wool blanket over much of the Northern Hemisphere, the idea of a crisp, refreshing pink wine starts to sound appealing.
As I reported last summer around this same point, now is the time to "recalibrate" our palates toward pink wines in the Mediterranean tradition - rosés from Provence, the Rhone and Languedoc in France, pink Rosato from Italy and Rosado from Spain, not to mention wines made in a similar style from the U.S. and Australia. These bone-dry, freshly fruity and crisp wines offer just about everything you would want in a summer sipper. They're refreshing when served well chilled, and they go very well with dinner salads and light summer fare.
The best rosés are made from red wine grapes, but the grape skins (which contain all the color) are taken out of the fermenting vessel before they have time to impart much color to the wine. The result is a wine that varies from the palest pink to copper or salmon hues, a range of color that the French describe with a bewildering array of names from "vin gris" ("gray wine") to "oeil de perdrix" ("partridge eye") to "pelure d'oignon" ("onion skin").
Here are my reports on two good rosés from the Languedoc in Southern France, both imported to the U.S. by the always reliable Kermit Lynch. The first in particular, an offering from a perennial favorite Coteaux du Languedoc producer who specializes in organic vineyard practices and natural production, is an exceptionally stylish and interesting rose, well worth seeking out.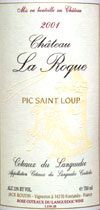 Chateau La Roque 2001 Coteaux du Languedoc Pic Saint Loup Rosé ($9.99)
Light copper with a salmon hue. Pleasant but subtle red fruits, fragrant pepper and the characteristic herbal scent of Provence; so delicate, though, that it's like picking out white on white. Bright fruit and crisp acidity in a much more forward flavor that's laced with white pepper and a pleasant light bitterness in the finish. Don't serve so cold that it stuns your taste buds - this wine shows best when you can taste it. U.S. importer: Kermit Lynch Wine Merchant, Berkeley, Calif. (June 2, 2002)
FOOD MATCH: Rosé works well with eggs, which are not always an easy match, and both these wines are fine with a light dinner of scrambled eggs with smoked salmon, red onions and goat cheese.
VALUE: Good value.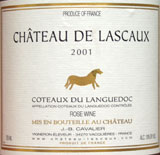 Chateau de Lascaux 2001 Coteaux du Languedoc Rosé ($9.99)
Clear pale copper color. Light berry and herbal scents. Simple, fresh and crisp, if not overly complex. Nice salad wine ... provided that you hold the vinaigrette. U.S. importer: Kermit Lynch Wine Merchant, Berkeley, Calif. (June 2, 2002)
VALUE: Fair value.

Wine Tasting 101: Malbec
Learn to taste wine analytically in a friendly, supportive environment where there are no "wrong" answers. This month features an increasingly popular - and affordable - red wine from Argentina: Malbec. The benchmark wines for tasting are Altos Las Hormigas and Trapiche 2000 Mendoza Malbecs. Click to Wine Tasting 101,
http://www.wineloverspage.com/forum/wt101.phtml
for details about how to participate in this free, interactive wine-education project.
A couple of corrections
Haste makes waste, and in the deadline rush to get out Friday's article on Bordeaux, I made two particularly careless errors, reversing the Right and Left Banks and confusing Pauillac and Pomerol, d'oh!
If you keep your Wine Advisor copies on file, you might want to correct the second sentence of the sixth paragraph to read: 'Cross to the "Right Bank' of the Dordogne, which flows into the Gironde, and you'll find more great reds in St.-Emilion and Pomerol ... '
In Thursday's article about Burgundy, Dutch reader Ben van der Stoop pointed out a relatively little-known fact about the region's "Cote d'Or," a term that most wine writers (including this one) casually translate as "Golden Hillside."
Although this is indeed a literal translation, van der Stoop points out (and Jancis Robinson's "Oxford Companion to Wine" confirms) that the name of the wine region stems from "Cote d'Orient" ("East Slope") because that's the direction that the hillside faces. Thanks, Ben!
Announcement: Daily edition takes a summer break
Because of my travel plans and other short-term scheduling issues, I've decided to take a summer break from daily publication of The Wine Advisor during June and part of July.
For the next six weeks or so, we have temporarily returned to publishing only once weekly. All subscribers will get the weekly Monday edition (although it may arrive a day or so early or late in some weeks, depending on my travel schedule).
For those of you who enjoy getting the Wine Advisor every weekday (and that includes more than 80 percent of you!), don't worry ... we will resume the daily publication in about six weeks. In the meantime, of course, in addition to distributing the weekly edition, I will still be posting new articles, tasting notes, and other updates at http://www.wineloverspage.com, and of course the interactive wine talk will continue unabated in our online wine forums and chats.
Summer wine reading at our Amazon.com Wine Bookstore
Just a quick reminder: If you enjoy wine and food and have summer reading in mind, you'll find a collection of good books - most of them at substantial discounts - in our online Amazon.com book store ... and books purchased through these links return a small commission to WineLoversPage.com. Please feel free to browse at
http://www.wineloverspage.com/winebook/quickbooks.phtml
Last Week's Wine Advisor Index
For Monday-only readers who'd like to read specific daily Wine Advisor articles, here's last week's index:
• How about Bordeaux? (May 31)
http://www.wineloverspage.com/wineadvisor/tswa020531.phtml
• Burgundy: An expensive education? (May 30)
http://www.wineloverspage.com/wineadvisor/tswa020530.phtml
• Purple teeth: Readers talk back (May 29)
http://www.wineloverspage.com/wineadvisor/tswa020529.phtml
• Resisting change: What's new? (May 28)
http://www.wineloverspage.com/wineadvisor/tswa020528.phtml
• Comparing Chardonnays (May 27)
http://www.wineloverspage.com/wineadvisor/tswa020527.phtml
• Complete 30 Second Wine Advisor archive:
http://www.wineloverspage.com/wineadvisor/thelist.shtml
• Last week's Wine Advisor Foodletter: Favorite recipes: Filetto al Vino Rosso (May 30)
http://www.wineloverspage.com/wineadvisor/tsfl020530.phtml
• Wine Advisor Foodletter archive:
http://www.wineloverspage.com/wineadvisor/foodlist.phtml
Administrivia
To subscribe or unsubscribe from The 30 Second Wine Advisor, change your E-mail address, switch from weekly to daily distribution, or for any other administrative matters, click to http://www.wineloverspage.com/wineadvisor/admin.phtml. In all administrative communications, please be sure to include the exact E-mail address that you used when you subscribed, so we can find your record. If you must unsubscribe, please take a moment to tell us why you're leaving, and to offer any comments or suggestions you may have.
We welcome feedback, suggestions, and ideas for future columns. To contact me, please click to http://wineloverspage.com/ask_a_question.phtml. You may also send E-mail to wine@wineloverspage.com, but the link above is the simplest way to reach me directly.
We do not use this E-mail list for any other purpose and will never give or sell your name or E-mail address to anyone.
All the wine-tasting reports posted here are consumer-oriented. In order to maintain objectivity and avoid conflicts of interest, I purchase all the wines I rate at my own expense in retail stores and accept no samples, gifts or other gratuities from the wine industry.
Monday, June 3, 2002
Copyright 2002 by Robin Garr. All rights reserved.
Subscribe to the 30 Second Wine Advisor
Wine Advisor archives