30 Second Wine Advisor: Today's Sponsor
• eRobertParker.com
http://www.eRobertParker.com

In This Issue
• How about Bordeaux?
• Chateau Merissac 1995 Saint-Emilion
• Chateau Cardus 1995 Medoc
• A message from eRobertParker.com
• Administrivia
How about Bordeaux?
Following up on yesterday's discussion on the price of tuition in the College of Burgundy, let's take a quick look at Bordeaux.
As recently as a generation ago, if you lived in the U.S., Canada or Britain and wanted to be what was then called a "wine connoisseur," Burgundy and Bordeaux were about all you had to know. Save for the occasional glass of Rhine or Mosel or an after-dinner sip of Sherry or Port, the realm of "fine wine" was pretty much limited to the two "classic" French regions.
Even in those days, many consumers found Burgundy expensive and hard to learn. But Bordeaux? Now there was a wine that a budding oenophile could get his teeth and palate into.
Unlike Burgundy, the great estates of Bordeaux (many of them graced by a noble winery building called a chateau) had largely remained intact through the Napoleonic years; and their hierarchy was clearly established by a formal classification in 1855 that set out exactly where each of the top producers stood, based on a long-term analysis of how much consumers were willing to pay for its wines.
The geography was relatively simple: The center of activity for great wine was a low, gravelly peninsula called the Medoc. Lying between the Gironde river and the Atlantic, north of the city of Bordeaux, it incorporated most of the region's sought-after producers, with their chateaux mostly situated in the section called "Haut-Medoc" ("high Medoc") in such favored communes as Pauillac, St.-Julien and Margaux. The wines were made primarily from Cabernet Sauvignon but every producer could tinker with the blend by adding Merlot to soften the wine's rough edges with Cabernet Franc, Malbec and Petit Verdot as optional extras.
Search south from the Medoc to Graves for whites (and the noble Chateau Haut-Brion) and to Sauternes for great dessert wines. Cross to the "Right Bank" of the Dordogne, which flows into the Gironde, and you'll find more great reds in St.-Emilion and Pomerol, where Merlot and Cabernet Franc supplant Cabernet Sauvignon as the primary varieties in such fabled wines as Chateau Cheval Blanc and Chateau Petrus.
It may not have been exactly simple, but compared to Burgundy it was relatively organized and predictable; and by the simple practice of memorizing excellent vintages (or looking them up on charts), the budding wine expert could rely on getting first-rate wines that couldn't be surpassed at the dinner table with beef or lamb.
Better still, as more and more of us discovered fine wine during the 1980s, Bordeaux was blessed with a remarkable string of fine vintages; and in the U.S., the wine critic Robert M. Parker Jr. (see sponsor's announcement below) built much of his growing reputation on Bordeaux ratings, especially in the much-ballyhooed vintage of 1982.
As popularity came, however, price increases inevitably followed, pushing many of the "first growth" and "second growth" labels out of the reasonable budget range. And when the '90s reversed the trend of the '80s with a long string of dismal years that didn't really break until 2000, prices did not go down.
Paying more for lesser wine is an equation that doesn't work for most of us. But sometimes you really want a good Bordeaux, and - just as with Burgundy - it is certainly possible to get a taste of what it's about without having to take out a second mortgage.
My strategy is simply to look beyond the pricey and sought-after wines for the good, sound bottles that are less in demand. Not Pauillac but Saint-Estephe, or even generic Medoc; not Pomerol but Fronsac. Don't demand the top vintages but memorize the best of the rest. As the tasting reports below point up, 1995 may have been the best of a long stretch in the Medoc. Ditto for 1998 on the Right Bank. With a little study, a bit of luck, and good advice from the critics or a trustworthy merchant, you can still enjoy very good Bordeaux for a rational price ... particularly if your retail shop, as many do, still has a fair selection of different recent vintages available.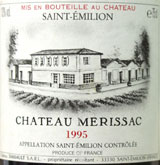 Chateau Merissac 1995 Saint-Emilion ($23.99)
Clear garnet with a distinct reddish-purple glint. Pleasant, typical Bordeaux scents of blackcurrant and dried tobacco. Flavors consistent, clean and appropriately tart, still showing significant but palatable tannins. Despite its Right Bank origin, its character seems more akin to Cabernet than the usual Merlot. U.S. importer: Lauber Imports, Ltd., Somerville, N.J. (April 27, 2002)
FOOD MATCH: Perfect with lamb chops, a classic pairing with Bordeaux..
VALUE: By the standard of Bordeaux, $25 is a very good price for a decent older bottle from a reasonably good past vintage. Can it stand comparison to a quality Cabernet from California or Australia at the same price? That's a matter of personal preference.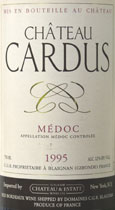 Chateau Cardus 1995 Medoc ($9.99)
Very dark ruby, almost black. Plummy black fruit with leathery overtones, a bit closed. simple but pleasant fruit flavor with tangy lemon-squirt acidity. Surprisingly good value for a seven-year-old Bordeaux under $10, although it's really no match for the more expensive wine. U.S. importer: Seagram Chateau & Estate Wines Ltd., NYC. (April 27, 2002)
FOOD MATCH: Also fine with medium-rare pan-grilled lamb chops.
VALUE: It's "rustic" in nature and really doesn't show much of the elegance or character that makes Bordeaux special. But if you like robust "country-style" reds, it's a mighty good buy for $10.

A message from eRobertParker.com
Excited about the 2000 Bordeaux vintage? Who isn't? After all, Robert Parker called it "the greatest vintage ever" in his landmark February, 2000 issue of The Wine Advocate. All the reviews are now available online at eRobertParker.com - whenever and wherever you need them!
You might start out using one of our four distinct Wine Search Engines to analyze all 503 tasting notes to find the "best 2000 Bordeaux" based on your taste and your budget. Then you may wish to use our unique "Find It Online" feature to see which of over 100 online retail wine merchants is offering those wines for future delivery. You can list them conveniently ranked by price or, if you chose, by location of the store. All at the click of your mouse.
eRobertParker.com is a subscription site, but you can sign up for a Free Trial and take it for a test drive on your own. We think you'll enjoy your visit to and will want to join the thousands of Internet active wine enthusiasts who already consider it indispensable.
Click to
http://www.eRobertParker.com
now for all the details.
Administrivia
To subscribe or unsubscribe from The 30 Second Wine Advisor, change your E-mail address, switch from weekly to daily distribution, or for any other administrative matters, click to http://www.wineloverspage.com/wineadvisor/admin.phtml. In all administrative communications, please be sure to include the exact E-mail address that you used when you subscribed, so we can find your record. If you must unsubscribe, please take a moment to tell us why you're leaving, and to offer any comments or suggestions you may have.
We welcome feedback, suggestions, and ideas for future columns. To contact me, please click to http://wineloverspage.com/ask_a_question.phtml. You may also send E-mail to wine@wineloverspage.com, but the link above is the simplest way to reach me directly.
We do not use this E-mail list for any other purpose and will never give or sell your name or E-mail address to anyone.
All the wine-tasting reports posted here are consumer-oriented. In order to maintain objectivity and avoid conflicts of interest, I purchase all the wines I rate at my own expense in retail stores and accept no samples, gifts or other gratuities from the wine industry.
Friday, May 31, 2002
Copyright 2002 by Robin Garr. All rights reserved.
Subscribe to the 30 Second Wine Advisor
Wine Advisor archives