30 Second Wine Advisor: Today's Sponsor
• California Wine Club
http://www.cawineclub.com

In This Issue
• Burgundy: An expensive education?
• Maurice Ecard et Fils 1999 Savigny-les-Beaune 1er Cru "Les Narbantons"
• Announcement: Daily edition takes a summer break
• Administrivia
Burgundy: An expensive education?
It is hard to imagine a more magical word in the world of wine than "Burgundy." Rooted deeply in history, the name has become all but synonymous with red wine. (In fact, for many years, American mass-market wineries devalued the name by borrowing it for cheap, generic reds, a custom that has happily all but died out in modern times.)
True Burgundy, of course, comes only from the French region of the same name ("Bourgogne" in French, pronounced "Boor-gon-yuh"), where the reds are made entirely from Pinot Noir and the whites from Chardonnay.
It's one of the world's most beloved reds, in older times often dubbed "the king of wines." (In this old-fashioned gender stereotyping, Bordeaux was considered more "feminine" and wore the crown as queen.)
But for at least two good reasons, Burgundy is a difficult wine to get to know. First, for historical reasons ranging from early French inheritance laws to land ownership reforms in Napoleonic times, Burgundy's vineyards are divided into thousands of tiny parcels, each with its own name, status and vinous reputation. Learning that Burgundy's core region is called the Cote d'Or ("golden hillside"), and that this is further divided into the Cote de Nuits and Cote de Beaune, is only the beginning of a long (but tasty) education process to which would-be lovers of Burgundy must submit.
An equally grave barrier is price. While it's possible to get an affordable introduction to Burgundy in the $10 to $15 range through its lowest-common-denominator offerings (Pinot Noirs and Chardonnays bearing the generic "Bourgogne" designation), it's difficult to sample Burgundies from more narrowly defined - and desirable - real estate for less than $20, and you almost have to cross the $30 line before you reach truly interesting territory. For most of us, these price ranges don't encourage casual experimentation.
Then add the reality that Burgundy's unpredictable climate means that vintage differences matter, and it's no surprise that many wine enthusiasts simply throw up their hands and decide that learning Burgundy is not worth the bother.
But it's a shame to dismiss one of the world's greatest wines entirely. Even though my usual wine-budget range rarely permits great Burgundy, I'll take an occasional foray into its lower reaches just to maintain some sense of what Burgundy is all about.
To minimize the risks, here's my advice: Watch for tasting reports from publications or individuals you trust; and develop a good relationship with a trustworthy wine retailer in your community who'll point you to good buys when they become available. That's how I found today's featured wine, a Burgundy from Savigny-les-Beaune, a section of the Cote de Beaune that's known for respectable quality and good value. It's the least pricey of several vineyard bottlings from Maurice Ecard, a respected producer, and 1999 was a very good vintage.
If you're serious about Burgundy, or want to get that way, you might also take a look at my friend Allen Meadows' Burghound.com, a quarterly online publication that features extensive articles by a man so passionate about Burgundy that he's chosen the pen name "Burghound." Full access requires a paid subscription, but there's plenty of free content on the site including many tasting reports. For details, click to
http://www.burghound.com.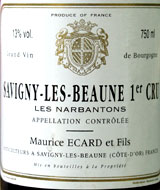 Maurice Ecard et Fils 1999 Savigny-les-Beaune 1er Cru "Les Narbantons" ($29.99)
Dark ruby in color, with a bold scent of wild cherries - almost reminiscent of a cough drop but much more appealing - over nuances of cedar and roses with an undertone of sweet oak. Textured and full, red-fruit and floral character follows the nose, well balanced with crisp acidity. Opens up to increasing complexity with time in the glass, smooth and structured, tannins so soft and ripe that you barely notice them on the palate. U.S. importer: Vintner Select, Cincinnati, North Berkeley in California, and other regional importers. (May 27, 2002)
FOOD MATCH: Burgundy's affinity for beef shows in its perfect marriage with filet mignons pan-braised in red wine. The recipe will be featured later today in the weekly Wine Advisor FoodLetter, indexed at
http://www.wineloverspage.com/wineadvisor/foodlist.phtml.
VALUE: As noted, "quality Burgundy" and "value" rarely appear in the same sentence. But you will be hard pressed to find a better Burgundy than this for less than $30.
Announcement: Daily edition takes a summer break
Repeating yesterday's announcement: Because of my travel plans and other short-term scheduling issues, I've decided to take a summer break from daily publication of The Wine Advisor during June and part of July.
The daily edition will continue through this week, but beginning this coming Monday, June 3, we'll temporarily go back to publishing only once weekly, usually on Monday.
For those of you who enjoy getting the Wine Advisor every weekday (and that includes more than 80 percent of you!), don't worry ... we will resume the daily publication in about six weeks.
Administrivia
To subscribe or unsubscribe from The 30 Second Wine Advisor, change your E-mail address, switch from weekly to daily distribution, or for any other administrative matters, click to http://www.wineloverspage.com/wineadvisor/admin.phtml. In all administrative communications, please be sure to include the exact E-mail address that you used when you subscribed, so we can find your record. If you must unsubscribe, please take a moment to tell us why you're leaving, and to offer any comments or suggestions you may have.
We welcome feedback, suggestions, and ideas for future columns. To contact me, please click to http://wineloverspage.com/ask_a_question.phtml. You may also send E-mail to wine@wineloverspage.com, but the link above is the simplest way to reach me directly.
We do not use this E-mail list for any other purpose and will never give or sell your name or E-mail address to anyone.
All the wine-tasting reports posted here are consumer-oriented. In order to maintain objectivity and avoid conflicts of interest, I purchase all the wines I rate at my own expense in retail stores and accept no samples, gifts or other gratuities from the wine industry.
Thursday, May 30, 2002
Copyright 2002 by Robin Garr. All rights reserved.
Subscribe to the 30 Second Wine Advisor
Wine Advisor archives