30 Second Wine Advisor: Today's Sponsor
• Avalon Wine
http://www.avalonwine.com/

In This Issue
• Oregon Pinot and salmon
• Rex Hill 1999 Willamette Valley (Oregon) Pinot Gris
• Correction: Rex Hill wine maker
• Avalon Wine
• Administrivia
Oregon Pinot and salmon
Returning to the Pacific Northwest to finish out the week, I can't resist pointing out that Pinot makes a stellar match with salmon, a tasty treat that is another of Oregon's signature delicacies.
You'll note that I simply said "Pinot" without distinguishing among "Noir," "Gris" or "Blanc." In fact, all of Oregon's fine Pinots marry surprisingly well with fresh or smoked salmon, demonstrating that you can either follow or flout the old rule about "white wine with fish" when it comes to this happy combination.
All the Pinot grapes are related, of course, and as we've discussed (in "Pinot's Colors" last Aug. 11), the family name is thought to come from the same word as "pine," presumably because ancient vine growers thought the tight, pointed shape of the grape bunches looked like a pine cone. Early Pinot grapes were white, but over time, occasional bunches would sport darker colors, a variation that growers admired and chose to propagate, leading eventually to the dozens of varieties and hundreds of Pinot clones that exist today.
To check out Pinot's affinity with salmon, I made a quick summer dinner with flaky chunks of alder-smoked salmon and bits of mild roasted poblano peppers in creamy scrambled eggs. I uncorked two Pinots from Oregon's Rex Hill Winery - the 1999 Pinot Noir and 1999 Pinot Gris - to see how each would fare.
As I had hoped, both options went well, but the combinations were so different as to make the dinner seem almost like two different dishes.
The red wine actually added a compatible and interesting flavor, working like a fruit sauce to enhance the fish, along with the pleasant fresh-fruit acidity that makes wines in general go well with food. The white wine wasn't as "interactive," but it provided a cleansing, lemon-squirt snap that left the palate feeling refreshed and ready for another bite.
Two different wines, two different flavor combinations. We enjoyed them both. The Rex Hill Pinot Noir was featured in yesterday's Wine Advisor. Here's my tasting report on the Pinot Gris: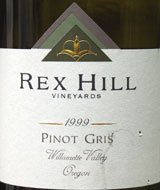 Rex Hill Vineyards 1999 Willamette Valley (Oregon) Pinot Gris ($15.99)
Clear pale gold. Pleasant and delicately complex, melon and citrus and an intriguing hint of green olive in the aroma. Full and ripe, seems soft at first, but there's plenty of crisp acidity in the finish. (May 13, 2002)
FOOD MATCH: Fine with smoked salmon with roasted poblano peppers in scrambled eggs over fingerling potatoes, as discussed in the May 16 Wine Advisor FoodLetter,
http://www.wineloverspage.com/wineadvisor/tsfl020516.phtml.
VALUE: On the high side for Pinot Gris, but it's an exceptionally good one. Fair value.
WEB LINK: http://www.rexhill.com.

Correction: Rex Hill wine maker
In yesterday's article, based on information from the Rex Hill Winery Website, I named Lynn Penner-Ash as the president and wine maker. In fact, as Wine Editor Thom Elkjer of Wine Country Living magazine was the first of several readers to point out, Ms. Penner-Ash has left Rex Hill to start her own label with her husband, Ron.
"It will be called Penner-Ash, and while they have no vineyards yet, they have the site and it's fabulous," Elkjer reported. "They've bottled a couple of Pinot Noirs under the label, in 1999 and 2000, and will continue to buy fruit until they can harvest their own."
My thanks to Thom and to the rest of you who got in touch. Check out his magazine, by the way, online at
http://www.winecountryliving.net.
Avalon Wine
Today's wine, along with many more fine wines from the Pacific Northwest, is available from our good friends at Avalon Wine, Northwest Wine and Gourmet.
Avalon Wine's excellent Website is not just an online store but a top source for wine-information content about the region and its wines, featuring expert columnists, a virtual library full of articles, and wine clubs. Avalon's broad inventory of Northwest wines is available at attractive prices and may be shipped anywhere in the U.S. that the law allows.
The folks at Avalon Wine love to talk about Northwest wines. You can call them direct at (541) 752-7418 or visit the Website at
http://www.avalonwine.com/.
Administrivia
To subscribe or unsubscribe from The 30 Second Wine Advisor, change your E-mail address, switch from weekly to daily distribution, or for any other administrative matters, click to http://www.wineloverspage.com/wineadvisor/admin.phtml. In all administrative communications, please be sure to include the exact E-mail address that you used when you subscribed, so we can find your record. If you must unsubscribe, please take a moment to tell us why you're leaving, and to offer any comments or suggestions you may have.
We welcome feedback, suggestions, and ideas for future columns. To contact me, please click to http://wineloverspage.com/ask_a_question.phtml. You may also send E-mail to wine@wineloverspage.com, but the link above is the simplest way to reach me directly.
We do not use this E-mail list for any other purpose and will never give or sell your name or E-mail address to anyone.
All the wine-tasting reports posted here are consumer-oriented. In order to maintain objectivity and avoid conflicts of interest, I purchase all the wines I rate at my own expense in retail stores and accept no samples, gifts or other gratuities from the wine industry.
Friday, May 24, 2002
Copyright 2002 by Robin Garr. All rights reserved.
Subscribe to the 30 Second Wine Advisor
Wine Advisor archives