30 Second Wine Advisor: Today's Sponsor
• Brentwood Wine Company
http://www.brentwoodwine.com

In This Issue
• Tasting Aglianico
• Terredora 1999 Aglianico d'Irpinia
• Administrivia
Tasting Aglianico
Around this time last month, you may recall, we spent a couple of days tasting and talking about the white wines of Campania, the "instep" of the Italian "boot" around Mount Vesuvius and Naples.
Today we return to Campania for a quick look at Aglianico ("Ahl-YAN-ee-co"), the region's primary red variety.
In contrast with many wine regions that seek a modern style for their wines, Campania proudly sticks with the old native grapes - and the grapes of this region are ancient indeed, tracing their roots back to Greek settlement in the days before the Roman Empire. That's why one of the region's white grapes is called "Greco" ("Greek"). In fact, Aglianico is a synonym. The word is thought to derive from "ellenico," meaning "hellenic" or, well, "Greek."
Aglianico makes an unusual, aromatic wine that will come as a real change of pace for those accustomed to Cabernet Sauvignon or Merlot. It's fruity and ripe, an excellent companion with food, offering appetizing aromas that mingle juicy berrylike fruit with exotic spices. And because it's not well-known (and because, to be blunt, Southern Italy isn't a field routinely plowed by seekers of "cult" and investment wines), the wines of the region usually offer good value.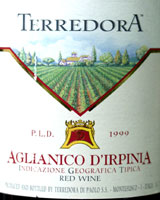 Terredora 1999 Aglianico d'Irpinia ($12.99)
Very dark ruby with an orange glint. Ripe fruit and exotic aromatics, incense and cinnamon, cedar and sandalwood. Juicy and bright, flavors follow the nose; so fruity it almost seems sweet, with crisp fresh-fruit acidity for balance. U.S. importer: VIAS Imports Ltd., NYC (May 20, 2002)
FOOD MATCH: Turkish eggplant pilaf makes an exceptional match, with its hints of cinnamon, allspice and mint playing off the wine's exotic spice.
VALUE: Exceptional quality and flavor interest for a $12 wine. Excellent value.
WEB LINK: The importer has information about the Terradora winery at
http://www.viaswine.com/prodotti/prod_cantina.asp?cantina=59,
and a fact sheet on this wine at: http://www.viaswine.com/prodotti/prod_vini.asp?vino=158.
Administrivia
To subscribe or unsubscribe from The 30 Second Wine Advisor, change your E-mail address, switch from weekly to daily distribution, or for any other administrative matters, click to http://www.wineloverspage.com/wineadvisor/admin.phtml. In all administrative communications, please be sure to include the exact E-mail address that you used when you subscribed, so we can find your record. If you must unsubscribe, please take a moment to tell us why you're leaving, and to offer any comments or suggestions you may have.
We welcome feedback, suggestions, and ideas for future columns. To contact me, please click to http://wineloverspage.com/ask_a_question.phtml. You may also send E-mail to wine@wineloverspage.com, but the link above is the simplest way to reach me directly.
We do not use this E-mail list for any other purpose and will never give or sell your name or E-mail address to anyone.
All the wine-tasting reports posted here are consumer-oriented. In order to maintain objectivity and avoid conflicts of interest, I purchase all the wines I rate at my own expense in retail stores and accept no samples, gifts or other gratuities from the wine industry.
Tuesday, May 21, 2002
Copyright 2002 by Robin Garr. All rights reserved.
Subscribe to the 30 Second Wine Advisor
Wine Advisor archives